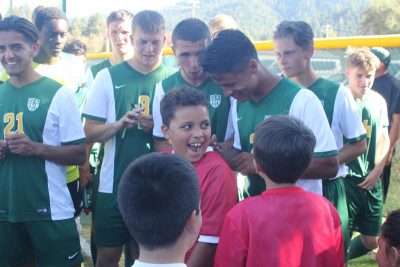 Four home games in a row at Feather River College will treat Eagle soccer fans to plenty of excitement from the field.
First up will be a match with the Shasta Knights on Friday, Oct. 26, beginning at 2 p.m.
Next up will be a game with the Siskiyous Eagles at noon Tuesday, Oct. 30.
Next month, the FRC men's and women's teams will face the Lake Tahoe Coyotes on Friday, Nov. 2, and the Butte Roadrunners on Tuesday, Nov. 6.
The FRC men are 3-2 in conference and 8-5-1 overall. The Eagle women are 2-4 in conference and 5-6-1 overall. Both teams are fascinating to watch for their athletic skill and all the quick action on the field. Points are hard won and the games are almost always close. The separation between winner and loser is most often determined by a single point, or maybe two.
The Eagles attract a lively group of fans of all ages to the sidelines, which adds to the excitement of the games regardless of the ending scores.