FRC staffers honor 25-year tradition with Thanksgiving feast for students
Feather River College's Thanksgiving feast was especially warm and hearty on Nov. 20 when many hands made light work.
Students packed into the cheerful Eagle's Perch Café where culinary arts students from Chef Sean Conry's program had prepared a delicious menu of roasted turkey, stuffing, steamed winter veggies, sweet potatoes, mashed potatoes with gravy, string beans and rolls.
The dessert buffet offered a tempting array of pies, cakes, cookies and other sweets — all courtesy of the college's employees and funding from the FRC foundation.
In fact, the entire Thanksgiving celebration has been a free FRC tradition for about 25 years, according to Connie Litz, an administrative assistant with the Student Services Office who has been organizing the affair pretty much since its inception.
"We always have a theme and we're celebrating FRC's 50th anniversary and traditions of excellence this year," Litz said in the busy café during a short break from coordinating numerous volunteers. "This tradition is something that the college employees look forward to all year because it's in keeping with the family atmosphere that we all feel and love about working here."
The luncheon began in the 1990s as a way to serve about 50 students who remained at school over the holiday. Since then, it's grown to serve nearly 300 and Litz said she starts taking employee signups every September.
"Students often have to choose, in terms of their budgets, between going home over Thanksgiving or waiting for the longer Christmas holidays and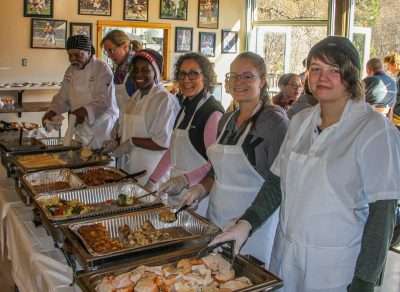 winter break," Litz added. "This feast is our way of appreciating the students and we love putting it on. It's a lot of fun. In fact, everyone on campus wants to support this event in some way."
Behind her, one of two efficient serving lines staffed by FRC employees from the academic, administrative and classified staffs, were busy ladling out generous portions of traditional Thanksgiving dishes.
The feast comes together each year thanks to mini-grants from the FRC Foundation, cash donations from staff and all those beautiful desserts brought in by the college coworkers.
Litz' bosses, Michelle Petroelje and Chief Student Services Officer Carlie McCarthy, volunteered for the serving lines and praised Litz for her dedication to coordinating the event.
"This is a lot of work and Connie makes it all happen with the foundation's grant money plus donations from our employees," said McCarthy, wearing an apron and a smile. "It's especially fun for our staff because, due to the nature of our jobs, a lot of us don't see all of the students regularly. This is one event where we get to see many of them and say hello, see how they're doing."
Advertisement
The gratitude overflowed to a barbecue area outside where FRC staffer Stacey Svilich, a student success specialist, was distributing courtesy take-home meal kits for students who planned to stay on campus over the holiday weekend.
Each kit, made available through donations and a special state grant program to address hunger relief, contained a recipe card from Chef Conry and all the ingredients to make an easy, delicious tuna casserole. Interested students could pick one up on their way back to their dorms and apartments.
Svilich explained the meal kits are part of a program college campuses have begun to provide because financial aid covers books, tuition and other educational expenses, but doesn't extend to buying food.
"They're so far from home," Svilich added. "You might be surprised how many students struggle to meet this basic and necessary expense of buying groceries, on top of all their other costs of going to college."
She noted studies have shown that student success is impacted when they can't focus on their work because they're not getting enough food to sustain them.
"This takes some of the stress off our students," Svilich said.