Golden Eagles advance despite sleet, snow and rain
The Feather River College Golden Eagle men's soccer team took down West Valley 3-0 in the first round of playoffs Nov. 19 at FRC.
The Golden Eagles fought through the nasty weather that included rain, sleet and snow to come out on top.
Jack Fulton was the hero of the day for FRC. Fulton scored all three goals for the home squad to earn a hat trick.
Ryan Birchfield assisted Fulton twice and John Ryan Holland assisted on one goal.
Advertisement
The first goal of the game for Fulton was well earned. The goalkeeper took out the sophomore forward just a split second after getting the shot off.
At halftime, FRC led 1-0. Just 10 minutes into the second half, Fulton struck again.
Now leading 2-0, FRC continued to press the Vikings offense. Without having an answer to the tough defense, West Valley could not handle the aggressive Feather River offense and in the 68th minute, Fulton struck again, making the score 3-0.
West Valley could not find the net and a soggy, muddy and tired Golden Eagle squad came out victorious to advance.
"We prepared a game plan and executed it," said Don Williams, head coach of FRC soccer. "We knew how they would play and adjusted how we would play off of that. We pressed them, left no space on our side of the field, and the boys did an excellent job of containing West Valley. Our defense allowed one shot in the entire first half of the game. The boys also did an outstanding job of keeping the ball on West Valley's side of the field."
Advertisement
FRC hosted Clovis yesterday in the second round. If FRC defeated the Crush, they will advance to the third round of playoffs, awaiting the winner of Fresno College and Evergreen Valley College.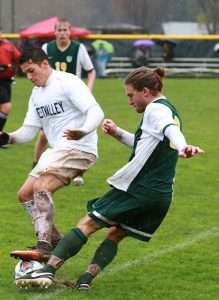 "We have to keep playing the way we have been playing," said Williams. "We have never played against Clovis before, they are a newer program so we don't really know what to expect."
If Fresno defeats EVC, the Golden Eagles would play at Fresno. However, if Evergreen Valley defeats Fresno, FRC will play Evergreen Valley at FRC on Saturday.