Grebe population takes a dive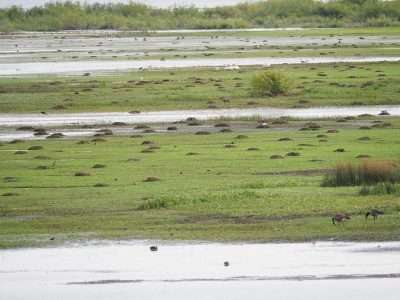 "We felt that the Grebe Festival," held in late August, "was another successful festival," with participants enjoying field trips and activities, "despite the unfortunate loss of almost an entire generation of grebe chicks," due to a precipitous drop in water levels in Lake Almanor, stated Teresa Arrate, Plumas Audubon Society development director.
Plumas Audubon is working with Audubon California and the California Department of Fish and Wildlife to look further into the issue and determine what steps should be taken to support these extraordinary birds.
The National Audubon Society considers both Western and Clark's grebes to be climate-endangered, with severe habitat loss expected over the next 30 to 50 years.
According to Plumas Audubon, grebes are attracted in large numbers to Lake Almanor due to the fish prey population and large areas of suitable nesting habitat.
"Lake Almanor is among the top most important grebe nesting sites in California," the organization noted.
Grebes require at least six inches of water under their floating nests in order to escape into the water, their primary defense against predation, said Plumas Audubon in a prepared document titled, "Grebe Conservation Project: Breeding success linked to water management at Lake Almanor."
Arrate explained that, "If the water drops too quickly, they will abandon their nests leaving the eggs vulnerable to predators."
In the same document, it was revealed that Plumas Audubon Society has nine years of grebe monitoring data for Lake Almanor that shows a strong correlation between how fast the water drops and the success of grebe reproduction rates.
"We know that if water surface elevation drops faster than 0.72 inches per day to a maximum of 0.84 inches during the nesting season" between June 25 and Sept. 15, "then the juvenile to adult grebe ratio will very likely be less than half (i.e. less than one young per breeding pair); a rate that still contributes to population declines," which is why Plumas Audubon would prefer a water drop rate that's even slower.
Arrate said once the drop rate exceeds 1 inch per day, there is almost no successful reproduction because nests are abandoned before the eggs have been fully incubated and chicks hatch.
This year, Plumas Audubon surveyed a large colony near the causeway that had begun nesting by late July, finding that there were 1,205 active nests at the peak count Aug. 3.
A little over a week later, by Aug. 13, the nests were almost entirely abandoned, with just 21 active nests counted, "but by Aug. 20 they were completely abandoned."
The lake level dropped rapidly during this time period, she said, leaving the nests stranded on land, which is believed to have caused the grebes to abandon their nests.
"At which point we did a lake-wide census survey finding a total of 3,485 adult grebes, but just three chicks," said Arrate. "There has been no more breeding on the lake since this occurred."
Advertisement
In an updated survey that was later taken Aug 24-26 by Plumas Audubon during the Grebe Festival, the estimated number of hatched chicks on the lake was raised to 19, still a woefully low number, Arrate lamented.
PG&E owns Lake Almanor and manages the rate at which to lower the water level based on its obligations and statutory mandates, replied PG&E spokesman Paul Moreno in an email. "… The company operates Lake Almanor to ensure public safety and balance all beneficial uses of the Feather River," adding that, "At PG&E we are committed to operating all of our facilities in an environmentally responsible manner."
There are many factors that influence the lake level and the rate that it must be lowered over time, Moreno pointed out.
He said PG&E participated in an informal agreement in 2016 as part of its commitment to environmental stewardship to evaluate how the company might be able to maintain a gradual drawdown of Lake Almanor while the grebes are nesting, but must also weigh that goal with the requirement to deliver water to downstream users under contract with the California Department of Water Resources under the Western Canal Agreement.
Under that agreement, PG&E is also required to maintain minimum flows in the Feather River under water contracts which necessitate that the company provides water from Lake Almanor to Lake Oroville.
Operation of the Upper North Fork Feather River Project is a complex arrangement, he continued, that must operate to balance a variety of beneficial uses throughout the Feather River system, "which includes a required outflow rate to enhance aquatic and riparian habitat in the Feather River," while abiding to contractual downstream consumptive water demands that include meeting license-mandated recreational flow requirements, and providing least cost, carbon free power from the company's hydroelectric facilities to PG&E's customers and to meet the state's power demands.
All these obligations meant the company might have been unable to comply this year with the mutually agreed upon rate with Plumas Audubon in the drop in Lake Almanor water levels.
However, Moreno said that the company doesn't believe it was necessarily responsible for the decimation of the grebe colonies this year.
"Based on the limited information provided to PG&E, it is insufficient to ascertain a cause for the loss of nests observed," suggesting that numerous other factors could be involved in nest failure including strong winds, smoke from fires, failure of forage fish populations, predation, disease and other disturbances.
He further claimed in his communiqué that the rate of lake water draw downs were "normal" for the period between Aug. 3 and Aug. 13, meaning the drawdown levels were typical for that time period —about the rate the Plumas Audubon Society requested after the grebe nesting season failure in 2016.
Moreno also pointed out water levels in Lake Almanor start at different elevations as nesting season gets underway, so that there may be less water below each nest to begin with, affecting the outcome.
Still, photographic evidence provided by Plumas Audubon shows the nesting area just north of the causeway essentially devoid of water by Aug. 14, revealing the abandoned nests with eggs exposed to potential predators.
Even though Moreno claimed that PG&E is under no regulatory requirement to maintain water levels for grebes, "we continue to evaluate how we can maintain a target drawdown during their nesting period," adding that, "We would be happy to have additional discussions with Plumas Audubon Society," as part of its commitment to environmental stewardship in an effort to minimize the operational impact on the nesting needs of grebes in Lake Almanor.
Since the summer of 2016 when the grebe population was last decimated, Plumas Audubon has not had any direct contact with PG&E, said Arrate, but they hope to reestablish communications with the company together in partnership with Audubon California, Altacal Audubon of Chico, which has focused on grebe conservation on the Thermolito Afterbay, and Redbud Audubon in Lake County, focused on the conservation of grebes at Clear Lake.
Arrate said Plumas Audubon is looking to increase awareness on the issue, as well as alerting state agencies to the problem by highlighting the need to better protect grebe habitats in the future.
Lake Almanor elevation during the 2018 grebe nesting season
DATE             ELEVATION FEET       
06/24/2018 4492.39
06/25/2018 4492.36
06/26/2018 4492.31
06/27/2018 4492.32
06/28/2018 4492.33
06/29/2018 4492.31
06/30/2018 4492.21
07/01/2018 4492.18
07/02/2018 4492.12
07/03/2018 4492.05
07/04/2018 4492.02
07/05/2018 4491.96
07/06/2018 4491.93
07/07/2018 4491.89
07/08/2018 4491.86
07/09/2018 4491.80
07/10/2018 4491.76
07/11/2018 4491.71
07/12/2018 4491.65
07/13/2018 4491.60
07/14/2018 4491.57
07/15/2018 4491.53
07/16/2018 4491.49
07/17/2018 4491.45
07/18/2018 4491.40
07/19/2018 4491.39
07/20/2018 4491.33
07/21/2018 4491.26
07/22/2018 4491.21
Advertisement
07/23/2018 4491.17
07/24/2018 4491.12
07/25/2018 4491.07
07/26/2018 4491.03
07/27/2018 4491.00
07/28/2018 4490.91
07/29/2018 4490.84
07/30/2018 4490.77
07/31/2018 4490.68
08/01/2018 4490.54
08/02/2018 4490.42
08/03/2018 4490.28
08/04/2018 4490.17
08/05/2018 4490.06
08/06/2018 4489.96
08/07/2018 4489.92
08/08/2018 4489.88
08/09/2018 4489.85
08/10/2018 4489.81
08/11/2018 4489.77
08/12/2018 4489.73
08/13/2018 4489.60
08/14/2018 4489.49
08/15/2018 4489.36
08/16/2018 4489.21
08/17/2018 4489.10
08/18/2018 4489.00
08/19/2018 4488.89
08/20/2018 4488.80
08/21/2018 4488.73
08/22/20184488.59
08/23/2018 4488.43
08/24/2018 4488.28
08/25/2018 4488.14
08/26/2018 4488.12
08/27/2018 4488.07
08/28/2018 4487.97
08/29/2018 4487.83
08/30/2018 4487.73
08/31/2018 4487.66
09/01/2018 4487.53
09/02/2018 4487.40
09/03/2018 4487.25
09/04/2018 4487.14
09/05/2018 4487.08
09/06/2018 4486.92
09/07/2018 4486.80
09/08/2018 4486.67
09/09/2018 4486.55
09/10/2018 4486.40
09/11/2018 4486.28
09/12/2018 4486.16
09/13/2018 4486.05
09/14/2018 4485.89
09/15/2018 4485.83
Chart courtesy California Dept. of Water Resources