Greenville wins homecoming, 48-6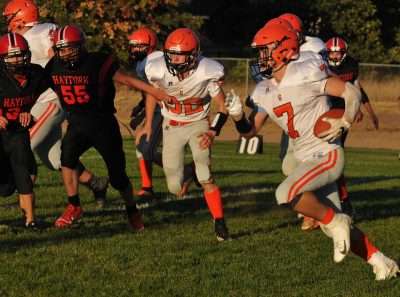 The Greenville Indians kept their opponents, the Herlong Vikings, off the scoreboard until the third quarter where they allowed, but a single TD and that was it for the game.
GHS launched to victory in the first quarter with two touchdowns and two extra points to lead 14-0. They doubled their efforts and remained in front of the Vikings at halftime, 28-0. With a single TD and no extra points for the Herlong team in the third quarter and a single TD for the Indians in the fourth quarter, so ended the game as a big homecoming win for Greenville.
GHS senior quarterback Tristin Clark completed 10 passes for a whopping 289 yards! Junior Isaiah Hilpert hit one heck of a stride scoring five, count them FIVE, touchdowns for Greenville. Clark and sophomore Trevor Barr also scored touchdowns for GHS.
Harlan Savala, Colton Lawson and Clark all completed successful 2-point conversions.
Junior Rodney Meyer gained 127 yards in two kickoff returns. Lawson made two interceptions.
The Herlong offense was given a hard time by the GHS defense as junior Nick Hampton sacked the quarterback twice and Putnam and Hilpert each had a sack.
Sophomore Kyle Hitson led the defense with nine tackles and four assists. Putnam, Hilpert, Lawson and sophomore Garrett Miille all had a total of nine tackles and assists; Clark had eight.
For all purpose yards, this is amazing to print, Hilpert had a total of 449 yards! Clark an equally impressive 396 total yards, and with his great kick returns, junior Rodney Meyer had 132.