Guzzler installation takes cooperation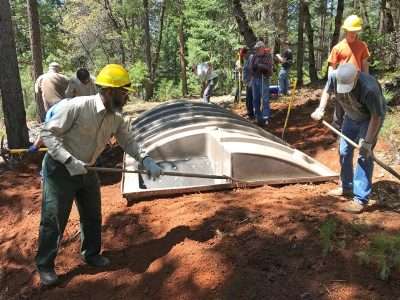 The national Mule Deer Foundation, based out of Salt Lake City, Utah, awarded the Plumas National Forest $27,000 for project work in 2018.
The first work party of the season was conducted and an 1,800-gallon rainwater catchment basin, known as a "wildlife guzzler," was installed near Indian Falls, on a ridge above Soda Ravine on May 3.
Six students from Wendy Jackson's Portola High School Advanced Placement Environmental Science class helped the Plumas County Chapter of the Mule Deer Foundation volunteers and Plumas National Forest employees install the guzzler.
The group hand-carried the guzzler up the hill, dug a large hole with hand tools and installed it.
If interested in helping during the next work party, contact Plumas County Chapter of the Mule Deer Foundation volunteer coordinator Frank Smith, 283-2233.