Hanson's Homemade here to stay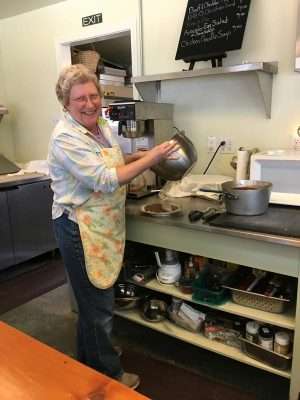 Ever since the giant "For Sale" sign went up on the fencing outside Hanson's Homemade in Taylorsville last week, Lorraine Hanson's customers have walked into the pie shop with crestfallen faces.
Lorraine Hanson then has to assure them that her business is better than ever and she has no intention of not supplying Indian Valley with her pies any time soon.
"Even if the building ever sells, I will keep going somewhere around here," said Hanson.
"I've had a steady flow of customers and each year has gotten better," said Hanson. Hanson will celebrate three years of operation in May — and has recently branched out.
Anna's Café serves Hanson's pies on its dessert menu and Hanson's pies are making their way onto the menu at Jeffrey's Pub and Grub in Quincy.
On the morning of April 12, while Hanson was busy whipping together another chocolate cream pie, loyal customers were still walking in with panic on their faces, and then breathing sighs of relief once the rest of the regulars let them know their pie will still be here when they want it.