Hundreds visit annual art faire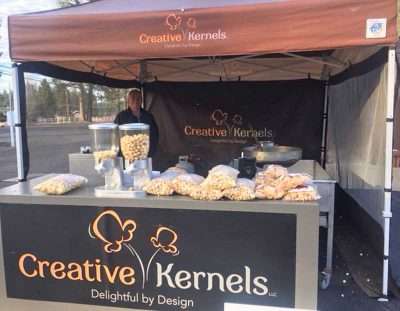 The Mohawk Community Art Faire is a popular holiday tradition in Plumas County. The 2017 version was no exception.
Hundreds of visitors crowded the Graeagle Fire Hall on Thanksgiving weekend to look and to shop among the 21 artisan vendors. There were displays of jewelry, textiles, wood crafts, glass mosaics, photography, knit and crochet items, and, for the first time, sculptures in stone.
For the first time there was a vendor outside the fire hall offering fresh-popped Kettle Korn. Inside, home-baked goods and hot drinks were available.
A highlight of the faire was the drawing. Each of the vendors contributed an example of their craft to be awarded. The grand prize was a Weber barbecue donated by the Blairsden Ace Hardware. The winner was Lorraine Neilsen, a wool crafter and long-time participant in the faire.
Fourteen volunteers worked tirelessly to present this fundraiser for the Mohawk Community Resource Center  in Blairsden. Art lovers should save the date for the 2018 Thanksgiving weekend.