Indians play ball in Greenville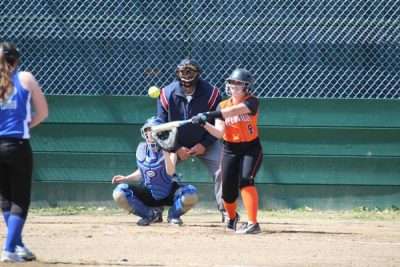 With more than two weeks off the field, the Greenville Indian ball players took on the Tulelake Honkers on April 13.
The ladies played a double header while the boys played a single game that lasted just about as long. The GHS boys won their single game 13-1 in a game that spanned 4 1/2 innings. Tulelake scored their one run in the third inning.
Junior Tristin Clark pitched the majority of the game striking out eight Honkers. Senior Alex Tassone and junior Kolby Elzea also took the mound to pitch an inning. Tassone struck out two and Elzea struck out three batters.
Runs were scored for Greenville, in pairs, by sophomore Harlan Savala, freshman Trevor Barr, sophomore Andrew Putnam, Tassone, Elzea and Clark. A single run was scored by freshman Lloyd Roath. Savala hit a double.
Advertisement
The field was soggy for the fans, but the infield appeared to be in good condition, as in, dust flew when players slid into the plates.
The boys are 6-4 overall and undefeated 2-0 in league play. They face American Christian Academy in a doubleheader this Friday, April 20, in Greenville at 2 and 4 p.m.
Greenville girls vs. Tulelake
The gals split the wins with the Honkers winning the first game 9-5 and losing the second 7-4.
In the first game, Indian scoring was led by senior Ashlyn Bustamante and freshman Julieanna Fieldson, each scoring two runs. Juniors Rylie Botts and McKenzie Brown, sophomore Solai Pomtong, freshman Alexis Goodson and sophomore Brooke Mullen each added a run for Greenville.
Two RBIs each were hit by Goodson, Mullen and Fieldson. Single RBIs were by Botts, Brown and Bustamante. The girls were really hitting hard and nailing field placement. Brown hit two doubles and Mullen and Fieldson each hit a double.
The Honker pitchers were only able to strike out two GHS batters during the first game. Greenville players stole a total of four bases, one each by Brown, Bustamante, Goodson and senior Kelsey Heard.
Brooke Mullen pitched the entire first game for the Indians, striking out five Honkers.
In the second game, Indian runs were scored by Botts, Brown, Bustamante and Goodson. RBIs were hit by Botts, Brown, Bustamante and Fieldson. Doubles were hit by Brown, Bustamante and Goodson. The Honker pitchers struck out three Greenville players.
Kelsey Heard stole two bases and Fieldson and Goodson each stole one.
Bustamante pitched four innings striking out four batters and Mullen again took the mound for three innings and struck out six Honkers.
The ladies are 2-2 in the league and 4-4 overall. They take on the Quincy Trojans today, April 18, in Quincy at 4 p.m. After that, it's a double header in Greenville against Westwood this Friday, April 20, at 2 and 4 p.m.