Joy Evelyn McClellan Geary
Joy Evelyn McClellan Geary, age 35, passed out of this life on September 22, 2022. She was born September 26, 1986, to Larry and Amy McClellan in Reno, Nevada.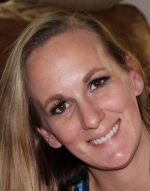 Joy was a vibrant, passionate woman who will long be remembered by those who knew her. She loved being a mom and called her daughter "her everything." Joy adored animals, being out in nature, camping, gardening, painting, making jewelry, reading, and swimming.
She is survived by her daughter Madison, mother Amy, sister Tracy Perry (Dave), and brother Ken Donahue (Miranda). She is preceded in death by her father, Larry.
Memorial services will be held October 3rd @ 5:30 p.m. at The Church of Jesus Christ of Latter-day Saints building in Quincy (55 Bellamy Lane, Quincy, California). Potluck will be served after the service.