Kindness Ninja visits CES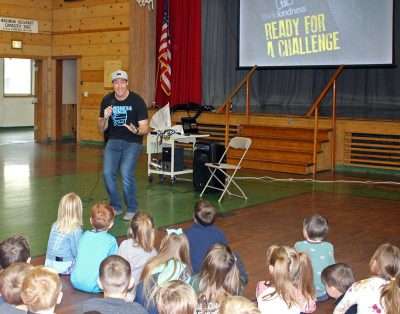 The entire Chester Elementary School student body assembled in the school's gymnasium April 5 to take on a "Kindness Challenge," where they welcomed Think Kindness-founder Brian Williams, the Kindness Ninja, so named given his fourth-degree black belt in martial arts.
Williams, a Reno resident, is a dynamic and inspirational speaker who has been featured on MTV, MSNBC, ESPN and in USA Today, as well as producing two award-winning humanitarian documentaries. He has spoken to over 275,000 students around the United States and worldwide, including donating more than 300,000 pairs of shoes to children in the continent of Africa and many other countries around the globe.
During his fast-paced presentation he used humor and an abundant dose of charisma, conveying a series of personal tales and anecdotes to captivate and inspire the students to "Think Kindness."
"I am super excited to be here today," Williams exclaimed to the wound-up kids, informing the assembly that — previously unbeknownst to them — they were now being enlisted in a competition with 120,000 other students around the country with a Kindness Challenge.
He asked everyone to yell out "We've got this!" as a way for the students to express that they were eager to carry out acts of kindness in the hallways, classrooms, at home and throughout the community every day of their lives.
Williams mentioned that everyone should always show respect, meaning, "Treat other people the way you would want to be treated."
One of the hardest lessons to learn, he told the kids, was to be nice even when people weren't being nice to them, asking that they make a promise to be kind regardless of how poorly others may act themselves.
Admitting it wouldn't be easy, "Here's my challenge," Williams continued, "Every one of you can make a massive difference in the world," by documenting over 5,000 acts of kindness over the next 15 days, anything from opening a door for a friend or a stranger, picking up something someone else dropped, or even sharing a smile with those you meet. "No act is too small," he insisted.
Williams prodded the students to say in unison, "I can change the world!" which the students pledged to do.
He asked them to call out some famous names of people who had helped change the world for the better, for example Abraham Lincoln, Benjamin Franklin, Gandhi and Martin Luther King, Jr.
Every one of those examples had this in common, he said, "They started with small acts of kindness every single day."
But perhaps the hardest lesson to learn of all, Williams said, "is to be brave."
For instance "sitting next to someone who is eating all alone during lunch, even when your friends don't approve and maybe they laugh at you," because we know it's "the right thing to do."
Brave people, like a fireman fighting a fire, are still scared, he pointed out, "but they do the right thing anyway."
Be kind, he emphasized frequently during the assembly, whether or not anyone acknowledges it.
"Your mission is that for the rest of your life you will make the world better today than you did the day before."
As a way to show they care, Williams invited the students to go through their closets to collect gently used sneakers that will be sent to needy children around the globe, and also to ask friends, family and neighbors to do the same.
To help make an immediate impact, "I want to ask you to engage in conversation with your family members about the subject of kindness, tell them that they're beautiful and acknowledge what they do as something important," as a way to encourage the simple life skill of kindheartedness.
Williams invited a few of the students to stand in front of the student body to perform some examples of acts of kindness, such as sharing a cheerful attitude with their classmates, neighbors and strangers, too.
On the organization's website, thinkkindness.org, it's stated that, "We spark Kindness Movements in schools and communities across the United States with a team of dynamic and inspirational speakers to create programs that not only talk about being kind, but inspire people to take action."
Furthermore, "We believe that each act of kindness, no matter how small, has an unforeseeable ripple effect that makes the world a better place. Every person on this planet can think of at least one kind act that made your day a little brighter."
In conclusion, Williams affirmed that expressing kindness has a significant effect on reducing bullying as well.
"We find that by inspiring a tidal wave of kindness in your school, students thrive."
"Be Kind" ideas from A-Z submitted by fourth-grader Emma McGreal
Ask someone how his or her day went.
Be kind.
Comment on someone's work.
Do your work.
Encourage others.
Follow school rules.
Give someone a high five.
Hug someone.
Invite new people to play.
Joke with people to cheer them up.
Kindly help others.
Let someone borrow something.
Make time for friends and family.
Never leave someone behind.
Open your heart.
Pick up trash.
Quiet others respectfully to
help others.
Respect others.
Share.
Take care of yourself and others.
Use kind words.
Volunteer time to help others.
Write kind notes.
Xplode with joy!
Younger kids can use help.
Zip through the halls happily.