Lassen County jail inmate escapes
Lassen County Sheriff's deputies are searching from an inmate who escaped from the Lassen County Jail.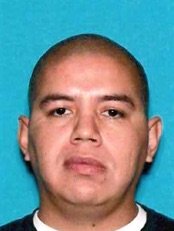 According to a statement from the LCSO, on Friday, Dec. 2, correctional deputies discovered that Angelo Atencio II, 35, had escaped from the facility. The circumstances of his escape are currently under investigation.
Atencio is described as 5'10" Indian male weighing 230 pounds.  He is of medium to stocky build with black hair and brown eyes.  His last known address was on Kei-Deh Street in Susanville. Anyone who sees Atencio or has any knowledge of his whereabouts should call 911 or (530) 257-6121.
A preliminary investigation suggests Atencio squeezed through a portion of fencing that had been manipulated in the roof area of an exercise yard. Detectives have determined that Atencio was assisted by one or more persons from outside of the facility as well as other inmates from within the facility.
Atencio was booked into the Lassen County Jail on May 15, 2022 on charges related to kidnapping, home invasion robbery, false imprisonment and parole violation.
The Lassen County Sheriff's Office is working with multiple law enforcement agencies who are assisting in this investigation. There are no further details available at this time.  We will provide more information as it can be made available.
Updated statement
The Lassen County Sheriff's Office has released more information regarding the search for Angelo Atencio II who escaped from the Lassen County Jail earlier today.
According to an updated statement, deputies and detectives are now also seeking Atencio's girlfriend, Ashly Ward, 33, of Susanville, after determining she assisted in the inmate's escape.
Ward was not in custody at the time of his escape.  Detectives believe it was arranged that Ward would pick Atencio up near the Lassen County Jail.
Ward is described as a light skinned black female, 5'4" tall and about 150 pounds with black hair and brown eyes.  The picture of Ward is current and shows that she has dyed her hair red.