Life Tributes for the week of 1/16/19
Bretta Ann Hall
Bretta Ann Hall, 75, passed away Thursday, Dec. 27, 2018, while surrounded by her family, after a brief battle with metastatic bladder cancer.
Bretta loved nature, hiking, camping and the sound of the forest. She loved to travel and was particularly fond of Vienna, Austria and Tuolumne Meadow in Yosemite National Park. An amazing and dedicated wife, mother, daughter and friend, Bretta focused on caring for others.
Born March 10, 1943, to George W. and Ruth M. Reed, of Sacramento, Bretta was the oldest of five siblings. She attended Sacramento Senior High and earned her bachelor's degree from U.C. Davis, where she met her husband of 53 years, Tony Hall.
Bretta and Tony moved to Riverside in 1971. While Tony worked at U.C. Riverside, Bretta cared for Tony and raised their daughters, Kerry and Gina, and worked part-time in the U.C.R. School of Education. Bretta immersed herself in her girls' activities, serving as a Girl Scout leader and in the band and drill team booster clubs. Bretta is fondly remembered by Tony's students.
Following Tony's retirement, Bretta and Tony moved in 2004 to Quincy, where they bought a house on 2.5 acres of forest, spent time exploring Plumas County and made wonderful friends. Bretta joined the Out & Abouters, volunteered at the Bargain Boutique and enjoyed yoga at the Quincy Yoga and Wellness Center.
She fiercely loved her grandchildren, Henry, 10, and Elsie, 7, of Charlotte, North Carolina, who were lucky to spend their summers in Quincy. Grandma made these summers magical with her months-long planning of activities to do together. She loved collecting dandelions with Henry and visiting horses with Elsie. Henry and Elsie have a love of nature thanks to their beloved grandma.
Bretta is survived by her husband Tony, daughters Kerry Singe (husband Jayson) and Gina Hall, and two grandchildren, Henry and Elsie. She is also survived by her sister-in-law, Nina; sister Nancy (Curt); and brothers Don (Cristine), Art (Ma Huan) and Ken (Ellen); and many nieces and nephews.
She was preceded in death by her mother, Ruth (2017) and father, George (1971).
A celebration of Bretta's life will be held at a later date this summer at Bretta and Tony's Quincy home. Condolences may be sent to the Hall Family at 8484 Madison Ave., #221, Fair Oaks, CA 95628 or expressed on the memorial guest register at gormleyandsons.com. In lieu of flowers, consider donating to a charity of your choice.
Chuck McClain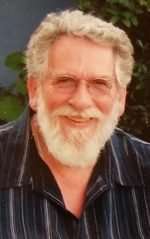 Good morning, I am Chuck McClain. I am an alcoholic; if I don't take that first drink, I won't get drunk. I have not taken that first drink or drug since July 18, 1981. If you are reading this, I have moved on to my next realm, I will be resting for a while until my Lord sees fit to move me towards whatever is next.
I passed as the result of the gift I was given, ALS. I say this disease was a gift because it forced me to participate in my growth spiritually and in the reality of my life.
I have stayed very focused on the minutes and days that have gone by, I refused to miss a second … the sounds of music, voices, wind, rain, the exposure to unconditional love from my wife and best friend, Linda; my buddy Brooklyn; my daughters, Shamika, Kellie and Jennie; my sons, Terry and Gary; my sons-in-law, Scott, Dallas and Thadd; and my grandkids, Malia, Tyler, Jakob, Stephanie and Lola. I also leave behind my sisters, Rob, Mik, Melody; and my brother, Jim; along with nieces, nephews, cousins and many, many friends.
I was blessed to live two different lives, one as a full-on alcoholic that led me down a path of wreckage that I didn't think I could ever rebuild. The other after I was able to get clean and sober, that led me in the direction of trying to be of service to my fellow man or woman in their time of need. I made my wish to be able to help at least one person that I could repay what was so freely given to me at my sobriety. I think I have helped at least one person and the rewards that I received for the rest of my life were unbelievable. Every need that I had has been met and most wants have been met too.
My biggest needs were: Sobriety — I received that with my first sponsor, Howard Dodge, and my last sponsor and sponsees, along with a consistent pattern of AA meetings weekly; Love — This came from Linda, the love of my life. She was there through thick and thin, the past couple of years were very rough for her. Kellie taught me how to be a father and how to be unconditional in my love. Shamika, taught me forgiveness and allowed me to continue to be her dad; Spirituality — Initially, this came from AA meetings then progressed via church through Pastors Dave Bloedel and Steve Hayden at Faith Lutheran Church in Carpinteria and lastly through Pastor Paul Nelson and JoAnne Kelly at Emanuel Lutheran in Santa Barbara.
The last several months have been pretty amazing and in my daily practice of meditation and prayers, God has seen fit to allow me to change my meditation to a focus of memories of my past, not negative but all the good stuff. It is just like I was there all over, not to change anything but to experience all that was around me — two good movies (meditations) a day.
I have had many jobs in the first 33 years of my life that were fun, hazardous and dangerous. The second part of my life was mainly in the "helping profession" as an alcohol and drug counselor and finally as the supervisor of the Sheriffs' Treatment Program in the Santa Barbara County Jail (15 years). I was always passionate and stubborn in life and tried to do the best I could with whatever or whomever I was involved with. Thank you all for allowing me to be part of your lives. I am a proud Vietnam vet, boatswain mate third class, via the U.S. Navy 1966 – 1970. I am proud of my flag.
I came to the end of my life with no usable parts left, as I wanted, but still had red hair (somewhere) and slim as a stick. I was born Jan. 18, 1948, and died Dec. 31, 2018.
My memorial service will be Friday, Jan. 18 (my seventy-first birthday), 2 p.m. at Emanuel Lutheran Church, 3721 Modoc Road, Santa Barbara, CA
In lieu of flowers, please make a donation to your favorite charity. Thank you.
Norma Lewis
In last week's obituary for Norma Lewis, mention of her grandchildren, Dayne Lewis and Helen Lewis, was inadvertently omitted. Norma was a devoted grandmother who enjoyed sharing her love of horses by taking her young grandchildren to the corral to ride and was also ready at a moment's notice to draw or paint any subject of their heart's desire. Dayne and Helen were an integral part of her life. They will surely miss her.