Life Tributes for the week of 1/9/19
Norma Katherine Lewis
Beloved artist Norma Lewis passed from this life Jan. 1, 2019, at the age of 87.
Born Norma Tuomala in 1931, to Finnish parents in Hibbing, Minnesota, Norma grew up on the Mesabi Iron Range. Her father worked as a certified welder. During World War II they moved the family to California where her mother and father worked at the Mare Island Shipyards. From there they moved to Monterey where they built a home on Terry Street with a view of the Monterey Bay.
Graduating early from high school, she continued her studies at Monterey Peninsula College and California College of Arts and Crafts in Oakland. There she was able to pursue her keen interest in art. She also studied privately with Carmel artists Richard Lofton and Howard Bradford. Among many things, Norma was a daughter, wife, mother, musician, horsewoman, artist and volunteer.
In 1949, she met up with a handsome Army Air Corps man, Gordon Lewis; they went on their first date in his Model A to Rosie's Crackerbarrel in Carmel. Gordon eventually became fire captain for the Monterey Fire Department and Norma worked a variety of jobs, including a stint as a telephone operator.
They were married in 1952 and built a small house on Terry Street, near her childhood home. They raised their two children, Dan and Julie, in Monterey. No matter how busy Norma was, she always managed to take her children and many of the neighborhood children to galleries and cultural events. This provided some of them with their first exposure to art.
As a family, they liked to camp in Big Sur and Mariposa. Norma often joined Gordon on his many sailing trips along the West Coast.
Norma and Gordon moved to Quincy in 1974. There Norma continued her art pursuits and also joined the High Mountain Riders Horse Club. She bought a very smart horse, Miskey, and the two of them traveled around the north state competing and earning many ribbons. The activities of her horse club were a highlight in her life.
As though that wasn't enough to keep her busy, she ran the old Quincy Greyhound Bus Station, worked on the cook crew at fire camps, helped Gordon fix up properties for resale and more recently walked many dogs at the local animal shelter.
She became an active member of the art community, attended art classes at Feather River College and Chico State University, joined several galleries in Quincy and exhibited throughout Plumas County.
Throughout her life Norma produced a large body of compelling artwork in various media: printmaking, monotypes, serigraphs, etchings, collages, as well as hundreds of drawings and oil and gouache paintings. She had a particular affinity for figurative and nude drawing and painting. A special exhibit of her artwork is on display through January at the Main Street Artists Gallery.
Norma embraced art of all kinds and searched it out wherever she went. She participated in workshops and shows with friends and her daughter Julie, also an artist. She painted often with her partner in crime, Sally Yost. The two of them created, laughed and traveled together. Norma could not work a cell phone or a computer, but she knew how to see. She will be missed.
She was predeceased by her parents, Joan and John, brothers, Henry and John, as well as her son, Daniel Lewis.
She is survived by her dedicated and loving husband, Gordon Lewis and daughter, Julie Lewis, as well as numerous cousins, including Quincy local Joanne Filippi.
Memorial services will be held at Our Savior Lutheran Church, 298 E. High St., Quincy, on Wednesday, Jan. 16, at 4 p.m. Reception to follow in the church hall. All are welcome to attend.
Barbara Jean "Bobbie" Stewart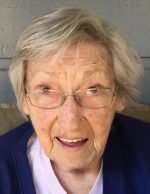 Barbara Jean Stewart went to be with her Lord and Savior, Jesus Christ, on Nov. 25, 2018. She passed at home.
Barbara Jean "Bobbie" Stewart was born in Montana Mines, West Virginia, on Dec. 28, 1930, to Charles Franklin Johnson, a coal miner, and Elizabeth Ross (Sergent) Johnson, a housewife. She was the youngest of six children. She grew up in Montana Mines, and went to school in Fairmont, West Virginia, graduating from East Fairmont High School.
After graduating, she worked at the Westinghouse Electric Co. in Fairmont. She joined the U.S. Air Force in January 1952. While in the Air Force, she was stationed at Mather AFB, where she met her future husband, Robert "Bob" Stewart. They were married in Carson City, Nevada, on June 7, 1954, and were both honorably discharged from the Air Force in July 1954.
They then moved to Southern California, where she worked as a phone operator. They had two children before the family moved to Quincy in 1970. The Stewart family owned and operated several businesses, including Quincy Tow Service, The Gold Pan Motel and an H&R Block franchise. She also enjoyed working as a fire camp cook during the fire seasons. Eventually she became a school bus driver for the Plumas Unified School District, driving the "canyon" route. As a bus driver, she also worked transporting fire crews to where they needed to go. She retired from PUSD and bus driving and worked at several local mini marts over the years "to keep busy."
After Bob retired from the Plumas Unified School District, they moved to Reno, Nevada, for a few years, but moved back to Quincy to be closer to their grandchildren. She was very blessed to be able to participate in her granddaughters' lives. She enjoyed attending birthdays, dance recitals and just everyday life. Most holidays were also spent with the girls, including one Christmas spent in Montana. She was very proud of her girls, and that they grew into strong, intelligent, independent and beautiful young women.
Barbara was very involved in the Quincy and Reno chapters of The Emblem Club, a women's service organization. During the four decades she was a member, she held many offices in both chapters, including being president twice in the Quincy chapter, and once in the Reno chapter. She made countless lifelong friends during her time in the club.
She loved animals since childhood and the family had many pets over the years. She was also an avid reader, generally reading several books a week. She was known to reread her favorite books numerous times. She liked to crochet and embroider and made countless handcrafted items and gifts for family and friends.
Bobbie and Bob participated in many activities over the years, including being in bowling leagues, and a square dance club. Bobbie loved to visit her family in West Virginia, Ohio and Maryland and traveled to see them as often as she could, including taking several cross-country trips with her two young children and two small dogs in the family station wagon.
Over the years, she and Bob made almost weekly trips to Reno with their best friends, Joan and Wayne Miller, also of Quincy, to have dinner and play the nickel slots. They loved their friends and enjoyed these trips very much.
Barbara is survived by her husband of 64 years, Robert, "Bob," her son, Robert, "Rob," of Chester, and her daughter, Rossie, of Red Bluff. She is also survived by her granddaughters, Shelby and her husband, Forrest, of Winchester, Kentucky; Rebecca, of Moab, Utah, and Megan, currently attending Humboldt State University, Arcata; and great granddaughter, Bodhi, 18 months old, of Winchester, Kentucky. She is also survived by her cousin, Sandy Simpson, who was like a sister to her; in addition to many cousins, nieces, nephews, great-nieces and great-nephews, and three grand dogs.
Barbara was preceded in death by her mother and father, two sisters, Grace and Ann, and three brothers, Samuel, Francis, and Cleo, and their respective spouses.
She was tremendously loved and is tremendously missed.
A private memorial will take place at a future date.
Douglas Tande
Douglas Tande went home to be with the Lord Jan. 7, 2019. He was born Sept. 5,1937, in Minneapolis Minnesota.
The son of Orian and Avis Tande, Doug is survived by his loving wife of 63 years Joyce Tande, Doug's brother David Tande, Doug's daughter Linda and her husband Bob Waldo, son Mark Tande and wife Karin, daughter Yvonne and husband Curtis Hill and daughter Lisa and husband Daniel Hanna; grandchildren Nikki, Bobby, Amy, Luke, Jillian, Curtis, Danny, Joshua, Rachel, David and 16 great-grandchildren.
Doug loved life in the mountainous outdoors of Plumas County. He spent his life in the woods and on the high mountain lakes and the local creeks. Doug was an avid fisherman, hunter and artist enjoying woodworking for many years and more recently he enjoyed golfing, reading about history and continued cutting his own wood.
Doug Tande is remembered as a loving husband and father, doting grandfather and a man of deep Christian faith. He moved to Plumas County in 1967 from Fullerton, California. He always said that only Joyce would have been adventurous enough to move up into these mountains with four small children and they never regretted it.
He worked as a manager at Longs Drugs and for the Plumas County Assessor's Office. He and Joyce also founded Tande Draperies. Doug had a great sense of humor and he was a wonderful storyteller. Doug loved his Lord and savior Jesus Christ. A celebration of Doug's life will be held at Meadow Valley Community Church on Saturday, Jan. 12, at 11 a.m.
Elizabeth Nava-Wolfe
Elizabeth Marian Nava-Wolfe passed away at her home in Yuba City on Dec. 8, 2018. She was born on July 16, 1960, in Marysville.
She leaves behind her husband, John; sons, Matthew and Christopher; granddaughter, Charity; her mother Ponaidh (Pony) Nava-Stuart, a 30-year resident of Crescent Mills; brothers, Raymond and Anthony; and sisters, Nella Williams and Judy Blankenship.
She was preceded in death by her brother, Servando.
Elizabeth got great satisfaction with the 20 years she worked with autistic school children in the Yuba City area.