Life Tributes for the week of 2/13/19
Joyce Atrell Bozeman
Joyce passed away at home with her daughter, Betty Bozeman, by her side on Feb. 4, 2019.
Joyce was born Nov. 17, 1931.
Services will be announced at a later date. Arrangements entrusted to Manni Funeral Home of Portola.
Evelyn LeJeune Campbell Deini
Evelyn LeJeune Campbell Deini, 89, passed peacefully on Jan. 19, 2019.
Evelyn was born on Sept. 14, 1929, at the Feather River Hospital in Delleker. Evelyn grew up in Portola and graduated from Portola High in 1947. In October of the same year she married the love of her life, Walter "Hap" Deini. Together they built a life in Portola.
In August of 1950 they welcomed their only child, Christie. During Christie's elementary school days, Evelyn worked in the office of the elementary school until she retired in 1977.
During the summers you could find her working at the Portola pool as a lifeguard and swim instructor. She was also an avid bowler and skier and loved to camp. You could always find her in a bowling league or on the ski hill. Evelyn was also active in the Portola Methodist Church, helping to serve food during Vacation Bible School.
Evelyn lived her final years close to Deirdre in Coeur d'Alene, Idaho. She loved going down to the lake to see the lights that the Coeur d'Alene Resort does every year. And being able to witness her great-grandchildren grow.
Evelyn was preceded in death by her husband, Hap; daughter, Christie; and sister, Betty.
Evelyn leaves behind her grandson, Beau Shaw and wife, Wendy and two boys, Owen and Xander, of DuPont, Washington; her granddaughter, Deirdre Lawrence and husband, Ryan and two boys, Aidan and Connor, of Coeur d'Alene, Idaho; as well as many nieces and nephews.
Evelyn wished not to have any services, only to be placed with her husband overlooking their beloved Sierra Valley. Please feel free to make any donations in Evelyn's name to the High Sierra Pet Rescue in Portola, as she had a love for dogs.
Carolyn Joan "Jody" Dimick
Carolyn Joan "Jody" Dimick, age 92, passed away peacefully at her residence in Forest Grove, Oregon, on Dec. 14, 2018.
Born June 28, 1926, in Boston, Massachusetts, she was raised in southern California. Jody and her husband, Richard D. "Dick" Dimick, were married in Santa Barbara, in June 1947. They moved to the East Shore of Lake Almanor in 1955 and lived there until 2002, when Dick passed away.
Shortly thereafter Jody moved to Chico for the winters and spent the summers at the family home on Lake Almanor. In 2017 she moved to Forest Grove, Oregon, to be closer to her family.
Jody studied as a cadet nurse in San Francisco, graduating in 1947, and worked as a registered nurse for many years. In 1958, Dick and Jody started Almanor Construction Company and she retired from nursing to become the company bookkeeper. They retired from the business in 1980 and traveled the world together, Dick hunting and Jody taking pictures.
They later began restoring vintage automobiles especially the "Winged Cadillacs" of the late 50s and early 60s. They took great pride in the fact that the restorations were "drivers" and not just parked for show. They were members of the Great North Valley Cadillac-LaSalle Club of Sacramento and the North Valley Unique Car Club of Chico. They traveled throughout the United States in their restored cars attending car shows and swap meets. Jody was a long time member of P.E.O. Chapter BO.
Jody is survived by her son, Rick Dimick, of Bedrock, Colorado; daughter, Kris Eiesland and her husband Butch, of Gaston, Oregon; four grandsons and their wives, Byron and Elizabeth Dimick, of Forest Grove, Oregon; Michael and Sarah Dimick, of Columbus, Ohio; Benjamin and Lindsay Eiesland, of Newberg, Oregon; Jared and Andrea Eiesland, of Gaston, Oregon.
At her request there will be no funeral or memorial.
Mildred Irene Harrison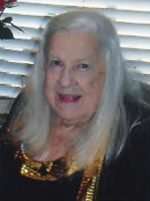 Born in 1924, in Akeley, Minnesota, to Irene and Eric Sundquist, Mildred lived a full and rich life for 94 years, passing away from renal failure on Dec. 29, 2018. She was much loved by family and friends and touched many lives with her sparkling wit and the twinkle in her eyes.
A 1942 graduate of Westwood High School, she raised six children before continuing her education, graduating from Lassen Junior College in 1958 and Chico State College in 1960. Her first teaching job was in the one-room school at Caribou, her second at Pioneer Elementary School in Quincy.
After the passing of her first husband William Ellard, she moved to the San Francisco Bay Area with her second husband Elmer Sharp. Their interests and hobbies were sailing, opera, traveling and teaching at Cotati and Rohnert Park elementary schools.
After the passing of Elmer she married Alan Harrison. Their interests and hobbies were motor yachting, traveling and sports.
After the passing of Alan she married Tom Harrison, a union that lasted for 38 years. They were active in the Bel Marin Keyes Yacht Club, the Marin Power Squadron, and the Redwood Power Squadron, of which she was a past squadron commander and the district commander after her retirement from teaching in 1994.
She was predeceased by three husbands, son, John Ellard and daughter, Karen Kirby.
She is survived by her husband Tom; daughters, Susan Ellard (Judy), of Albany, Mary Defrancisco, of Simi Valley, Joyce Walthers (Ronn), of Shingle Springs; and son, Bill Ellard (Tatyana), of Rocklin; 12 grandchildren and 22 great-grandchildren.
Services were held January 20 in Albany.
Roger Leighton Peterson
Roger was born Nov. 5, 1941, in Portola. He died Nov. 8, 2018. He attended local schools and graduated from Portola High School in 1959. Following high school, he served in the U.S. Army from 1959 – 1962. Following the service, he returned to Plumas County and worked as a logger for several years.
He is survived by his daughter, Christine Noelle McLain, two grandchildren, Alyssa and Michael McLain, of Monks Corner, South Carolina; also two sisters: Wilma Golden, of Bullhead City, Arizona and Luana Parker, of Palo Cedro.
He was preceded in death by two brothers, Jerry and Dean Peterson.
No formal services were held at his request. Arrangements entrusted to Manni Funeral Home of Portola.