Local 'Texas relief team' returns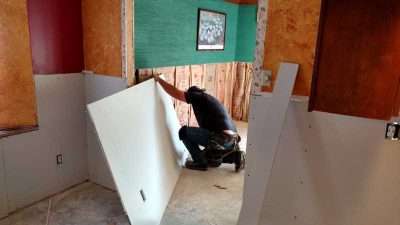 Volunteers associated with the Feather River Missions Network headquartered in Reno recently returned from a hurricane relief/re-build trip to Beaumont, Texas.
Included on the relief mission were local pastors Fred Weatherly from the Southern Baptist Church in Greenville and Dan Hanna with the Chester Baptist Church.
The seven-person relief team was assembled with the direction of J. Ballard, director of Missions with FRMN and in conjunction with a Texas Southern Baptist relief group called Nehemiah's Vision.
On Jan. 23, six of the team members flew from Reno to Houston where they met up with the seventh member who flew in from San Diego.
Houston is about 90 miles from Beaumont, which is located less than 20 miles from the southeastern gulf coast of Texas.
The team consisted of J. Ballard and his wife Nicki, Dennis Fowler, Carolyn Pritchett, Fred Weatherly, Dan Hanna and Derek Robertson, a contractor from San Diego and friend of Hanna's.
Hanna related the team's appreciation to him for taking time from his business to lend his expertise to the relief efforts.
The group was matched with the needs of a South Korean mother and son, Jin and Shane Chang, to help in the reconstruction of their home in Beaumont.
The crew spent the next week hanging and mudding new sheetrock in the flood damaged home.
The re-build strategy is set up to accomplish the work in phases so the team was able to go right to work because other Nehemiah's Vision teams had already completed the tear-out, clean up, sterilization and stocked all the sheet rock materials on site.
Hanna and Weatherly both related that one of the startling aspects of the trip was to see the level of devastation the floodwaters had left and the absolute graciousness and gratitude of the homeowners.
When asked how the trip impacted him, Pastor Weatherly, said he could only think of three words, "Exhausting, exhilarating and fulfilling."
He did note that there were teams there from across the country; the two he saw were from Pennsylvania and Kentucky.
J. Ballard shared that because each team member is responsible for their own travel and food costs, this trip would not have been possible without the support of the 17 churches in the FRMN that are located as far north as Klamath Falls, Oregon, and as far south as Truckee along with Modoc, Plumas and Lassen counties and Reno.
"The fundamental reason for the mission trip is to provide help where it is needed and to have an opportunity for people to live their faith by putting it into action," said Ballard.
The team members also learned some valuable lessons about natural disaster scenarios in general during their trip.
As they interacted with the victims they soon realized that there are several phases in the aftermath of any disaster.
First, there is the initial response from government groups, from local to federal, that impact a limited segment of the population.
Then there are those, often more prosperous individuals, who have insurance coverage and/or assets of their own to accomplish a re-build.
Then come the folks that have limited options to rebuild their homes and lives.
It is often years later that these folks, many of whom have been displaced, can begin to re-establish their former lives.
That is just one of the reasons Hanna and Weatherly have been putting together the groundwork to establish a local relief group that can make annual trips to areas that need help.
The proposed name for the group is the acronym QUAKE. Quick Under the Authority of King Jesus and Exuberant to serve.
In conjunction with QUAKE, Robertson will also be recruiting people in San Diego to complement the northern California team members.
The guidelines for being a part of these upcoming relief missions include: participation in an evangelical church, being in adequate physical condition to perform the assigned tasks and being capable of covering travel and food costs.
Anyone wishing to support these efforts financially can make check donations to GSBC Disaster Relief by mail to P O Box 632, Greenville, CA 95947.