Longboard races this Sunday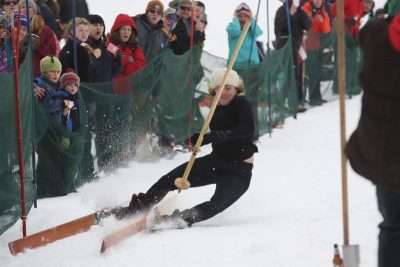 The snowy days of winter are some of the finest days in Plumas County. Highlighting the fluffy white stuff when it falls are the Longboards ski races at the historic Johnsville Ski Bowl in Plumas Eureka State Park. Conditions could be ideal thanks to fresh snow falling the two weeks preceding the first round of the 2019 competition Sunday, Jan. 20, starting around noon.
This is the first of three races that make up the Historic Longboard Revival Race Series. The schedule for the two remaining races is Sunday, Feb. 17, and Sunday, March 17.
Attendees are not required, but are encouraged to wear period attire reminiscent of the 1860s when the races first began. Live music from The Lost Sierra Ramblers is traditional and peppers the occasion with rustic yet spicy energy.
Fresh barbeque and hot coffee are among the goods offered for spectators and competitors alike although a good snort of something stronger has been known to stave off the cold when needed.
Skiers dressed for the occasion get themselves, and the pair of rugged homemade skis they hope to cross the finish line with, up the hill under their own steam.
The 9-foot or better skis are not noted for being featherweight or for any precision negotiating turns. Stopping is initiated, and hopefully accomplished, with a very high-tech system utilizing a broomstick straddled and levered into the snow. It all makes for a relaxed and entertaining day outdoors for families, friends and a few well-behaved pets.  Spectators gather along the sidelines, with a watchful eye on racers as members of  The Ancient and Honorable Order of E. Clampus Vitus perform the duties of official start and declaration of race winners at the finish line.
The public is invited to spectate and participate in the family-style entertainment. There is a nominal charge to race. For more information visit Plumasskiclub.org, visit or call Plumas County Museum in Quincy at 283-6320.
Race dates
Jan. 20
Feb. 17
March 17