"Lost" riders find competition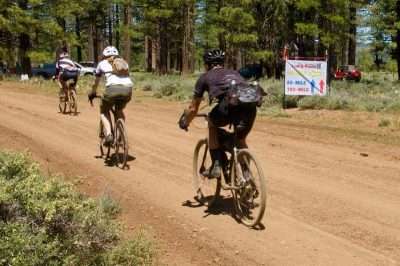 The 1,250 100-mile riders in the first jewel of the triple-crown bike competition, Lost and Found, were greeted with a clear day for riding June 2. Competition ran about as smoothly as a Gravel Grinder can thanks to the skill and expertise of organizing staff.
"Beautiful weather, good reviews," said volunteer Linda Cooley from "I" station at the 45-mile cutoff. Members of the Portola Rotary Club and the Portola City Council staffed the "watering hole" as Cooley described it. "We were not an Aid Station … but we certainly treated many 'road rash' victims," said Cooley.
The Lost and Found Gravel Grinder is one of three local, but internationally recognized, rides hosted by the Sierra Buttes Trail Stewardship. "The racers were very excited about the course; there were some terrible ruts and rough going, but most seem to think it was great," said Cooley.
An enormous crowd filled campgrounds to capacity at Lake Davis and cars lined the surrounding roads for this year's Gravel Grinder race near the city of Portola.
The event has grown since the inaugural ride five years ago. "This year we had 1,250 [riders] registered," said SBTS Board President Jesse Passafiume. "Our first year we had 204 riders."
Volunteering at the Net Control station with Ham Radio Club President Nora Barnum was Larry Trotter. "We started out at 5 in the morning and finished at 8:30 p.m. It was a very long day," said Trotter. Twenty radio volunteers worked at Net Control to keep race-day communication open. They were located next to Fire Control.
Pro Men's racer Tobin Ortenblad had the fastest time, finishing in a speedy 5 hours, 35 minutes in front of 26 other professional riders. Second-, third- and fourth-place riders each finished within a single minute of each other: 5:36, 5:37 and 5:38. Competition was that tight.
Fourteen riders rode in the 100-mile Open Single Speed race with Corey Hanson coming in first with a time of 6:21, followed by the next three riders within less than 13 minutes.
The 100-Mile Jr. Men, ages 13-18, had five competitors with times ranging from 6:52 for first place Tydeman Newman to the last rider coming in at 8:44. Second place was a tie with Korbin Moorehead and Myles Morgan both coming in at 7:15:39:2. Tough finishers!
Fifty-eight men competed in the 100-Mile Men, 30 and under, with a best time of 5:56 from first place finisher Emile Goguely. Patrick Huibregtse placed second in 6:25 leading a pack of six riders on his tail finishing within the following nine minutes.
Older but quicker, Travis Guillory finished first in the 100-Mile Men, 31-40, with a time of 5:41, followed by Eric Chizum at 5:47 and Erik Nelson at 5:55. This was the largest category, drawing 117 riders!
Ninety-eight men, 41-50, raced the 100 miles, with Michael Sayers coming in at 5:59.
John Hunt, the winner of the 100-Mile Men, 51-60, beat his younger counterpart with a time of 5:56. There were 78 riders in this division.
In the 100-Mile Men, 61 and over, 15 riders were led by Dave McGrath with a 6:04 time, followed by Paul Koopmans at 6:12 and George Smith at 6:29.
Female racers
Professional rider Olivia Dillon took first place going the 100 miles in 6:16 up against 13 other riders. In a close second and third were Katerina Nash at 6:24:05 and Serena Gordon at 6:24:18.
Four women 30 and under were led by local athlete Dana Ludington who brought in a 100-mile time of 8:59 followed by Ellen Everidge at 9:01.
Michele DeLia won the 100-Mile Women, 31-40, with a time of 6:23 with 26 riders.
Women, 41-50, had 17 riders and Amy Thornquist took first in 6:43. Sandra Rosas bested three competitors in the Women, 51 and over, with a time of 7:43.
There was one tandem bike, with double the power and double the weight, on the trail making a very good time of 7:37.
The fastest average mile was clocked at 3:22 by winning pro Tobin Ortenblad and the longest mile average time was found in the men's 30 and under category at 6:01. There were no "slowpokes" and no picnics were held on the course. "These are all hardcore athletes," observed volunteer Trotter. Endurance was a huge factor in completing the ride.
The longest amount of time spent on the route was 10 hours. "We saw people bleeding from every appendage that went on to finish the race," said Trotter.
Lost and Found Gravel Grinder 100-mile race results
Pro Men
1st Tobin Ortenblad
2nd Anthony Clark
3rd Carl Decker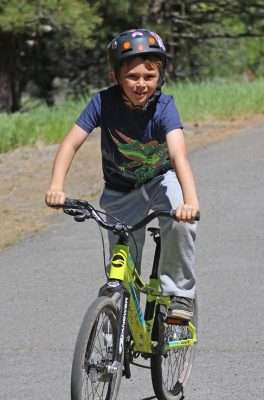 Open Single Speed
1st Corey Hanson
2nd Pete Faeth
3rd Kell Mckenzie
Jr. Men 13-18
1st Tydeman Newman
2nd Korbin Moorehead
3rd Myles Morgan
Men 30 & Under
1st Emile Goguely
2nd Patrick Huibregtse
3rd Dylan Powell
Men 31-40
1st Travis Guillory
2nd Eric Chizum
3rd Erik Nelson
Men 41-50
1st Michael Sayers
2nd Mike Donahue
3rd John Hotob
Men 51-60
1st John Hunt
2nd Rich Thurman
3rd Aaron Long
Men 61 & Over
1st Dave McGrath
2nd Paul Koopmans
3rd George Smith
Pro Women
1st Olivia Dillon
2nd Katrina Nash
3rd Serena Gordon
Women 30 and Under
1st Dana Luddington
2nd Ellen Everidge
3rd Esther Adelstein
Women 31-40
1st Michele DeLia
2nd Jennifer Schwarz
3rd Sumer Crow
Women 41-50
1st Amy Thornquist
2nd Erin Avery
3rd Michelle Morrill
Women 51 and Over
1st Sandra Rosas
2nd Nancy Aguilar
3rd Yvette Crockell