The Lost Sierra Tourist Center is in danger of closing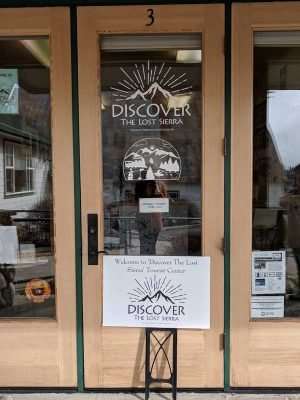 The Lost Sierra Tourist Center is located in the tiny town of Blairsden, and is Plumas County's one and only tourist center — and the center is currently in jeopardy of closing its doors unless it is able to secure $20,000 in emergency funds.
"The tourist center is in imminent danger of closing," Director Audrey Ellis explained. "The chamber of commerce heavily subsidizes the tourist center, which services thousands of tourist and community members each year. This includes marketing efforts such as printing and distributing brochures."
The LSTC touts itself proudly as a center that is "small in size, but mighty in ambition," promoting local tourism and economic development in all of Plumas County. The Eastern Plumas Chamber of Commerce — now known as the Lost Sierra Chamber of Commerce — opened the LSTC in 2012 to better meet the ever evolving and growing needs of those interested in Plumas County, brought on by increased tourism despite the recession.
The LSTC is considered the county's information hub, with maps, venue options, event lists, recreation packets, lodging and restaurant guides and a wealth of information on recreational opportunities, points of interest and local entertainment options throughout Plumas County. This information is available to thousands of walk-in visitors, locals and businesses every year.
"We also attend travel shows, where we have a booth that attracts many to investigate Plumas County and all that we have to offer, in addition to other travel events, and we also pass information through our office, emails and snail mail," Ellis said.
Inside the center, a book of visitor signatures reveals the wide appeal of Plumas County and the center that works to show it off to the world, with visitors coming from Germany, Sweden, the Midwest and all around California — and that's just in the past year.
Tourists visit the area and stop by the center to leave comments, with some noting the great resource made available by the LSTC, and others noting the beauty of the area, along with the friendly communities.
According to visitcalifornia.com, a joint marketing venture of Visit California and the Governors Office of Business Development, Plumas County has generated some pretty high numbers related to tourism. In 2016 alone, government revenue generated by travel spending reached $1.9 million in TOT, also known as the Transient Occupancy Tax — none of which goes to support the tourist center.
The center is primarily kept operational through volunteer efforts and public contributions, according to Ellis, and now the center must take the steps needed to become self-sustaining. "We need everyone's help," Ellis stressed. "We truly need the support of the community and the county or we can say goodbye to the center."
The center is currently a 501c6, but Ellis noted that LSTC has begun the process of securing a 501c3 nonprofit status, which would then enable the center to apply for tourism and economic development grants related to recreation and tourism, another step toward becoming self-sufficient.
As LSTC awaits 501c3 status, the $20,000 emergency funding goal would allow LSTC to continue brochure printing, cover website and marketing costs, mailing costs, rent, utilities and insurance.
"With an average of 19,000 residents in Plumas County, according to the last census, if each resident of Plumas County were to give a dollar, I feel that we would be able to meet funding goals," remarked Kim Fleeman, president of the Graeagle Property Owners Association.
Local businesses work with the center regularly, according to Ellis. Businesses such as the Gray Eagle Lodge joined the conversation, with Brett Smith saying, "We are very fortunate to have the LSTC here. One important way that we utilize the center is in booking and reservations. Here at the Lodge, we generally have a lot of repeat visitors, but if there is a last minute cancellation, we give Audrey Ellis or Jan Tew a call and let them know and generally they are able to fill the vacancy."
Smith noted that he felt it would be "so sad, really terrible" to lose the center and all of the services they provide. "We love those guys!" Smith said with a smile.
Ken Smith, owner of Explore! Sierra Touring Company, also spoke enthusiastically about the center, "Every time I go into the center needing information or even assistance with marketing, Audrey is right there and does a fantastic job! We definitely need the tourist center; it's the only one in the county, and without it, where would people go?"
Graeagle Merchants Association President Joanne Williamson also spoke to the impact LSTC has had on the community, saying, "I think that LSTC brings a huge benefit to everybody. It's essential; it's the only center in the county, and between tourists, businesses and the community at large, it's essential. The staff is great, and Audrey is very passionate about the entire county. The center is constantly referring people out to local business, working hard to represent our county."
The LSTC has set up a Go Fund Me account to begin meeting fundraising goals, which can be found through the LSTC website, discoverthelostsierra.com.
The center is also searching for a sponsor for the updated "Free or Almost Free Things to Do in Plumas County" guide, a colorful glossy look at the many options for budget-friendly enjoyment available in Plumas County, in brochure format.
Those interested in more information regarding sponsorship may contact Audrey Ellis at 836-6811 or via email at [email protected] Visitors are always welcome, and can stop by at 8989 Hwy. 89, Suite C, Blairsden.
Get to Know the Lost Sierra Tourist Center
About the center:
LSTC offers a wide range of tourist services:
– Provides free information about all the activities in the area including, but not limited to, hiking, biking, camping, events, area maps.
– Provides information for visitors including dining and where to stay, from cabins to upscale accommodations.
However, the Tourist Center is much more than a center serving just tourists.
Economic development:
– Promotes local businesses and encouraging residents and visitors to shop locally.
– Provides brochures and information on what Plumas County offers.
– Assists in economic development for the entire area, which in turns increases sales tax and property tax revenue to the county.
Services for area residents: – Provides information on medical services, area transit services, social services and resource centers.
– Offers a free resource brochure that details all the services and agencies and contact numbers in Plumas County.
– Offers a Welcome Packet to new residents that includes information on the area and how to access all the services Plumas County provides.
– Supports local schools and events, and provides educational information as requested.
– Works on improving the lives of the community.