More volunteer needed at PAWS rescue for cats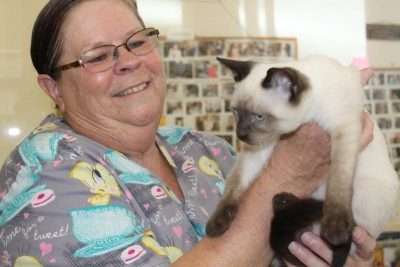 They're cute. They're cuddly. They're fun to watch as they romp about the room. But they need to be cared for — now more than ever before.
Volunteers at PAWS (Plumas Animal Welfare Society) suddenly find themselves short-handed and the facility is filled with kittens and cats that need care.
When longtime lead cat-care volunteer Kathy Nixon could no longer help care for animals at the Quincy location, others stepped in to help fill the void. But cleaning, feeding, doctoring and pampering at least a dozen kittens and four adult cats requires a lot of commitment and time.
Alice Parlier and Louise Delaney, longtime volunteers, took some time out recently in order to explain just what PAWS desperately needs.
"We're in the process of trying to hold everything together," Delaney explained.
And not just the volunteers are missing Nixon's presence. An older cat named Kimi who has come to live at PAWS was very attached to the woman. She's had a major setback since Nixon had to leave, Parlier explained.
PAWS needs volunteers who are willing to help clean cages as well as the facility, feed, do health checks and help socialize cats and kittens.
And there are duties with the public; people want to see the animals in order to adopt one. Paperwork needs to be filled out and filed. Spay/neuter cost reduction certificates given out and much more.
Extra responsibilities, like the annual fundraiser and pet adoption events, have been put on hold. There aren't enough people to do it all.
While some of the responsibilities are limited to the hours the facility is open, other duties must be carried out seven days a week.
At PAWS
It's a nice warm, early afternoon at the PAWS facility at the east end of East Quincy.
An older-looking tabby is dozing on a small sofa in the main office. She allows herself to be moved a little so someone can be seated. She's okay with being petted and accepts a little scratching.
Kimi's whole demeanor changes when Perry, a relative newcomer tiger cat, leaps up on the sofa. She scoots further into the arm of the sofa and further away from the friendly hand. As Perry greets and welcomes the friendly attention he's receiving, Kimi finally leaves in disgust. She returns to her bed in a large cage in the office. She's offended and everyone understands.
That is, everyone but Perry, who's in his element, turning this way and that as he accepts attention.
Perry was adopted from PAWS and has returned, one of the women explained. He wasn't well cared for and has had some blood work done, Delaney explained, indicating his shaved neck.
Although PAWS volunteers  try to find the best possible homes for all of its cats and kittens, occasionally things just don't work out.
The tour
The first stop on a tour through the facility's two rooms is the glassed-in kitten house. Cat scratching platforms, kitty houses and beds, plus a wide variety of toys help make the room kitten-friendly.
Inside youngsters were taking it easy, napping or making the most of the day as they chased each other and batted toys.
In the larger room at the rear of the facility, more kittens, including a mama kitty and her babies, an adult cat in her bed and a tiny adult kitty, were all doing as they pleased.
While some of the kittens romped around the room, others were placed in a kitty playpen where they could enjoy themselves without getting run over by larger kittens.
And with all this going on, safely in a large cage draped with a towel for privacy were the newest mama and her three babies.
One of the tour guides caught the cat and, realizing she was pregnant, eventually brought her to PAWS. Just two days later she gave birth, Delaney said.
While all the activity is entertaining, there is a lot of work that has to get done in connection with keeping PAWS open and finding kittens and cats home.
Cats and kittens that come to PAWS are from the Plumas County Animal Shelter. For more information on volunteering to help with the process of getting cats and kittens home or adopted, call PAWS at 283-5433.