Mutual aid brings teams and engines to fight Minerva Fire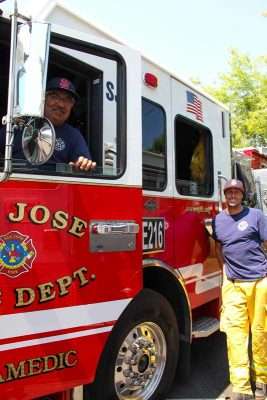 When a wildland emergency the size of the 2,500-acre-plus Minerva Fire strikes a mountain community like Quincy, you need more than a little help from your friends — you need all the help you can get.
That's where statewide emergency management services and mutual aid agreements come in. They can also be nationwide mutual aid calls — a coordinated system that brings emergency personnel and resources — think trucks, tankers and highly skilled responders — to join forces and fight off fires, floods and more.
When the Minerva Fire grew from five small fires began to merge over the weekend of July 29, help was already rolling into town.
Being a firefighter means always being ready to get called out. With mutual aid, that could mean being sent far from your own home jurisdiction.
Advertisement
"It's part of what we do and we're glad to be here," said firefighter Martin Lomeli. "We know if we needed it, you'd come and help us."
Lomeli and Steven Chet, firefighters on Engine 216 with the San Jose Fire Department, got the call to head to Quincy with some of their coworkers on Sunday, July 30. They drove all night to get here to help fight the Minerva Fire.
Michelle Carbonaro of the Stanislaus National Forest, an assistant captain with bulldozer experience herself, is one of the public information officers on the Minerva Fire for the South Central Sierra Interagency Management Team, the lead for coordinating the Minerva Fire response.
"With mutual aid," Carbonaro said, "we've sent folks from our own U.S. teams as far away as Australia to help fight fires there. And Australia, Canada and other places have sent folks to come and help us. This is not even limited to just California, it truly is mutual aid; we all help each other out and we make those connections."
Responding to a call for mutual aid can put demands on the personal and professional lives of the responders. They have family, friends and pets at home, too, some of whom they might not see for weeks at a time.
Bakersfield City Fire Department firefighters Kevin Hinkle, a paramedic, and his partner Codi Adams, an emergency medical technician, drove all day to arrive in Quincy on Thursday, Aug. 3. Their first day involved getting oriented, driving and hiking around to determine where the work needs to be done.
Paramedics and EMTs are "suspended" in with the other crews just in case anything happens, so they can quickly get to any of the groups of firefighting personnel. However, if a civilian were injured in the field, the EMTs and medics would respond and treat them as well.
They could be here two weeks or indefinitely. Paramedic Hinkle just came off a huge fire in Tulare County, another one south of Yosemite and he has a 3-month-old son, Lincoln, whom he hasn't held in 31 days. Nevertheless, he assures us, it's all part of the job.
The fire coordinators report that mutual aid on the Minerva Fire had reached 1,204 personnel and 97 engines as of Friday, Aug. 4.
Kelly Mosinski, the check-in status reporter with the Plumas National Forest, checks in every fire team as they arrive at the incident camp in East Quincy. She reported teams have joined from Alaska, Florida, North Carolina, West Yellowstone, Illinois, Pennsylvania, Montana, Utah, Georgia, Colorado, Idaho, Missouri, Arizona, Nevada and many places in between. One arrival gave her pause.
"Paris? I said you've come from Paris?" she laughed during one check in. "'Yes ma'am,' he told me. ' Paris, Arkansas.'"
Brendan Halle, a firefighter PIO from Vista, said, "Every firefighter has a specialty. So there is no such thing as a typical day in our lives. The ones you see stationed in the neighborhoods and here around town, their specialty is structure protection. You want those folks there because they have that specialized training to save and preserve homes and businesses."
Hot shots are another matter.
Halle said, "Hot shots are like any other firefighter, but they have some special qualifications. They're often our top athletes because they are the ones sent out into rougher terrain, difficult conditions and they are trained to handle this. They're usually in a specific group of up to 12 and they go out and work on the hottest, nastiest jobs there are.
"When it comes to getting a line around a fire, that's what they are trained to do and they do it. The hotshots, they're out physically putting in hand-dug lines around the fire and preventing it from getting to the communities. Whereas the structural firefighters, they're focused on defending your homes."
Hinkle of Bakerfield, getting ready to hike out with his team to provide vital paramedic services, remembers his own days as a hot shot, working rugged terrain like Plumas County's mountains and steep ravines.
In those steep ravines and high ridges, Hinkle says, "You learn to do everything you can with less. They don't even sleep in a tent most of the time, just right on the ground with what they have, under the stars or maybe under the truck."
   He laughs at the memory of those days and says, "Yeah, they've got a right to be pretty macho out there because sometimes it's 'Should I take a shower? Nah, I'm gonna sleep instead.'"
Cheryl Chipman, a PIO-2 with the National Parks Service's South Central Sierra Interagency Incident Management Team, said the most important thing — because every fire is different — is all the thought that goes into which mutual aid resources to pull in for help and when and where to do so. "This is fire season all over the country," she said, "and it's a challenge to draw upon as many resources as we have needed. But everyone's been great and we have a good working system of mutual aid in place."
Danny Gallant, a heavy fire equipment operator from the Angeles National Forest, is also a PIO firefighter and bulldozer operator from Southern California. He sums up the value of mutual aid for towns like Quincy this way.
"Actually, a lot of us have the training to do various of these kinds of services," he said. "And at home, when I'm assigned to go out on an incident, I fill the role I'm assigned to do, so it could be structure protection or I could be operating a bulldozer to cut in a line around a wildfire. We all do this. Yes, we are super busy July through October, peak fire season, and often away from home for weeks on end. It requires a flexible home life. And you have to be ready to be sent to someplace new on really short notice."
Gallant and the other firefighters say the thing they appreciate about their jobs is being able to reassure people in the communities where they are stationed. No matter where they are stationed or what tasks they have to do, whether it's helping with evacuations or fighting the fire, the best part of the job is knowing they are helping people and helping them make decisions for their best outcomes.
So when they see the thank you signs around town and people stop them on the street or give them cards and letters, these emergency personnel say they feel a tremendous sense of satisfaction about their work.
"I love coming to work every day," Gallant said. "That's why these folks become firefighters, they like to help people."