Obituaries for the week of 5/3/17
Kathryn Stewart Apger
Kathryn Victoria Stewart was born on Dec. 9, 1913, in Stockton, the second child of Gordon Armstrong Stewart and Jessie Naomi Avery. Kathryn (Kay) was truly of pioneer stock. Her ancestors came to America from Scotland in the early 1700s, prior to the American Revolution and settled first in Pennsylvania, later moving as early settlers into the Ohio River Valley, some in Ohio, others in Kentucky. Her grandfather, James Oscar Stewart, a mining engineer and metallurgist, moved to Georgetown, Colorado, in the early 1860s, later developing the Stewart Amalgam Process making it much easier to separate silver from its ore. Eventually the family moved to California in the 1870s and purchased the family farm in Danville, Contra Costa County.
Kay's father was an attorney and settled in Stockton, in the early 1900s where he practiced general law until his untimely death in 1921. The family persevered through the 1920s and into the Great Depression. Times were very tough and this developed a strong frugal and independent streak in both Kay and her sister, Mary Ruth.
Kay loved the mountains and in her late teens began working summers at the Stockton City Camp at Silver Lake, near Carson Pass. Later while attending the College of the Pacific in Stockton (now UOP), she worked summers as a cook on the Sierra Club's High Sierra Pack Trips, riding with the pack stock from camp to camp in the high country of the Southern Sierra, as the campers hiked their way along. Kay helped with setting up the camp and preparing the meals. This way she could see her beloved Sierra without having to pay for the trip, as money was in very short supply during the Depression.
Following college graduation (BA, Latin) Kay became an elementary school teacher in Stockton. She would teach through the school year, then spend much of her summers working the High Sierra trips, and spending time at her Aunt Victoria's cabin at Echo Lake above Lake Tahoe at the summit of Highway 50. On Dec. 7, 1941, much changed.
World War II brought about great changes in everyone's lives. The war industry ramped up and millions of men headed off in uniform to fight the war. The war also brought many men from other parts of the country to the Stockton area. One of these was a native of Toledo, Ohio, an accountant with the Joshua Hendy Iron Works and the Lathrop Army Depot, Harold Ray Apger. Towards the end of the war Kay and two girlfriends began dating three handsome men, one of whom was Harold, who took to Kay right off.
After the war ended, Harold proposed marriage to Kay, but she was not ready. She wanted to see more of the world (a trait that stayed with her throughout her life) and wanted to live in New York City for a while. Not to be out maneuvered, Harold suggested that she didn't need a car while in New York City and said she could leave it with his parents in Toledo until she needed the vehicle again. Kay agreed, headed for the great city and left her car along the way with the Apger family in Toledo. Harold quickly returned home and waited for Kay's return. New York ended up not being to Kay's liking so she eventually headed back to Toledo to fetch her vehicle and found Harold who again proposed marriage.
On Feb. 16, 1946, Kay and Harold were wed. They moved back to California and moved in with Kay's Uncle Bill at the family farm in Danville, while Harold found work with an accountant in nearby Walnut Creek, soon becoming a certified public accountant. Uncle Bill gave Kay and Harold two acres on the farm on which to build their home. There they began to raise a family. First on the scene was their daughter, Katie; followed by the births of their two sons, Bill and later Tom. Eventually, in 1963 the family moved to Carmel, where Harold opened his CPA practice. Katie, Bill and Tom all graduated from Carmel High School and went on with their lives. During the Carmel years, Kay volunteered at Community Hospital of the Monterey Peninsula and worked accounting for the Monterey County Symphony.
Throughout the years Kay made sure the family was out camping or staying at the family cabin at Echo Lake. Some summers included horse packing into North Yosemite Park and in the southern Sierra high country. Hiking was always a part of those vacations. By the time the children were in their teens, they all had a great knowledge and appreciation of Desolation Wilderness and other areas of the Sierra Nevada.
Eventually, son Bill became a forester in Chester, Plumas County and in 1980 when Kay and Harold came to visit him they fell in love with the Lake Almanor area, deciding to build their retirement home there. Katie's husband, Ric, built the home with her design help and in 1986 Kay and Harold (now semi-retired) moved in.
For many years, Kay and Harold would spend the summers at Lake Almanor and winters in Carmel while Harold continued to work the tax season as CPA, and Kay continued her many years of volunteer work as a Pink Lady at CHOMP (Community Hospital of the Monterey Peninsula) and at the Chester Hospital. Son, Tom, who lived in the Tucson, Arizona area, would come for wonderful visits with all the family together.
In 2010, two weeks before their 65th wedding anniversary, Harold died. Kay lived in Chico, for the next five years, moving in 2015 with son Bill to Grass Valley, close to daughter Katie. Son Tom also had moved back to California so was able to spend much time with his mom during her last year.
Kay passed away, 103 years old, early in the morning Saturday, April 8, 2017, with her son Tom at her side. She was a strong and independent, yet loving and generous, woman up to the time of her death, and she will be greatly missed.
Per her wishes, her ashes will be mixed with Harold's and spread at favorite places in the mountains they shared and loved.
Kay is survived by her children Katie Rae Stewart Maddock, of Grass Valley; William Gordon Apger (Patty Venable), of Penn Valley; and Thomas Harold Apger, of Fort Bragg; grandsons Gabriel Apger (Sheila), of Arlington, Washington; Henry Naas, of India; and Josiah Maddock, of Berkeley; granddaughters Emily Naas, of Chico and Tyana Maddock (Nathan Walker), of Nevada City; great-grandson Josiah Maddock-Walker, of Nevada City; and her two nieces Eugenie Broussard, of Concord, and Joan Godsey, of Scottsdale, Arizona.
Robert Gene Bell
Bob Bell, born on June 27, 1929, in Sterling, Illinois, passed away peacefully in Chandler, Arizona, on March 31, 2017. He was 87.
Bob was preceded in death by Betty — the love of his life and wife of 62 years — and by his parents, Milford "Bundy" and Irene Bell.
He is survived by children Barbara Fletcher (John), of Nashville, Tennessee, David Bell (Bonnie), of San Jose and Steven Bell (Karen), of Tierra Verde, Florida; grandchildren John ("Jamie"), Kathleen and Elizabeth Fletcher, and Matthew (Brittany) and Timothy Bell; and sister LaDonna Bell Hall.
Bob was a wonderful husband, devoted father, father-in-law and grandfather and a devoted uncle to his niece and nephews, in whose lives he made a difference. Bob's gentle nature and unwavering optimism had a profound impact on his entire family and his many friends.
While attending Iowa State University, he met Betty during their time in the marching band. Bob completed his undergraduate architectural degree in 1951, married Betty that August, then entered the Air Force. After completing his military service, Bob continued his architectural training at Cranbrook Academy of Art receiving a Masters of Architecture in 1955.
He began his architectural career in the Offices of Alden Dow, Midland, Michigan. In 1961, he and Betty relocated to Traverse City, Michigan, where Bob was a founder of the architectural firm GBKB Associates. Bob loved all aspects of architecture and was inspired by the works of Frank Lloyd Wright. This influence can be seen in his many projects throughout the Traverse City area.
Bob and Betty purchased a former farmhouse on the Old Mission Peninsula with a panoramic view of East (Grand Traverse) Bay. This, accompanied by Bob's belief that design should fit into its natural surroundings, provided the inspiration and vision for him to conceive and develop The Bluffs on the Peninsula.
Bob later practiced as an architect in the Tampa Bay area of Florida, then in northern California where he and Betty spent many wonderful years on the shores of Lake Almanor. He and Betty retired to the Chandler area in Arizona where they were active members of the Sun Lakes United Methodist Church and its choir.
His family would like to thank Lynn Netko and Cheryl Haley and the other staff of Sage Hospice, as well as the staff at The Lighthouse Manor in Chandler, all of whom cared for Bob during his battle with Parkinson's.
The family will hold a private service in Traverse City at a later date. The family asks that any donations in memory of Bob be made to Sage Hospice (sagehospice.org), Rotary International or the charity of your choice.
Windle Lee Bunn
With his loving family at his side, longtime Chester resident Windle Lee Bunn passed from this life Friday, March 17, 2017, at the Reno Veterans Hospital.
Born March 28, 1940, in Hollywood, Arkansas, to Arkansas natives Hiram and Dorothy (Humphrey) Bunn, the family moved to the northeastern California lumber community of Westwood when he was 9. He attended schools in Westwood until his junior year of high school when the family moved to Susanville. Here he graduated from Lassen High School as a member of the Class of 1958. While attending high school Windle lettered in baseball, basketball and track. He went on to attend Lassen Community College where he continued his basketball and baseball career and obtained his Associates of Arts Degree.
Following his college graduation Windle began what became an over 30-year career with the Collins Family's woods crew rising to the position of logging foreman, as well as moving on to work in the construction industry until his retirement.
In September 1963, Windle was drafted into the military, serving his country honorably with the U.S. Army until his discharge in September 1965, when he returned to Susanville and his career with Collins Pine Company.
After meeting a pretty young lady at the local bowling alley, Vertia Cook and as their love for one another blossomed Windle and Vertia were joined in matrimony April 23, 1967, in Reno, Nevada. To this union a daughter and two sons were born. The couple moved to Chester in 1968.
Windle enjoyed working in the outdoors, as well as fishing, hunting, sports, waterskiing and always watching his beloved San Francisco Giants, while also enjoying working with his hands especially woodworking. He was a former member of the Lumber and Industrial Workers Union Local 3074. Throughout his life he mostly enjoyed following his children and their children as they competed in local school programs and sports.
Along with his parents, Windle joins in his eternal home his brother, John Bunn and grandson, Travis Powell.
He leaves his loving wife, Vertia; son Andy and wife Carrie, along with their children Lesley, Sarah, Dakota and Robert; son Alan, his wife Julie and their children Bradley, Kaedyn and Cooper; daughter, Teresa Estabrook, her husband Matthew and their children Jarred, Casey and Jace; his sister, Mary Jo Antunovich; along with many loving, loyal and longtime family and friends.
Graveside services along with Military Honors are planned for 1 p.m. on Friday, May 12, in the Chester District Cemetery. An opportunity to express condolences to the family along with signing the memorial guest register is available online at fehrmanmortuary.com.
Raymond Leroy Churchill
Raymond Leroy Churchill passed from this life unexpectedly, Thursday afternoon, April 20, 2017, at his residence in East Quincy.
Born Aug. 27, 1938, in Jeffersonville, to native Californians Ray and Evelyn (Kahl) Churchill. Young Ray was raised and educated in Tuolumne County graduating from Sonora High School as a member of the Class of 1956. He went on to further his education, first at Modesto Junior College and later graduating from Humboldt State in 1969 with a degree in forestry.
Ray went to work in the logging industry out of high school driving a log truck while also serving his country as a member of the U.S. Army Reserve and was called to active duty during the Cuban Missile Crisis. Upon his honorable discharge, he returned home and it was here after being introduced by his cousin to a pretty young lady named Karel Snow, the couple was united in matrimony on April 10, 1965. To this union, a loving daughter was born.
Following his college graduation Ray began what became a 28-year career with the U.S. Forest Service as a forester and in 1984 the family moved from Orleans, to settle in Quincy. Following his retirement from the Forest Service, Ray will be remembered by the residents of the community as a bus driver for the Plumas Unified School District as well as Plumas Transit.
Ray had a great love of the outdoors and took great pride in this management of its resources. He enjoyed hunting and fishing. Ray was one never to set idle and always had a project going while he puttered in his garage.
In Ray's passing, he leaves his best friend and loving wife of over 50 years, Karel and daughter, Amy Louise Churchill-Bowen, both of Quincy; a brother Roland, of Modesto; and two sisters, Harriett Durnell and Diane Wagner, both of Sonora.
At Ray's request, no formal services will take place. An opportunity to express condolences to the family along with signing the memorial guest register is available online at fehrmanmortuary.com. The family asks that any remembrances in Ray's memory be made to the Caring Voices Coalition c/o Fehrman Mortuary, P.O. Box 53, Quincy, CA 95971.
Alan Duncan Ramsay
Alan Duncan Ramsay of The Sea Ranch died unexpectedly in his sleep on April 18, 2017, at the age of 82.
Alan was born March 14, 1935, to Alexander MacConachie Ramsay and Carolyn Adele Ramsay in Oakland. He had two daughters, Keri Lyn and Genee' Elizabeth. He married his wife, Sally, in April 1976.
Alan Came to Lake Almanor in 1942 on a family vacation with his family. In 1952, thy bought a lot from Nettie Wilson in Prattville and built their summer cabin. Every vacation was spent at the lake. He even worked for Collins Pine while attending college.
Alan was in the U.S. Navy and worked as a pharmaceutical sales representative for Eli Lilly for 25 years.
He was a past master of Brotherhood of Freemasons, Oakland Lodge No. 349, a member and past public relations officer for the Pacific Locomotive Association Niles Canyon Railway and a well-known railroad historian and lecturer.
He was a passionate advocate for nature and animals, according to his wife, Sally. "His exuberant personality and animated storytelling will be missed by all those who knew and loved him.
He is survived by his wife Sally, daughters Keri and Genee' and grandsons Ariav and Emmet.
At his request there will be no service. Donations in his honor may be made to the Redcoast Humane Society, P.O. Box 1072, Gualala, CA 95445.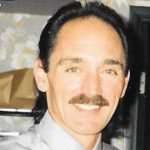 Rick E. Taylor
Rick passed away peacefully at Tahoe Forest Hospital in Truckee on Dec. 27, 2016. He was born in Petaluma on June 5, 1957. He was raised in Napa and graduated from Mount Eden High School (Hayward) in 1975.
Before graduating he became an apprentice carpenter with the Carpenter's Union Local #22. And following graduation he became a journeyman carpenter. He made a career of carpentry for 40 years.
He married Janice in 2000 and after Rick retired, they moved to Maybe in 2012. Rick had a passion for cars. He rebuilt a 1972 Chevy 4X4 truck from the ground up. He was also an avid sports fan. He loved the Los Angeles Dodgers and Rams, often saying, "he bled Dodger blue." But his true love was carpentry.
He is survived by his wife, Janice, of Maybe; stepson and daughter-in-law, Mitchell and Amy Ralls, of Yreka; seven grandchildren, Gage, KayLee, SallyJo, Mason, Madison, James and Fox Ralls; his parents MaryLou and Kenneth Taylor, of Castro Valley; and sister and brother-in-law Debra and Ric Plummer and their son Dillon.
A celebration of Rick's life will be held Saturday, June 3, 12 p.m. at Rick and Janice's home in Maybe, 71000 Highway 70, Maybe. Any cards or condolences can be mailed to P.O. Box 1493, Graeagle, CA 96103.