Obituaries for the week of 8/30/17
Roy Leon Cowley Sr.
Born Dec. 11, 1928, in Lava Hot Springs, Idaho, to the late James and Kitty (Hall) Cowley, Lake Almanor resident Roy Leon Cowley Sr. went on to join his beloved wife Verla at his home the afternoon of Aug. 22, 2017, at the age of 88.
Roy spent his early years in Vernal, Utah, where he attended school. In 1945, he moved west to gain employment with Fruit Growers Supply Company.
Roy developed a friendship with a pretty lady who became his best friend, love of his life and fabulous dancing partner, Verla Mae Simon. On Roy's birthday in 1948, he and Verla were united in matrimony in Reno, Nevada. To this blessed union four children were born.
At the mill's closure in 1956, he and his family moved to Burlingame, where he worked for Burlingame Sash and Doors. He returned to Westwood in 1963 and went to work for the Collins family at their lumber mill in Chester, retiring as a welder.
He and Verla moved to their home at Lake Almanor in 1999.
First and foremost a loving and hardworking husband and father who was an excellent provider, Roy was a member of the Church of Jesus Christ of Latter Day Saints.
He was an avid outdoorsman who found great enjoyment in hunting and was proud of the fact that he was able to harvest a trophy Mule deer buck while hunting with his son just two years ago in Montana. He also competed in local bass tournaments with his son Randy throughout the years.
A longtime member of the Westwood Rifle and Pistol Club, he enjoyed both target and sporting clay shooting.
Roy enjoyed dancing with his late wife Verla.
Following her passing, Roy met his loving companion in his later years, Joanne Glendenning, who also enjoyed dancing with him.
He served his community of Westwood as a volunteer fireman for many years, a member of the Chester Lake Almanor Elks Lodge where he served as a trustee and a longtime member of both the Lumber and Industrial Workers Union and the Carpenters Union.
In Roy's passing, he leaves his sons and daughters-in-law, Randy and Jeanette Cowley of Prineville, Oregon, Richard and Debby Cowley of Columbia Falls, Montana; daughter and son-in-law, Marlene and Si Bollinger of Westwood; seven precious grandchildren, along with 16 much-loved great-grandchildren.
He joins in his eternal home, his late wife Verla who passed from this life in 2006, son Roy Jr., two brothers and seven sisters.
A celebration of Roy's life is planned for 11 a.m. Wednesday, Aug. 30, 2017, at the Clear Creek Branch of the Church of Jesus Christ of Latter Day Saints. All are invited to a reception to immediately follow at the church. Interment will take place alongside his wife and son in the Westwood Cemetery.
An opportunity to express condolences to the family, along with signing the memorial guest register, is available online at fehrmanmortuary.com.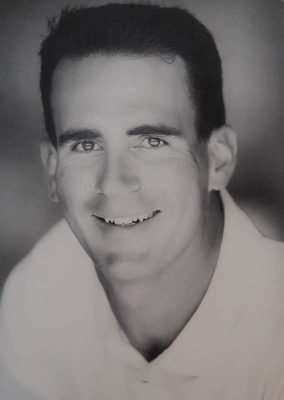 Dean G. Maddalena
Dean G. Maddalena of Beckwourth, died unexpectedly on August 24, 2017, at the age of 49.
Dean is survived by his children, Meg and Antonio Maddalena; their mother, Christi Maddalena; father, Don Maddalena; brother, Larry Maddalena, his wife Shannon, children Ainsley and Greyson; and sister, Michelle DeBerg, her husband Roland, children Karisa and Justin. He is predeceased by his mother Suzi Maddalena.
Dean was born May 13, 1968, in Reno, Nevada. He was a graduate of Portola High School and attended trade school for drafting in Arizona. He was a skilled craftsman and worked within the construction trade in many capacities from laborer, to general contractor, to superintendent. He owned his own construction and tile company for 27 years. He has worked for the past 7 years for Graeagle Land & Water, expertly caring for their land and properties.
Dean was a devoted father, not only to his own children, but also to a generation of youth growing up in the Portola area. His dedication to his family and friends was as gigantic as his presence in a room.
Dean's hobbies were racing, snowmobiling, golfing, camping and had a general love for the outdoors. Dean had an amazing gift to create and build. He loved spending time in his shop crafting the perfect masterpiece. Many people are left with his inventive treasures.
Tradition was very important to Dean. He made a point to carry on the decades-old Maddalena family tradition of sausage making, hosting the annual gathering at his home. He created an annual golf tournament more than 25 years ago and expanded it into the Suzi Maddalena Memorial Scholarship Golf Tournament.
Dean was extremely committed to the Eastern Plumas County community, and served over 20 years with the Portola and Beckwourth Volunteer Fire Departments. Active in the schools, he could always be found behind the grill or working the chains at Portola High School football games, coaching football and basketball and always attending games to cheer on his children and others.
A Celebration of Life will be held Saturday, Sept. 2, at 1 p.m. at Graeagle Meadows Golf Course. Burial services will be held in private. Donations, in memoriam, can be made at Plumas Bank. Arrangements entrusted to Manni Funeral Home of Portola.