Obituaries for the week of 9/20/17
John William Hamby
John quietly passed at the age of 94 on July 29, 2017, to join his wife of 45 years Edith (Edie). His last moments were shared with his children and grandchildren. He was "Pop" to many other children over the years and was loved and respected by everyone.
He is survived by his children, Betty June Stazenski, April Gayle Clark, Roberta Jean Wiley, Patty Jones, Becky Perry, Pamela LaRoe, Danny Chappell and Dick Chappell, and his brother Richard Hiatt. His large family also includes his 17 grandchildren and numerous great-grandchildren.
John enlisted in the US. Navy on Dec. 24, 1940. His first duty station was Pearl Harbor, Hawaii. He was stationed aboard the USS Argonne when Pearl Harbor was attacked on Dec. 7, is a Pearl Harbor survivor and is our hero. He was on board many ships, Navy units and patrols during his five years and four months with the US Navy and was honorably discharged with the rank of Quartermaster 1st Class. His entire service was spent in the South Pacific during the war. His ships included the USS Argonne, the USS Corregidor and the USS Laurens.
After retirement from running a successful surveying business, he and Edie enjoyed traveling to Alaska, Hawaii, Panama, Australia, New Zealand, the Caribbean and many locations here in the United States.
John was also a pilot and enjoyed flying both for business and pleasure. He especially enjoyed his Mooney which was the last plane he owned.
Papa we all love you.
Until we meet again.
Gerald "Jerry" Henry, Sr.
Gerald "Jerry" Henry, Sr., 78, passed away Saturday, September 9, 2017.  He was born on February 3, 1939 in Nebraska to Lawrence and Bernita Henry. The family settled in San Jose, California, where he met and married Patricia Brundage. Jerry was a painter for the city of San Jose, and volunteered countless hours as a coach and president of youth baseball. Jerry and Pat relocated to Lake Almanor in 1979 where he began his painting business, Feather River Painting, which he operated until retirement.  He enjoyed camping and fishing at Hat Creek, and had a passion for following the San Francisco 49ers and the San Francisco Giants. In his later years, Jerry also enjoyed watching youth sports – it didn't matter if it was his grandkids or his friend's kids – he just enjoyed watching them have fun.
Jerry is survived by sons Mike (Cindy) and Troy (Cheryl), grandchildren Dustin, Kacie, Alex, and Jace, four great-grandchildren, his sister, La Donna, niece, Rebecca, and nephew, Billy. In addition to his parents, he was preceded in death by his beloved wife, Pat, and oldest son, Butch.
The family would like to thank Lassen Nursing and Rehabilitation for treating Jerry like family for the past few years; with a special thanks to Dan, Tammi, and Shauna for all that you did for Jerry.
No services will be held.  In lieu of flowers or cards any donations can be made to Lassen Nursing and Rehabilitation, 2005 River Street, Susanville CA, 96130.
William Eugene Pearson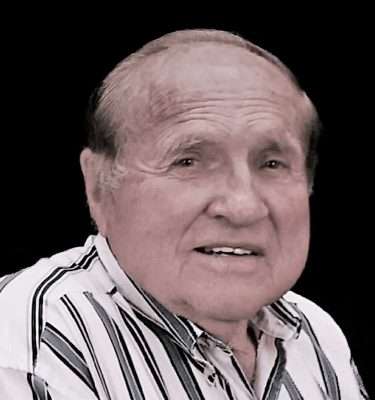 William (Bill) Pearson passed away Sept. 5, 2017, at his home in Sparks, Nevada, with his loving wife Pauline by his side. He was born on Aug. 14, 1923, in Springdale, Arkansas, to Ova and Jewel Lee Pearson.
Bill graduated from Springdale High School and served in the Army Air Corps (the U.S. Air Force) during WWII. He later settled in Portola.
In the 1950s, Bill and his brother Buster bought a small logging company. With a binding agreement, no more than a handshake, the two brothers worked together side by side with a great crew to build the company. When they sold Pearson Brothers, Inc. years later, it was the largest logging company in northern California. Several years later, Bill started Sierra Valley Truss Co., which he operated for 31 years.
In 1961, Bill met and married his "little bride" of 56 years, Pauline, and they had three children: Bill Jr., Joel and Jill. At the time, they lived in Reno, Nevada, and later moved to the small town of Gardnerville, Nevada, to raise their children.
Bill loved car racing. In the 1950s, he and three of his brothers drove racecars in Herlong and Reno. The fifth brother was a member of the pit crew. In later years, his son, Bill Jr., followed in the footsteps of his father and uncles and began a career racing cars. Father Bill was his No. 1 fan, sponsor and crewmember. He also sponsored other drivers and was a well-known figure at the racetracks. He seldom missed a race and was there trackside.
He was preceded in death by his parents, his sister Dorothy and brothers James and John.
He is survived by his wife, Pauline Pearson, of Sparks, son Bill Pearson (wife Lucinda), of Reno, son Joel Pearson, of Sacramento, daughter Jill Pearson, of Sacramento, grandchildren Joseph and Jessica Pearson and brothers Buster (Kenneth) Pearson, of Cold Springs, Nevada, Tom Pearson, of Redding, and B.J. Pearson, of Portola, along with many nieces and nephews.
For his family and friends who knew him well, he was a giant of a man: loving, generous and kind. He was a man of great integrity, and his word was his bond. To his kids, he was at least 10 feet tall. He left a tremendous void in many lives and will be greatly missed. With God's mercy and the sacrifice of Jesus Christ, we look forward to seeing him again and spending eternity together.
At his request, there will be no funeral service. If you would like to express your condolences or share a special memory, please visit http://william-eugene-pearson.forevermissed.com/.
Bertrande "Bert" Stone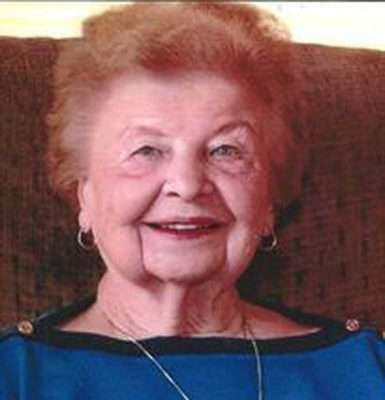 Bertrande (known as "Bert" to everyone) passed away peacefully in her daughters' arms, following a short illness on Sept. 14, 2017, at age 93.
She was born to Jean and Helene (Boulanger) Francoeur in St. Jacques, Edmunston, New Brunswick, Canada. When Bert was 10-years-old, she emigrated with her parents and three sisters to Calistoga. Her parents managed Pacheteau's Hot Springs Resort for an elderly aunt for almost 30 years. (It is now known as Indian Springs Resort and Spa.). Bert graduated with honors from Calistoga High School, with most of her senior class female, since the boys had enlisted in World War II. She married, became a U.S. citizen and had two daughters.
Bert lived much of her life in San Rafael, Marin County, where she had a 34-year career working at Bank of America, working from a teller to manager and commercial lending officer at several bank branches. She recalled training many young male employees who would quickly be promoted over her.
Widowed at 42, Bert married the love of her life, Marlon J. Stone (Stoney). They shared 44 wonderful years together.
She and Stoney loved to travel, both worldwide as well as throughout the states and in Canada, in their motor home. In retirement, they moved to Quincy to be closer to one of her daughters and family. Until two months before her death, she lived independently with her poodle, Raven. She could drive and frequently went out to lunch, attended social functions and live entertainment with her family.
Throughout her life, Bert was an accomplished knitter, having made dozens of sweaters for her sisters, daughters, son-in-laws, grandchildren and great-grand children, who continue to enjoy them today. She was a great cook and dessert maker for many potlucks. She liked to sing, dance, read and tell stories about growing up in Canada. She was so positive about and kind to all.
She was preceded in death by her husband, Stoney, her parents, a brother, Norman, her sisters Laura, Patricia and Anne.
She leaves her daughters Patricia Yost (Bill) and Kathleen Price (Larry); as well as Nonny to five granddaughters, Leslie, Rachel, Hilary, Jennifer, and Laurel; and Super Nonny to 11 great grandchildren, Zachary, Hannah, Savannah, Kolton, Ziporah, Reuben, Esther, Isis, Atlas, Adlai, and Elouise; and also many loved nieces and a nephew. Raven, her 17-year-old poodle, will be well looked after.
There will be a private family celebration of her life. An opportunity to express condolences to the family along with signing the memorial guest register is available online at fehrmanmortuary.com.