We had one unlucky Friday.
Everybody lost. Thursday games were moved to Friday due to weather and then in one fell swoop, the basketball playoffs were over … for everybody.
On Tuesday, the Volcano boys beat Maxwell 65-44, and the Quincy girls edged out Colusa 43-40. The Greenville boys lost to Happy Camp 70-51, but Happy Camp is one of the toughest teams in the league, if not the toughest.
Wednesday was the scene of two very close games, but victories nonetheless. The Greenville girls wedged by Big Valley 43-40 and the Portola girls beat Hamilton 63-60.
But then the snow began to fall and cause hiccups in the schedule. The lady Tigers game against Mt. Shasta got pushed from Thursday to Friday as did the Chester boys' match against Redding.
The Quincy girls were the only team able to play their Thursday game, against Durham, but the battle between the two Trojan teams was brutal. QHS lost 49-20.
The Durham Trojans scored 18 points to the QHS' 2 in the first period. Ouch. But the Quincy Trojans rallied and outscored their opponents 8-6 in the second period; hope was not lost.
Unfortunately, that may have just made the Durham girls mad as they came back after halftime scoring another big 18 points to Quincy's 3. It was even-steven at 7-7 in the fourth period with the QHS girls now handling Durham, but it was too late.
Shooting for the QHS Trojans was senior Anna Hollister with 10 points and junior Sydney Gott with 4. Seniors Lydia Morgan, Ashlyn Wingfield and freshman Elaina Warndorf were each able to score 2 points off Durham.
Advertisement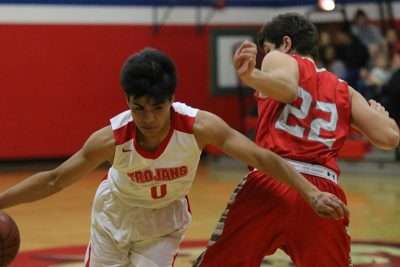 Then came Friday, with one heck of a lineup. All of the Plumas teams were matched up against mighty challengers. The Portola girls played Mt. Shasta and lost to those Bears 43-27. The Chester boys lost to the Redding Lions 55-35. The Greenville girls lost at Happy Camp 73-48. The Quincy boys lost to Trinity 68-51, and the Portola boys lost to the Colusa Red Hawks 75-43.
Scoring for Portola in their final game of the season was senior Antonio Bautista with 27 giant Tiger points. Senior Eric Jacobson sunk 8, senior Antonio Maddalena added 6 and sophomore Keegan Folchi got in 2 points.
Bautista scored on all four of his free throw shots. Jacobson led in rebounds with eight, Bautista with seven, Folchi with six. Maddalena picked up five, sophomore Cody Callahan four, junior Austin Griffin and freshman Owen Bowling gathered three each. Maddalena stole the ball three times.
Well, it's been a great season and fans have been treated to some amazing basketball. We can give the snow a few more weeks to fall, but then it's going to be time for baseball!