Plumas County native honored on the 100th anniversary of important milestone
She was ahead of her times and a welcome change to what was traditionally accepted as a woman's role early in the 20th century.
Today — Wednesday, July 25 — marks the 100th anniversary of a Plumas County native becoming the first woman U. S. Assistant Attorney General in the history of the United States.
It was a significant first for Annette Abbott Adams, but not the first for a woman who was career-minded. She became one of the first women high school principals in the state in 1906.
She graduated for the University of California, Berkeley in 1910 with her degree in law, no little fete for a woman. And then graduated from the Boalt School of Law in 1912 with her juris doctorate. Out of a class of 12, she was the only woman. She was one of the first women in the state to be admitted to the California Bar.
Early years
It could be said that Abbot Adams followed both of her parents' chosen careers.
Her mother, Nettie Stubbs Abbott of Maine was a teacher.
Abbott's father was from Ohio and was drawn to California in the earliest years of the Gold Rush. Hiram Abbott owned and operated a small country store in Prattville. The store, one of two in the community, was located across from Willard Pratt's hotel; according to the February 2011 issue of Las Plumas by the Plumas County Museum Association and written by Marilyn Morris Quadrio of the Chester-Lake Almanor Museum. He was also a justice of the peace.
Abbot Adam's mother encouraged all three of her children to take their studies seriously. She believed that education was just as important for girls as well as boys.
An avid reader, Abbott Adams explained that when she ran out of reading material she would run to her father's law books. It's believed that her interest in the law sprouted from that rather unusual experience for a woman.
Annette Abbott was born March 12, 1877 in Prattville. She had a brother and sister and when she was old enough would help out in the family's store. It's said that her father died when she was 12 and to provide for the family, everyone helping out became equally important.
Every fall, Abbott's mother packed up her children and took them to Chico. All three children completed high school there. Abbott and her sister graduated from Chico Normal with teaching certificates, enough to launch early careers. They would return to Plumas County to teach school.
Early career
Choosing to live in San Francisco, Abbott found that gaining clients was a struggle. No one wanted to hire a woman.
She then accepted a job teaching in Modoc County. In 1906, she was appointed principal.
It was also in 1906 that she met and married Martin H. Adams who had come to California from Illinois. The marriage didn't last, when "Annette soon realized that her duties as wife did not match her goals," according to Las Plumas Newsletter. "Some sources say within a month," of her marriage she realized her mistake.
Remaining in Alturas, one of Abbott's friends, Mrs. Clarence Raker, introduced her to the Raker's social circle. This included Judge John Raker and his forward thinking wife Ida Spencer Raker, who was known as a suffragette, according to Las Plumas.
Getting to know the young woman, it's said that Judge Raker was impressed with her and encouraged her to return to Berkeley for her law degree. She followed with up with her JD in 1912.
It was then that a representative of Western Pacific Railroad approached the dean of Boalt School of Law and requested the "best man" to head up a new legal department the company was forming. The best man turned out to be Abbott Adams, but the company wouldn't accept a woman.
Rejected, she returned to Plumas County and went to work in the law office of L.N. Peter in Quincy.
By the following year, Judge Raker was elected to a seat in Congress. He and his wife were supporters of the state's constitutional amendment that would have allowed women the vote. They were also supporting Woodrow Wilson for president.
"They convinced Annette to return to the Bay Area and help in the campaign efforts," according to Las Plumas. She took them up on the proposal and was elected president of the Women's State Democratic Club of San Francisco.
Abbott Adams saw California's amendment allowing women to vote become a reality in March 1911. Her choice for president became a reality and the Rakers invited her to Washington, D.C. for Wilson's 1913 inauguration.
It was later in that same year after returning to San Francisco that Abbott Adams opened a law office with Marguerite Ogden. "Their practice was successful in spite of derisive newspaper cartoon and articles; and despite prediction to the contrary, nearly all of their clients were men," according to Las Plumas.
"In 1914 Annette was defending a man accused in federal court of violating the Mann Act, which prohibits bringing a female over state lines for immoral purposes," the author of Las Plumas wrote.
The prosecuting U.S. Attorney John Preston was so impressed with Abbott Adams' defense that he offered her a job "on the spot." She took office in October 1914 as the first woman every to be sworn into the position of Assistant U.S. Attorney.
When Preston was appointed Assistant Attorney General in Washington, she was appointed to fill his vacancy, another first as she accepted the position of U.S. Attorney in July 1918.
But her friends and colleagues didn't forget her. In 1920, Preston and Raker "heavily lobbied in Washington for her appointment to fill a vacancy on the Attorney General's staff," according to the Las Plumas feature. And she was given the position.
As the U.S. Attorney General, Abbott Adams was responsible for prosecuting cases involving prohibition, tax laws and federal compensation laws. Five of her cases went before the U.S. Supreme Court.
But Abbott Adams' position turned out to be short. When Wilson wasn't re-elected, the new administration headed by President Warren G. Harding, put in their own people in 1921.
Returning to California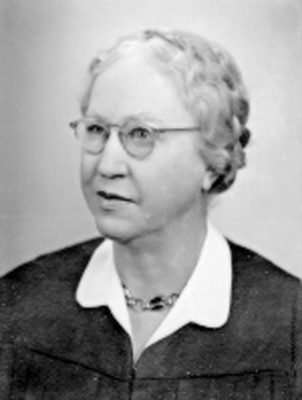 Abbott Adams returned to San Francisco to her law practice following her time in the nation's capital. Soon she accepted a position with Preston and his son in their Los Angeles law office, further broadening her experience.
While working with the Prestons, they were asked by the federal government to help handle an Elk Hills oil lands case against Standard Oil. This was in the 1930s, and they won $22 million in settlements for the government.
In 1942, she was appointed by California Governor Culbert Olson to fill a vacancy on the Third Court of Appeals. She was then elected by voters to a 12-year term. She authored more than 300 opinions during her career on the bench.
It was in 1950 that Governor Earl Warren chose her to sit on a case before the California Supreme Court, making her the first woman to sit as an Associate Justice on California's Supreme Court.
In late November 1952, Abbott Adams had to retire due to failing health.
She chose Sacramento for her retirement. She died Oct. 26, 1956.
From the district attorney
"Annette Abbott Adams life is truly a remarkable story," said Plumas County District Attorney David Hollister.
"Annette Adams really led a full and remarkable life and we are incredibly proud of her Plumas County roots," according to Hollister.
"We live in a time when being a prosecutor — whether at the local, state or federal level — is incredibly difficult (from local prosecutors making hard decisions in cases of officer involved shootings to Assistant Attorney General Rod Rosenstein navigating the Russia investigation)," Hollister said.