Plumas County Search and Rescue plays a vital role
Editor's Note:  This is the first installment of a two-part article submitted by the Plumas County Search and Rescue Team as part of their efforts to educate the public about their mission, and invite potential new members to join the team. View part 2
The Plumas County Search and Rescue Team is looking for a few good men and women to supplement the trained group of volunteers that are currently providing search and rescue services here in Plumas County.
Established in its present form in 1976, PCSAR is a small, but effective, volunteer arm of the Plumas County Sheriff's Office, and is affiliated with the State of California Office of Emergency Services and the National Association for Search and Rescue. Because of these responsibilities and affiliations, we have very high standards to maintain.
Our team members not only accept the long hours of training and field deployment, but also are eager to participate. They know that their experience, enthusiasm and grit may be all that stands between a victim of an unfortunate accident or a subject lost in the backcountry from a fate that no one deserves. Finding the right people to fill that role is not an easy task.
In Plumas County, PCSAR — representing the Sheriff's Office — has the ultimate responsibility for all search and rescue activities within the county. That responsibility includes complex technical rescues involving vehicles that have gone "over the side," such as the recent tragic accident near Keddie.
In the past four decades, PCSAR volunteers have handled hundreds of these dangerous missions, often in concert with volunteer fire departments, ambulance crews and law enforcement personnel.   We have also been dispatched to locate missing deer hunters and fishermen, Alzheimer's victims and lost children. Other missions have involved rescuing sick, injured or lost hikers on the PCT and other hiking trails, where we have sometimes been joined by Forest Service or Cal Fire workers as well as Fish and Wildlife wardens.
Beyond that, team members are occasionally asked to respond to mutual aid requests from neighboring jurisdictions for assistance on particularly difficult searches or rescues. Unlike the county's 20 volunteer fire departments, who are responsible for fire, medical aid and vehicle collision incidents within their fire districts (but who also respond to requests for mutual aid to neighboring districts), PCSAR has mission responsibility from Pulga to Beckwourth Pass and from LaPorte to the Diamond Mountain Range — and everything in between.
While we often work side-by-side with fire department personnel on over the edge vehicle accidents, the overall mission of PCSAR is vastly different from that of the fire departments.
We often train on (and employ in our call-outs) specialized equipment such as SCUBA and swift-water rescue gear, boats and rafts, four-wheel drive vehicles, OHVs, snowmobiles, and tracked vehicles. We also interact with helicopters from different agencies during searches and rescues.
While access to these tools is important, we usually find that it is our training, experience and teamwork that bring a mission to a successful conclusion. All-day training regularly takes place on the last Saturday of every month, and runs the gamut from search operations to technical rope rescue to radio use to winter survival strategies.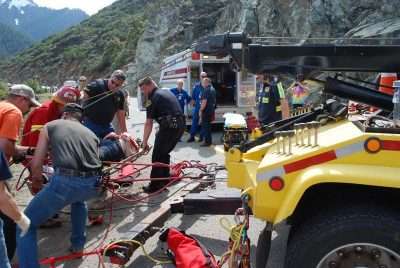 There is team training in first aid and patient packaging, as well as backcountry transport of injured victims. Wilderness navigation is another skill new members will be called upon to master, using map and compass, GPS and computer mapping applications. All team members are required to pass certain incident command system (ICS) courses.  Prior experience in any of these subjects is welcomed, but not required.
(Next week: How you can become a member of the Plumas County Search & Rescue Team.)