Plumas Eureka State Park ready for 2018 season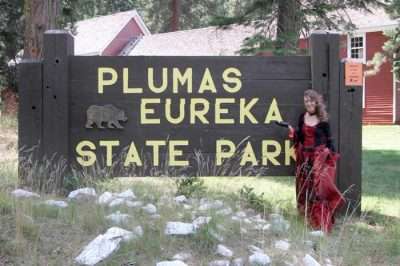 Progress is being made in preparation for the upcoming season at Plumas Eureka State Park. California Department of Parks and Recreation employees and volunteers from regional communities, supported by the Plumas Eureka State Park Association, formed a working plan to renew, refresh and get this beautiful park ready for its opening May 23.
Planning started in February to achieve this goal and coordinate the massive to-do list. The park's 5,000 acres are left to nature's whims all winter, with only ski club events on Eureka Mountain and cross country trails tracking through the Historical District to interrupt winter's silence.
The year began with a contract to stabilize the park's iconic Mohawk Stamp Mill from caving-in due to winter snows, deteriorating roof supports weakened over time — 142 years — and earthquake tremors that took place five to six years ago. Success was achieved in shoring up the structure and will allow planners to finance the rebuilding of the Mohawk Stamp Mill for future generations.
Johnsville Ski Club, celebrated its World Championship Longboard Ski races in March with 600 of their best friends on Eureka Peak.
April brought out volunteers in force for the annual orientation by park rangers and begin the effort of getting ready for the 50,000-plus visitors to the park.
On May 5, 75 volunteers descended on the "Jamison Creek Forest Stewardship" project and the annual cleanup of the park grounds, campground and museum. Four hours later, the volunteers cleared 3 acres around historical buildings, refreshed 1.25 miles of trails, cleaned and reset museum store and museum displays, installed a new woodworking shop at the Assay Office and readied the campground for visitors.
For more information about the park or if interested in volunteering, visit plumas-eureka.org or call 836-2380.