Plumas Realtors meet in Reno
The Plumas Association of Realtors (PAR) welcomed a newcomer and bid farewell to its longest-standing board member at its annual installation dinner at the Grand Sierra Resort in Reno last month.
Newly-elected Ryan Snyder, an agent with Lake Almanor Brokers, was sworn in to take the seat of Dennis Mason, of Coldwell Banker Kehr/O'Brien, who has been a director on the PAR board off and on since 1981.
Mason, who began his real estate career in 1972, will continue to serve as an association director at both the state and national levels. He has received numerous awards for his ongoing leadership and last year attained the prestigious Realtor Emeritus status for his more than 45 years of service.
Snyder was born in 1981 — the same year Mason began his PAR service! He is the 2019 board's youngest director and will also serve as treasurer. He became a Realtor in 2014, following jobs in both construction and hospitality in the Lake Almanor Basin.
Joining Snyder on the 2019 board are continuing directors Lee Ballard of eXp Realty Lake Almanor; Jeanne Rowden Dansby of Jeanne Dansby Transaction Coordinator, Jan Fletcher of Quincy Real Estate and Property Management, Laurie Humphries of RE/MAX Mountain Living in Blairsden, Cathy Kuersten of Coldwell Banker Kehr/O'Brien, outgoing 2018 President Juli Thompson of Dickson Realty in Portola, Leah West of Graeagle Associates Realtors and Carol Yeater of Sierra Destination Realty in Clio.
It was a big night for Dansby, who not only was sworn in as 2019 president, but was presented the Association's 2018 Realtor of the Year award. This high honor recognizes a member for their professionalism/integrity, community service and contributions to the Realtor Association.
A native of Portola, Dansby became an agent in 2000, and worked for a number of offices in Eastern Plumas. In 2018, she opened her own transaction coordination business, managing the sales documents and deadlines for Realtors and their clients.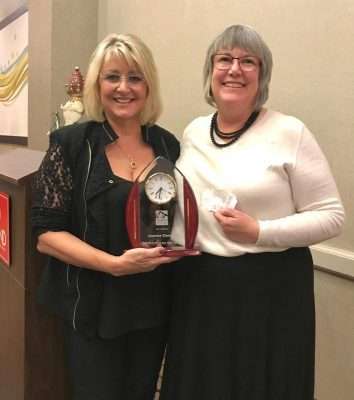 She has given countless volunteer hours to the Association, beginning in 2003-2005, when she led the renovation of the Plumas/Sierra Multiple Listing system. Dansby returned to the board in 2016 and went on to serve as 2017 president. She has conducted numerous trainings on technology platforms, developed educational programs including a new Affiliate Member Expo, and most recently created a Social Media Team and is overseeing an overhaul of the association's website.
In addition, Dansby continues to serve as a state director which requires traveling three to four times a year to week-long meetings and trainings throughout the state and region.
She currently serves on the Land Use and Development, and Professional Development committees.
Among the PAR members attending the Dec. 1 festivities were 14 employees and guests from Cal Sierra Title Company which has maintained affiliate membership with PAR since 1977.
The holiday-themed event concluded with a silent auction followed by a live auction led by professional auctioneer/Realtor Mike Matherly, who serves as a regional director in Siskiyou County. Matherly skillfully encouraged attendees to bid higher for items donated by members that included artwork, wine/beer, toys and household items.
This was the second year for the successful auction coordinated by director and Scholarship Committee chairperson Laurie Humphries. Proceeds from the auctions fund scholarships that PAR awards each year to college-bound youth in Plumas and Sierra counties.