Prescribed fire training events held near Highway 70 and at FRC
This was the fourth weekend in a row that a Plumas County Cal-TREX prescribed fire training event was held. The trainings began Oct. 24 and culminated this past weekend with cooperative pile burning on the Mt. Hough Ranger District of Plumas National Forest and on the Feather River College campus.
The pile burning enhances efforts by the Forest Service and Feather River College to reduce wildfire risk and increase forest health around Quincy. The TREX event allows participants to gain experience in using prescribed fire as a tool for wildfire mitigation and ecological restoration.
The first pile burning of the weekend was held Saturday, Nov. 21, and was visible to individuals traveling along Hwy 70 north of Quincy. Smoke was visible throughout the American Valley. The Incident Management Team closely monitored the weather and wind conditions to ensure minimal air quality impacts to residents. The second pile burning took place the following day, Nov. 22, on the Feather River College campus with participation from environmental studies students. Again, smoke could be seen throughout American Valley.
Brad Graevs, district manager for the Feather River Resource Conservation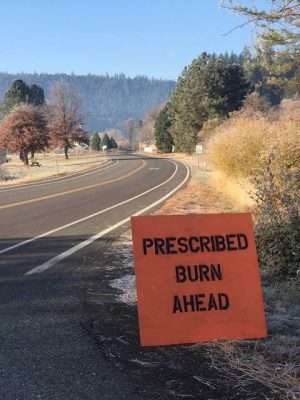 District and Private Lands Operation Section Chief for submitted the event, stated,  "The people who are responsible for protecting your homes understand how important this work is." Fuel reduction treatments completed along La Porte Road reduced the intensity of the North Complex as it burned through the community, allowing firefighters to safely remain in the area despite extreme fire behavior and lack of aerial firefighting resources. While the North Complex exhausted the firefighting resources of Plumas National Forest, it also highlighted the extreme importance of preventative initiatives. Which is why nearly 40 individuals, representing various agencies, non-profit organizations, and education institutions, undertook the prescribed burningtogether.
"Prescribed fire projects are an excellent learning opportunity for our students and fire professionals, while promoting forest health and mitigating future catastrophic fires." said Big Chico Creek Ecological Reserve Director, Eli Goodsell. "It is important that we conduct these projects now to protect our local communities, enhance our ecosystems, and continue the conversation around the important role that prescribed fire plays on our landscapes."
More information about the TREX event can be found at: www.plumasfiresafe.org/trex-info