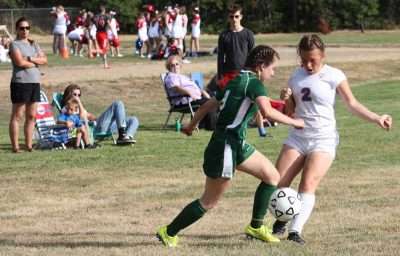 "QHS girls' soccer team won their first game in seven years (against Chester)," said Quincy High School Athletic Director Mike Woodlee. The 4-2 victory over the Chester Volcanoes gave the Trojan girls plenty to celebrate. The two teams faced each other earlier in the season Sept. 2, ending that game with a tied score of 3-3.
"QHS Jazzmyn O'Bryant scored three of the winning Quincy goals against the Volcanoes on Sept. 7 making her total for the season at eight," said head girls' soccer coach Jeff Brawley. Sabina Winter also added a goal for the win giving her two for the season so far. "Trojan goalie Haley Stewart had 10 saves," said Woodlee who coaches the QHS boys' team.
After a Gatorade dousing from the Trojan team celebrating their victory, Brawley said, "That was the best bath ever!"
The Chester team put up a good fight and are "ready to take on the Trojans again," given the opportunity, according to head girls' soccer coach Eric O'Kelley from CHS. "They played a really good game," said O'Kelley, "and it's good to see the Quincy program up and running.
The CHS coach described the challenges of soccer play in the Sierra, "Up here in the mountains we play out of season because of the snow during the regular soccer season." Sport options for girls in the fall are volleyball, cheer and soccer," added O'Kelley, who considers soccer a great choice for girls. "I don't know what the future holds, but if I had to guess, would say soccer in this area is going to go co-ed."
When asked why he coaches, O'Kelley said he did have children on the team years ago and then later he had some nieces on the team, but said he coaches soccer because, "I fell in love with the sport, I just really enjoy working with the students and really enjoy the game."
The Volcano girls' soccer team played Lakeview, Oregon, in Chester on Sept. 9 and is scheduled to play them again at Lakeview on Saturday, Sept. 30.
The winning Trojan girls will take their victory on to play the Lakers at North Tahoe on Thursday, Sept. 14; against the Volcanoes in Chester on Saturday, Sept. 16, at noon; and in Chester on Thursday, Sept. 21, at 5 p.m.