QHS Ski off to a good start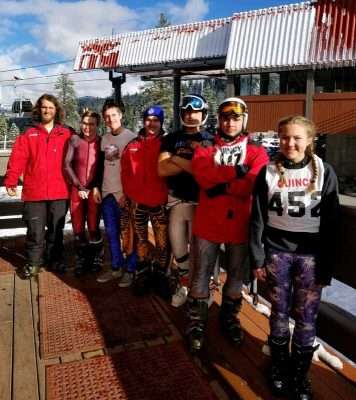 The Quincy High School team started the 2018 race season with top 10 finishers in two separate races in the California Nevada Interscholastic Ski and Snowboard Federation's Central 1 Division.
The QHS ski team competed at Boreal and Northstar ski areas for the first ski meets of the season and will hit Northstar again Wednesday, Jan. 31.
This year's team is being led by a coaching newcomer, Maximillian Egloff, who raced on the QHS ski team during his years as a student from 2002 to 2006. "We've got a strong core to the team," said Egloff.
The 2018 QHS six-member team began practice just after Thanksgiving with workouts at Feather River Fitness and training sessions with the Auburn Ski Club at Boreal Ski Resort.
QHS races against girls' and boys' teams from Chico High School, Pleasant Valley High (Chico), Del Oro High (Loomis) and Sacramento Country Day School. Each race, either giant slalom or slalom, consists of two runs. The fastest time out of a combined total of both runs determines placements.
The first division race on Jan. 15 was a giant slalom at Boreal Ski Resort. QHS senior Miles Rubalcava-Cunan led the Quincy team with a third place finish out of 31 boy racers with a combined time of 1:04.29. Rubalcava-Cunan's time was less than a second behind the first and second placer finishers from Del Oro and Sacramento. QHS sophomore Sam Lawson followed with an eighth place finish and sophomore James White placed 12th.
Senior Kainoa Hall, who last year placed seventh in the state and made the All State Ski Team, had an unfortunate crash when his ski came off during his first run. Despite a clean second run that placed him second, Hall's first run was declared "did not finish" which took him out of that day's competition.
A similar thing happened to the team's only female skier, freshman Sabina Winter, and another newcomer to the ski team, senior Anakin Borghi. Not only new to the team, the QHS multi-sport athlete Borghi had never been on skis before getting ready for this year's ski competitions. Winter was able to finish fourth in her second run Jan. 15.
All three QHS racers made good comebacks at the team's second slalom race Jan. 19 at Northstar. Both Hall and Winter spun out slightly during a run, but were able to recover, finish and make fast clean second runs.
Winter made a terrific turnaround. In her first run, she finished in the last position (22), but with her clean second run, she ended the day in eighth place out of the 22 racers.
Rubalcava-Cunan again led the boys' team, ending in fourth place overall out of 33 racers, (1:13.18). Hall, in another terrific turnaround, took sixth place and Lawson placed seventh.
Borghi finished both his runs to take 24th place while White missed a gate on his second run and did not finish.
"The team did great," commented Coach Egloff following the last race. "We're showing up consistent, there's lots of talent and everybody's putting forth a lot of effort."
Overall, the QHS boys' team looks to be in second place behind Chico High after these first two races, but Coach Egloff is hopeful that Quincy may be able to move on to win the division championship like they did in 2017.
"I think [we can] if we keep our heads steady and finish the races," said Egloff. "It's all about finishing. For some kids, they're in their heads about where they want to place … they need to just ski and enjoy it."
Lack of snow has been a challenge for the team this season. "We've been dodging rocks for most of our season so far, so it was nice that there was 4 to 5 inches of new snow up at Northstar," said Egloff.
The team's next race will be a giant slalom Monday, Jan. 29, at Northstar, a slalom race at Boreal on Friday, Feb. 2, and the league's final race on Friday, Feb. 16, at Squaw Valley. State championship races will be held at Mammoth Mountain on March 4 through 6.