Quincy Fire responding to a house fire on Chandler Road UPDATED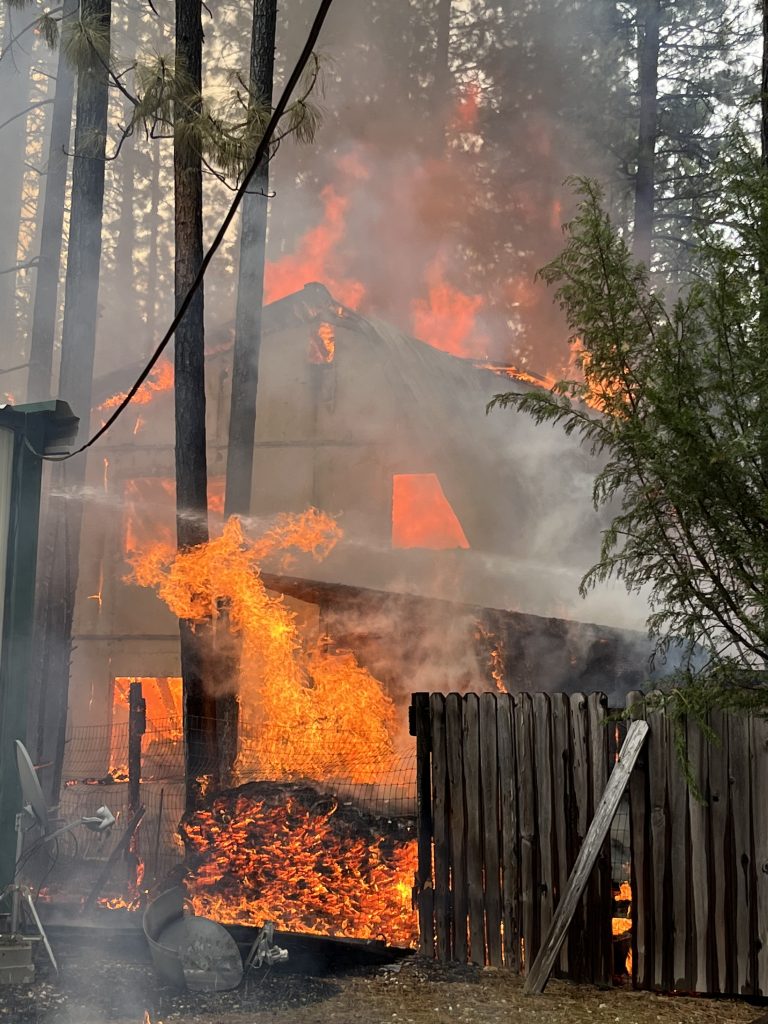 8:45 a.m. June 6 UPDATE: Quincy Fire Chief Robbie Cassou, as well as the Plumas County Sheriff's Office, reports that the cause of the fire is under investigation and an investigator has been requested. The male resident of the structure is missing, along with his three dogs. The individual was known to wander away from the residence, and officials are working to determine whether he can be located or whether he perished in the fire.
5:50 p.m. UPDATE: Tamara Schmidt, the Public Information officer for the Plumas National Forest, is reporting that crews are on the scene to address the spot fires that developed as a result of the house fire. The Forest Service responded to the incident with overhead crews, a hand crew, an engine. a water tender and the squad from helicopter 512. Schmidt said that firefighters were able to put out the spot fires and will be on scene to continue mop up and to remain vigilant as winds have increased late this afternoon into the evening. Schmidt said that the Forest Service focused on vegetation, while Quincy Fire and the other departments dealt with the structure fire.
5:23 p.m. UPDATE: Plumas News was on scene and reports that it appears other structures will be spared, but firefighters are working to keep the fire from spreading to the trees. The Forest Service is assisting in the effort.
4:55 p.m. UPDATE: Crescent Mills and Indian Valley Fire departments have also been paged for assistance. The structure is fully engulfed and the fire has spread to the surrounding vegetation.
Quincy Fire is responding to the scene of a house fire in the 5300 block of Chandler Road, which is the west end of the road that connects Highway 70 on both sides of Quincy. Those first on scene at 4:40 p.m. this afternoon, June 5, are reporting heavy smoke. The two-story home is fully engulfed and Quincy Fire is requesting assistance from Meadow Valley, Long Valley and Greenhorn fire departments.