Quincy skiers compete as California's best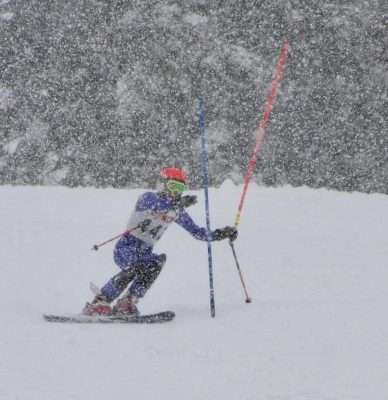 Trojan athletes from Quincy High School traveled to Mount Shasta to compete against 30 other high schools in the State Ski Championships on March 6 and 7.
"The team traveled to Mount Shasta Ski Park where too much morning snow forced the cancellation of the first day of racing," said spectator Suzi Brakken. The event was scaled down to a single run in both giant slalom and slalom on March 7. This modification upped the pressure: Not only were the skiers racing in the state championships, but they got just one shot to do it.
Boys competed against 76 racers in giant slalom and 78 in slalom.
The girls' divisions held 74 competitors vying for the top spots on the hill in the 2019 California Nevada Interscholastic Ski and Snowboard Federation.
Quincy High School's lone female skier, sophomore Sabina Winter, placed 12th in the giant slalom. Winter finished her run in 49.63 seconds. She was just six seconds off the first place winner, Kendall Lach, who came in at 43.66.
In the boys' giant slalom, all three Quincy racers finished their runs without disqualification. The first place time by Cooper Laloli was 43.14. Sam Lawson placed 25th with a run time of 48.36, just five seconds behind the first-place racer. Lawson came to the races as the fourth-place finisher in Division 1. Junior James White placed 58 with a time of 55.18. Sophomore Payton Peters placed 72 with a time of 1:08.10 in this, his first year of racing.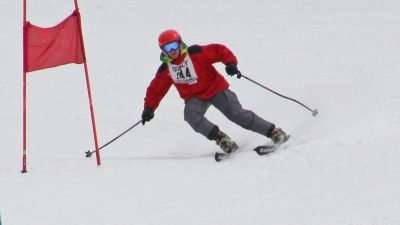 In the slalom race, Winter had a bit of bad luck and missed the last gate. "With her speed in the slalom race, Winter would have been in ninth place, but she accidentally missed the final gate of the run to disqualify," said Brakken.
Winter had come into the championships as the first place finisher in the Central 1 Division. "At states Sabina had to race against schools like Mammoth and Colfax with really strong, older racers," said Brakken. "For her to be 12th best in the state as just a sophomore is phenomenal." The disqualification put the sophomore out of the race.
The boys again did well, with all three completing their runs. The first-place racer, Aidan LeFrancois, finished in 44.37.
Trojan Lawson finished in 54.36 and earned another 25th place ranking. Not bad when competing with the top high school skiers in all of California. James White moved up to finish 45th with 1:03.78. Payton Peters also moved up to 62 with a time of 1:41.34. Sixteen male racers were so challenged by the course that they were unable to finish or were disqualified for one action or another. Hats off to the Quincy boys for their fine finishes.
And so the high school ski season concludes. The team is coached by Max Egloff assisted by coach Elliot Smart. "I couldn't be more proud of every single one of their efforts and for the kindness and joy these young adults bring into the world," said Egloff.
"I'm just really proud of these young people," said Smart. "They put themselves up against the top state competition and performed really well."
The skiers are trained by the Auburn Ski Club at Boreal Ski Resort and several started out in competition at Johnsville Ski Club through the local recreation district.
"A number of community businesses have also sponsored the team," said Brakken. They are Driscoll's Berries, Mountain Mattress, Mountain Building Supply, Feather River Outdoors, Feather Financial, Plumas Bank, Clubb's Upholstery, T's 2 Go and Wild Hare Sign Company.
Sophomore Sabina Winter deserves big props for skiing her way into 12th place for the great states of California and Nevada with her athletic prowess in the giant slalom.
"With no graduating seniors, the team looks to retain its numbers for next season and hopes to recruit more racers," said Brakken. "Coach Egloff also is hoping to form a ski and snowboard club for those who want to enjoy the sports in a non-competitive setting."
For more information, contact Egloff at Quincy High School, or call 283-6510.