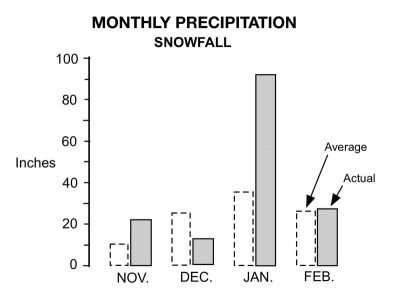 Our wet winter continues with enthusiasm. If January was "big snow" month in the Lake Almanor Basin (with nearly eight feet of snowfall), then February was "big rain" month.
Between an average amount of snow and a truly extraordinary amount of rain, we received a record-breaking amount of moisture in February. Our February snowfall came to 28 inches, bringing our season snowfall total to 155.5 inches or 158 percent of average.However, it was the rain that was the real story. Between the water content of the snow and the repeated heavy rain events, the total precipitation for the month, as measured at the Prattville monitoring site, came to a whopping 16.46 inches, more than three times the average for February.
That total easily broke the old February record, set in 1986 at 15.22 inches.
Our July-June "water season" accumulated total precipitation now stands at 50.76 inches, or 219 percent of average for this point in the season. Actually, we're now more than 18 inches above our average ANNUAL precipitation total!
February temperatures were moderated somewhat by our frequent rains. Our average high temperature was a half-degree cooler than the long-term average, but our average low was 4 degrees warmer than the norm.
Our coldest mornings were on Feb. 24 and 26 when the Chester airport thermometer dropped to a nippy 9 degrees.