Save the date! Fifth annual Sierra Valley Art + Ag trail coming Saturday, September 24
After a two year hiatus, the intersection of culture, history, farming and artisan crafts collide on Saturday, September 24 from 10 a.m. to 4 p.m. for the 5th annual Sierra Valley Art + Ag Trail (SVAAT), presented by the Sierra County Arts Council with support from the Sierra Nevada Conservancy and Plumas Arts. Event organizers aim to highlight the sustainable ranching practices, local history, nature conservancy and local artisans for a day of exploration, education and fun for all ages.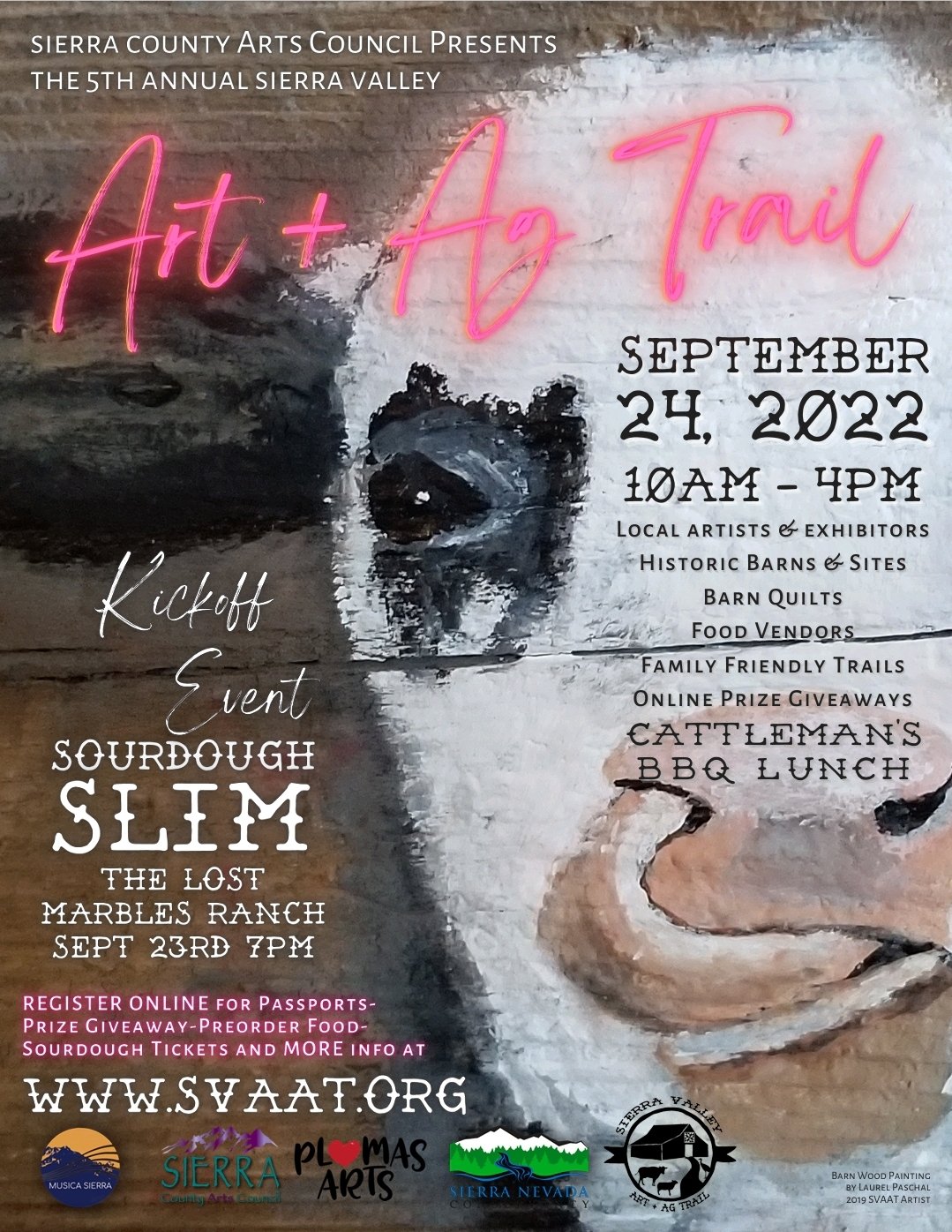 This free event encompasses the Sierra Valley, the largest alpine valley in California, with over 100 miles of self-guided exploration through pristine vistas and historic ranches. For $25, guests can purchase a commemorative Passport containing images taken by local photographers online or at one of our four trailheads – pass includes a place to stamp and track your progress, a map with the location and history of the 11 event sites as well as the locations of ADA restrooms, barn quilts and food stops throughout the Sierra Valley. Guests who reserve their Passport in advance earn two free entries to the prize drawing.
The event is also free for the local exhibitors. In return, the exhibitors donate a piece of their work to the incredible Art + Ag Trail prize drawing taking place at 12 p.m. on September 24, the event day. Prize baskets will be on display and available to pick up at the Loyalton Trailhead. Winning entrants will be notified by email. Visitors can purchase prize entries in advance online or at one of our four trailheads.
SVAAT highlights include barn quilts, market farms, working ranch tours, historic buildings and local artisan crafts of every medium – wood, paint, glass, ceramic, metal and fiber among others. Additionally, the Art & Ag Trail offers kid-friendly interactive activities including branding, roping, a petting zoo, textile demonstrations, education on food, fiber and urban gardening, a Cattlemen's lunch, fresh local pies sold by the Grange and much more.
---
This year, there will be a new kickoff event featuring Sourdough Slim on the evening of Friday, September 23.   All are welcome to purchase tickets online at https://sierravalleyartagtrail.org/  for dinner and a concert at the Lost Marbles Ranch. Organizers invite all to enjoy BBQ pulled pork sandwiches and rotisserie chicken dinner from When Pigs Fly catering, throw back a cold one from the incredible Cattlewomen's cash bar, then "kick back for a hooting and hollering performance of the legendary Sourdough Slim!" The 'When Pigs Fly BBQ' will be held from 5:30 to 7 p.m. and Sourdough Slim will be in concert from 7 to 9 p.m. There is limited seating available, so please be sure to book online soon. A limited amount of first come, first serve tickets will also be at the door. The Lost Marbles Ranch is located at 2985 Marble Hot Springs Road in Beckwourth.
---
---
In the late 1800s, Sierra Valley's large number of family-run dairies supplied milk, cream and butter to the Comstock Lode miners in Virginia City, Nevada. Today these 100+-year-old dairy barns, many built with hand-hewn timbers and wooden pegs, still stand and serve the local ranchers. The Art + Ag Trail participants are given a rare opportunity to visit these privately owned barns, ranches, farms and other historic sites while taking in the talented local artists, historians and exhibitors. "We want to provide a day where visitors can experience the authentic living history of our Sierra-Plumas families," said Lindsay McIntosh, SVAAT director.
To assist with planning, indicate your attendance by completing the free online registration here.
To purchase passports, prize entries, grab & go lunches, kickoff event tickets and more, go to www.sierravalleyartagtrail.org/event-information
"We are strongly encouraging purchasing your passport online ahead of the event, along with online donations and raffles," McIntosh explained. "The funds raised during this event will be going towards scholarships for art and agriculture students specifically, once the cost of the event is covered. We are excited to give back to the community in this way."
Sierra Valley is a stunning alpine valley the size of Lake Tahoe nestled between the Sierra Nevada, the Cascade Range and the Great Basin. The valley is home to many historic cattle ranches, beautiful old dairy barns, market farms and talented artisans. Located at the headwaters of the wild and scenic middle fork of the Feather River, the valley's freshwater marshes, grass meadows and sage steppes provide varied habitats that support an array of wildlife, including growing herds of pronghorn antelope, mule deer and the occasional elk. It is also a nationally designated Important Bird Area with over 260 bird species visiting during the year.
About the Sierra Valley Art + Ag Trail
The event was developed through the cooperative efforts of residents, local organizations, sponsors, funders and many individual artists and family-owned farms and ranches. The Sierra Valley Art + Ag Trail is an event of the Sierra County Arts Council. Visit SierraValleyArtAgTrail.org for more information.