School board candidates for Trustee Area 5 address priorities in forum
Typically when covering candidate forums, Plumas News relays the questions and responses as presented. But during the League of Women Voters forum held Oct. 4, which included the two individuals vying for Trustee Area 5 of the Plumas Unified School District, some statements required additional fact checking. That information will be included as necessary.
The two candidates vying for the school board position that represents roughly East Quincy through portions of the Mohawk Valley are Leslie Edlund, who has served on the school board for 10 years, and Coby Hakalir, a three-year resident of the county. The trustee will be selected by the registered voters who live in that area for a four-year term and their names will appear on the ballot that should arrive in mailboxes this week.
The forum's moderator, Linda Judge, posed the evenings questions, alternating which candidate responded first. Each candidate also delivered an opening and closing statement. The event was held in the Portola Memorial Hall with roughly two dozen individuals in attendance.
Opening statements
Coby Hakalir: In one of the lighter moments of the evening, Hakalir thanked Edlund for her 10 years of service and added that hopefully he woudn't "be thanking her for 14 years" four years from now.  Hakalir talked about his work with the Chicago Association of Realtors and its work with schools, saying he was able to see how some schools prepare students for success and others do not.
He related that when he moved to the Graeagle area, his daughter was a kindergartener at C. Roy Carmichael and is now in third grade. He said she was watching the forum via livestream on Facebook. He commended the "outstanding principal Melissa Leal" and the "excellent staff." But he added that you "can't deny that there are systemic problems in our school system." He described himself as a "concerned father" and said it was time for a change. "Kids deserve every opportunity to succeed," he said.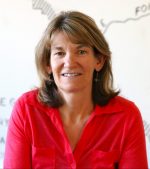 Leslie Edlund: Edlund began by saying that her two sons were born and raised in Quincy and went through the K-12 system at PUSD. "I am running again because I am passionate about PUSD," she said. She said that she has a vision going forward with the district. She acknowledged that there are some issues with recruiting and retaining staff, but which are not unique to PUSD. "I am also concerned about disparity as kids come back from distance learning," she said.
How does the current board make decisions regarding Measure B funding?
Leslie Edlund: "The decisions are made on taxpayer input," Edlund said. She said the district held many community forums to determine priorities for each community. "A lot of them were safety related," she said. Respondents wanted to make the school safe and prioritized roofs and heating systems. She said that prior to the passage of Measure B, the district reacted in crisis mode, but following its passage, plans could be made to improve the campuses.
Coby Hakalir: "I think this is an area where we have commonality," Hakalir said. "Taxpayers should have input." He added that school sites add to the success of students and said that air conditioning could help at Portola High School.
Leslie Edlund:  She added that air conditioning at school campuses was scheduled to be on the next school board agenda. (The next board meeting is Wednesday, Oct. 12 at 4 p.m. in the Portola High School library.)
What changes would you make if you win?
Coby Hakalir: "I'd take a look at a few things," Hakalir said and then talked about the truancy rate, and specifically cited the eighth grade of Portola Junior-Senior High School for having a 35 percent truancy rate. He said, "In eighth grade alone, one-third of the kids are missing school every day."
Editor's Note: This is one of the statements that required review. In checking with Principal Sara Sheridan, she said that she had met with Hakalir, and showed him her computer screen while explaining how truancy rates are calculated. She ascertained that he misinterpreted the data that he saw. She said that of the 49 eighth-graders enrolled at PHS, only three students would be considered truant. "Truancy and attendance are always a concern," Sheridan said, "but the 35 percent truancy is not accurate." She reiterated that he must have misinterpreted some of the data.
Kristy Warren, the school district's assistant superintendent and director of curriculum, added the following information to help clarify what can be a confusing situation:
Attendance is measured in a number of different ways by the state of California.
Truancy– students are considered truant for missing 30 minutes or more of instruction without an excuse three times during the school year.  Excused absence reasons are defined in Education Code with the most common ones being illness, medical, funeral, court hearing, and cultural ceremony.  Plumas Unified works with our District Attorney's office for students who are identified as truant, or at risk of being truant.
Chronic absenteeism: students are considered chronically absent if they are absent at least 10 percent of the instructional days that they were enrolled to attend.  For this measure, the reason why a student is not in school does not matter (medical, family emergency, family trip, etc…)
Daily attendance rate: Percentage of students who are at school each day.  Our goal is 95 percent and we regularly see somewhere between 90-95 percent, oftentimes lower during times of a COVID outbreak or other illness (cold/flu).  Today, Monday, Oct. 10, we are at a 93.06% daily attendance rate.
Hakalir also addressed Chester High School in this response and said that "93 percent haven't met the math standards of the state."
Editor's Note: In checking that statement, Kristy Warren, the school district's assistant superintendent and director of curriculum, said "state test scores from 2022 are currently embargoed for public release until December with the release of the school dashboard data. We do have them for internal planning purposes, but I'm not sure what the 93 percent refers to."
Leslie Edlund: Edlund said a priority is the "need to recruit and retain our staff," and cited pay, benefits, and a great working environment as the means to accomplish that goal. She said it's also necessary "to provide additional supports for students who missed out during the pandemic." She said the she also wants to expand course offerings and provide opportunities in the career technical field and in advanced placement courses. She mentioned that the district has partnered with Feather River College for concurrent enrollments, and provides online classes.
What steps would you take to address teacher/employees shortage?
Leslie Edlund: Edlund cited pay and housing as two issues, and mentioned that the district recently purchased a four-unit duplex, which is already housing a career-tech instructor there. She suggested that "maybe we do something like PDH does,"  — providing facilities for traveling nurses. She also said the district needs to market its communities as a selling point for teachers to move to the area.
Advertisement
Coby Hakalir: "We definitely have a housing situation," Hakalir said. He said that it's important for the communities to build housing and provide more job opportunities. He said it might be easier to attract teachers to Portola because their spouses could find work in Reno. He said pay structure also is important. "Where we differ," Hakalir said, "we have known about these problems for 10 years" and there should have been a focus on it.
What ideas do you have to meet the needs of students going into trades?
Coby Hakalir: "It comes down to staffing," he said, adding that some current positions appear redundant. He said that some students might be better off going into trades rather than colleges, and added that the district's students aren't excelling in English or Math or going to four-year colleges.
Leslie Edlund: Edlund said the district does have a robust Career Technical Education Program, and discussed welding, bike building, auto shop, culinary and fire science classes, but said she agreed with Coby's concern regarding staffing.
What is your position on tying teacher pay to standardized test results?
Leslie Edlund: "I don't agree with that," she said.
Coby Hakalir: "We need to evaluate their performance based on how our children are doing," he said. He compared not evaluating teachers based on their performance as just as bad as graduating students who aren't ready. He cited state, federal and local standards and the need to be accountable.
Leslie Edlund: Edlund then added that she believes in holding individuals accountable for test results, but that not all students are on an even playing field.
A question was directed to Coby Hakalir regarding a social media statement he made about a disagreement he had regarding a lesson.
Coby Hakalir: Hakalir said he did not remember the incident.
What is your opinion on critical race theory? Do you think it should exist?
 Coby Hakalir: Hakalir said that was one of the first questions he received when he began his bid for school board. "What works in Orange County, Montery, or San Francisco, may not work in Plumas County," he said. He thinks it's important that parents are consulted. "As a parent, I want to be consulted," he said. "Want to make sure that parents have a voice that is heard."
Leslie Edlund: "We do not teach critical race theory in PUSD," Edlund said. "I believe we should be teaching accurate, factual, curriculum to our kids."
If elected what are your top two priorities?
 Leslie Edlund: Edlund said her first priority is "staffing and making sure we have enough staff in place." She noted that there are a lot of new teachers this year, and "some of them are our own local graduates." Secondly, she wants to provide supports for our kids. "We have a lot of COVID relief, which has allowed us to put a lot of aides in classrooms," Edlund said and she wants to be able to maintain that level of staffing once COVID funding goes away.
Coby Hakalir: "We don't have enough kids going to school each day," he said, and reiterated his remarks about truancy rates. He said that when he talks to principals around the district, they tell him not enough students aren't coming to school.  He thinks more intervention and more extracurricular activities would help. He said it's not a problem that can be solved overnight and he wants to work with the superintendent.
Many rules and regulations are mandated by the state, how will you address controversial issues?
 Coby Hakalir: "What's important is that you have a voice as a parent," he said. He acknowledged that not everyone will be happy with everything and then joked that he doesn't "particularly like the way my daughter is taught math because I don't understand it."
Leslie Edlund: "We do get handed mandates by the state and we have to implement them," she said.  She said that when mandates come down the district needs to talk to parents and staff. She anticipates that some mandates will be coming soon.
How many school board meetings have you been attending? (directed to Hakalir)
Coby Hakalir: He said his daughter began school in the district in 2019 and then the meetings went to zoom. He said he missed one in Chester and the one held earlier that day. "Obviously I am very involved in the schools," he said, adding that "more important than the meetings I attended is I know what's going on in the schools." He said he had been going around talking to all of the teachers, parents and principals.
During follow-up calls, Plumas News learned that Hakalir contacted and visited the Chester campuses the following day on Wednesday, Oct. 5. As of Friday morning, Oct. 7, he had emailed the principal of the Pioneer Quincy campus, but had yet to meet with her. He did meet with her counterpart at the Alder campus and received a tour of the school. He had also not yet had the opportunity to meet with the Quincy High School principal though he did contact her. Hakalir has visited both Portola campuses; Plumas News had not heard from Greenville by the time this was posted.
Closing statement
Leslie Edlund: "I want to talk about my commitment to this district," she said, and discussed how she began as a volunteer, and worked with the parent-teacher organization. She was then asked to serve on the school board. She said even though her sons have graduated, she continues to volunteer in two second-grade classrooms at Pioneer; attend sporting events and go on site visits. "This is something that I have a passion for," she said. "I found a family in the education. This is something that drives me."
Coby Hakalir: Hakalir thanked the league for hosting the event and giving candidates a voice. He thanked Edlund again for her service. He said that the campaign process has been a humbling one and that he had talked with the superintendent who was very gracious. He said there's still much work to be done. "In short it's time for a change," he said.