School board with a full plate at March meeting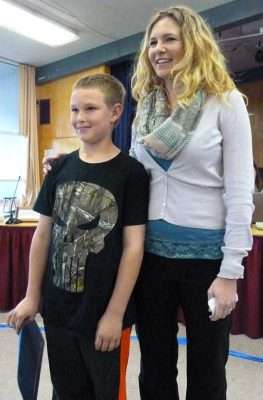 Three students were honored with Principal Recognition Awards at the March 8 meetings of the Plumas Unified School District governing board.
Tristan Morgan from Quincy Special Day Pre-School was recognized for the progress he has made recently and the progress he has helped other students make.
Jacob Williamson, a fourth-grader at Indian Valley Elementary School, was recognized by his teacher, Heidi Kingdon, for his ability to take ownership of his actions and his strong work ethic. Kingdon noted, "For me, what stands out is character. With good character, the academics will follow."
Of Ema Sordic, a 10th-grader at Greenville High School who is active in sports, Principal Jerry Merica-Jones said, "Ema represents that teen spirit that we appreciate so much."
Sale of excess building
The trustees voted unanimously to sell the district's building on Main Street in Greenville to the Indian Valley American Legion Post 568 for $1. It has taken six years for this sale to go through.
In the meantime, members of the post have spent $15,000 in repairing the surplus building.
Warren Mitchell of Post 568 said that he sees a bright future for the building. He asked the community to remember that the building is there for all kinds of community events.
Measure B construction
Trustee Dwight Pierson raised a concern that the public is expecting to see construction going on soon using Measure B funds.
Lisa Cavin, district chief business manager, responded that first bonds have to be sold, architectural designs drawn up, projects advertised for competitive bid and winning bidders vetted for major construction projects.
The first bonds, for up to $20 million, should go on sale in June. That money should arrive by this summer.
Projects such as changing door locks, installing curtains, roofing buildings and other projects that don't involve structural change, should get started this summer.
Larger projects that don't have to go through the California Division of the State Architect may also go forward this summer.
However, structural projects that have to go through the state architect's office might not get started until next summer.
There will be four stages of bond issuance for the $50 million. These bond issues will take place over the next eight to 10 years, as needed. Construction will continue for the next 10 years. Not all of the $50 million will necessarily be spent, according to district representatives.
Whenever possible, projects will be submitted for matching state Proposition 51 funds to make the $50 million, or whatever is spent, go further.
The list of projects for the first phase of repairs should come out by May.
Citizen oversight committee
The school board is still in need of citizens to serve on the state-mandated committee to watch over PUSD spending. To date, only two people have volunteered.
To volunteer, contact Lisa Cavin at 283-6500, ex. 5230, or at [email protected]
An application form can be found on the PUSD home page.
John Muir Laws field journaling
John Muir Laws has developed a method of field journaling that can help deepen students' observations of nature.
In past years, Laws has instructed PUSD teachers in his method of field journaling.This year Laws returned and visited every elementary school in the district to personally instruct K-6 students in 17 classrooms on his method.
Teachers were therefore able to see Laws' method in action. From all accounts, the students took to Laws and his method enthusiastically.
Laws' method is based on the observation that most students have a limited capacity for concentration. Journaling allows students to put their "brains onto paper" where it can be stored.
The Laws' method of journaling can be found at johnmuirlaws.com.
Attendance
All or some schools in the PUSD missed seven days in January and February due to bad weather.
Pierson stressed, "I have a genuine concern about losing student instruction days  due to  weather."
Pierson again asked the school district to add three "snow days" to next years school calendar.
Buses for Sierra Valley
The Sierra-Plumas Joint Unified School District may be getting its own school buses. The board decided to dispose of two old, high-emissions school buses previously used by SPJUSD under contract with the PUSD. The buses are worth less than $2,500 and have no value as scrap metal. SPJUSD may be able to use these high-emissions buses to get state funds for new zero emission school buses.
Greenville-Indian Valley Academy oversight
Once again, a representative from the Greenville-Indian Valley Academy Oversight Committee has requested more authority and direction from the school board.
Ken Roby said that although interschool relations are much improved this year over last year, there is still a lot of apprehension over whether the committee will continue next year and over what powers the committee has to actually address issues existing between the two schools.
The two schools, Greenville Junior-Senior High and Indian Valley Academy, occupy the same campus, but are run by different entities: PUSD and Plumas Charter School, respectively.