School district juggles special ed requirements vs. funding
In 2011, the school district took $1.85 million from its general fund to pay for special education. In 2018 that amount jumped to $3.28 million — largely due to increased state requirements without the funding to pay for them.
During the Plumas Unified School District's November board meeting, SELPA (Special Education Local Plan Area) Director Kevin Bean reported on new federal requirements and what the district was doing in response to them.
Most interesting wasn't the new requirements, however, but the money required to keep up with the ever expanding to-do list. As board member Dwight Pierson, a former principal and superintendent in Iowa, put it: "Nothing's changed in terms of funding. But, they keep adding on additional services every year. That's my frustration."
Pierson, according to district Chief Financial Officer Lisa Cavin, is a big proponent of special education services. But he, like the rest of PUSD's board and administration, is frustrated by ever-increasing federal requirements that come with no financial support. "It's critical the public understands this," said Pierson. "Our expenditures have gone up . . . we have more special needs students, and we aren't getting money for it. To fund this level of services, we're using dollars from the general fund . . . I wish our state could see that we need additional funding."
Advertisement
When asked for further explanation, Cavin was only too happy to reply, echoing Pierson's frustration. The way the district receives funding, she said, isn't based on the number of students with disabilities. Rather, it's based on overall ADA (average daily attendance) of all students in the district. That number has seen a steady decrease since 2011, while the number of disabled students and federal requirements have both increased during that same period.
Further, said Cavin, there is a "maintenance of effort" requirement, which means "we have to spend at least as much as the prior year — either overall or per person."
"Our expenditures have gone up . . . we have more special needs students, and we aren't getting money for it. To fund this level of services, we're using dollars from the general fund . . . I wish our state could see that we need additional funding."
– Dwight Pierson, PUSD trustee
The district can't decrease spending for disabled students without being penalized financially. There are a few exceptions, though. For instance, if a teacher, paraprofessional, or psychologist retires or leaves of their own volition, their position doesn't necessarily have to be filled, and PUSD can exclude that cost.
But, the district can't lay off special education staff if they need to reduce the budget. They can, however, evaluate the efficiency of programs, and if they find ways to save, they can use that money where it might be more impactful, she explained.
Bean explained one of the ways they're improving efficiency and providing better services at the board meeting. He said they conduct a survey to assess "whether (paraprofessional one-on-one) support is needed and when, instead of just all day." Bean said this process happens prior to providing services for new special education students and "no less than annually" for existing students.
One of the primary goals of the special education department, said Bean, is to help students reach independence, which is why scaling paraprofessional support to student need is so important.
According to Cavin, when special education legislation went into effect in the 1970s, the federal government made a commitment to fund 40 percent of special education requirements. But, she said, "the federal government doesn't live up to the commitment that was made," and it never has.
Instead, the state and federal governments combined, fund approximately 40 percent of required services, leaving 60 percent to the district. This year, Governor Newsom designated an increase in special education funding for some districts. But, combined aid still falls short by a large margin.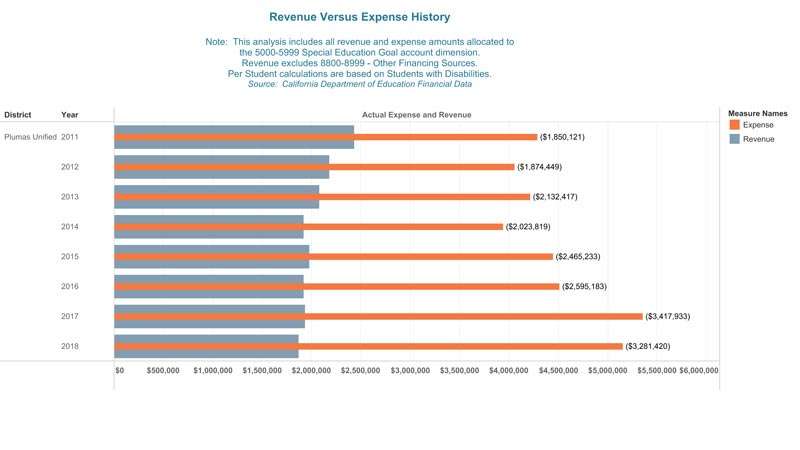 Also the Legislative Analysts Report (LAO) came out recently, Cavin noted, and it provides funding information for the governor and legislators. The school district might see some increase from that, Cavin said. "It's a drop in the bucket, but it would help . . . The general fund contribution won't go up as much as last year," she added.
It should be noted that special education isn't the only area that is under funded. There are other areas where funding has been reduced or removed altogether.
Cavin said the district used to receive matching funds for "maintenance of facilities," but now they receive nothing. Further, they've received a "flat dollar amount" for transportation costs for decades, with no cost of living increase. "All of these things we need to do to keep our doors open," she added.
Luckily, the district had a "very healthy reserve," explained Cavin, which they've been spending down as they cover special education and other under funded services. They plan to spend it down until they have a 17 percent reserve. That allows the district to cover two months of operating expenses, which "keeps the doors open if we have a delay in payment from the state," said Cavin.
Advertisement
If they start going below that, however, they'll "have to look at where do we save money," said Cavin, by looking at positions as they come open, restructuring others, and constantly looking for efficiencies. "We don't want to end up in a knee jerk reaction to crisis. We want to determine how to give the best services to students in the most efficient way."
One of Cavin's frustrations is that, when it comes to funding per student, California comes in at a jaw dropping 46th in the nation. It happened when Proposition 13 went into effect in 1978, she said. The state went from being one of the top funded to one of the bottom. "It's nice to have low property taxes," said Cavin, "but schools see the bad side of that."
She said she wasn't against low property taxes, but she appreciates that a split roll tax (which leaves individual property alone, yet taxes businesses at a higher rate) is being considered. Companies in the Bay Area, she said, are being taxed at 1980s rates and making billions of dollars.
When asked what else could be done, Cavin echoed board member Pierson's sentiments. She hopes that Plumas County residents will make the effort to contact their legislators about this vital funding issue for their schools.