Scouts thrive on summer camp activities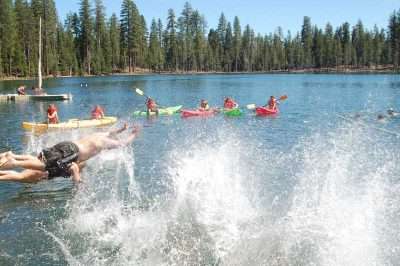 Single-day or two-day campouts are always a lot of fun for the Boy Scouts in Chester Troop 36, but attending a full week of summer camp is what they work so hard for every year.
The week of July 9 through 15 is this year's venture into adventure for Troop 36 as the boys travel up the road just a short distance fromChester to Camp Fleischmann.
As one of the premiere Scout camps in California, Fleischmann offers Scoutcraft activities ranging from leather, wood and metal crafts to mammal and reptile study, astronomy and environmental science.
There are also numerous aquatic challenges, including merit badges in sailing, kayaking, canoeing and swimming. There's even a special recognition for those that complete the arduous "Mile Swim."
For the "mountain man" enthusiasts, there is black powder and shotgun shooting, Indian lore, tomahawk throwing and wilderness survival.
One of the busiest locations at the camp is the climbing wall arena with six different climbing venues to choose from.
Completion of the climbing merit badge training qualifies scouts to kick it up a notch and take on some nearby cliffs suitable for more advanced climbing abilities.
One of the top priorities for any summer camp is the quality and variety of the food served. This year, camp director Karl Marsh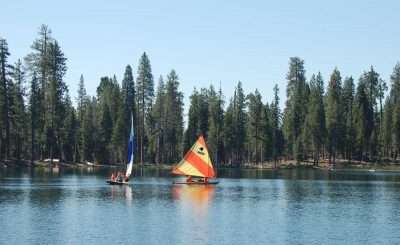 made a significant increase in budget for the kitchen with a professional staff and the dividend has been rave reviews about the food.
The weekly food highlight for the adult Scout leaders is always the Leaders Dinner, with special charcoal-grilled meat prepared by the ridge staff (mountain men) and featuring the numerous Dutch oven chili creations offered as part of the Scoutmaster Chili Cook-off.
After dinner, the action continues with opportunities for both education and entertainment, including campfire gatherings, a Pow-Wow demonstrating several tribal dances and lore, and stargazing on the lake.
With all these choices, it is easy for the Chester Scouts to select the merit badges and activities that best suit their personal needs and desires.
This year, Troop 36 is camped in Eagle's Nest, which is probably a positive omen for Life Scout Shane Nicholson as he works to achieve some of the required merit badges on his quest to Eagle Scout.
Camp staff noted that there are over 40 merit badges and free time activities just to ensure that the approximately 250 to 300 Scouts and leaders who attend each of the five separate weeks of camp have plenty to do.