Search on for armed robbery suspect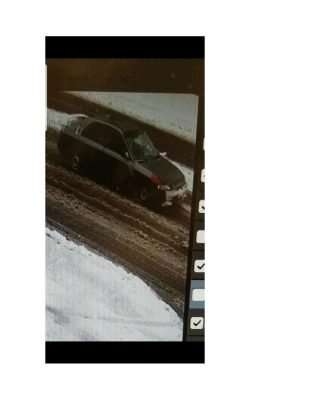 Just before 10 a.m. on Sunday, Feb. 3, the Plumas County Sheriff's Office, California Highway Patrol and a law enforcement officer from the Forest Service responded to the Subway sandwich shop at 24 West Sierra Ave. in Portola for the report of an armed robbery.
Upon arrival, officers learned that a suspect exposed a dark-colored handgun with brown grips and demanded money from the business. He was described as a white male adult, in his late 40s to early 50s, and approximately 5' 5" tall and thin build. He had black/white facial hair (more white than black). He also had a large gap between his front top teeth and was last seen wearing a black beanie with a thigh length brown/khaki jacket over a dark gray/black shirt that has a large white logo on the front. He wore white garden type gloves with white plastic dots, dark jeans and dark shoes.
The suspect then fled the scene east on Highway 70 in a two-tone. four-door sedan that was dark gray or black, with silver. The vehicle had gray rims and a spoiler on the back. There appeared to be a red spot, possibly paint or vehicle repair, over the passenger side front fender and had what appeared to be a large sticker behind the passenger side rear door.
Another individual was in the car, but there was no identifying information.
On Monday morning, Sheriff Greg Hagwood said that the investigation is ongoing and his office is in the process of looking for more camera surveillance footage (such as at Hallelujah Junction) to help track the vehicle.
When asked how the employee at the Subway shop was doing, he said, "Shaken up, but OK."
If you have information regarding this crime, please contact the Plumas County Sheriff's Office at 283-6300. Suspect(s) are considered armed and dangerous.