Seneca Hospital observes American Heart Month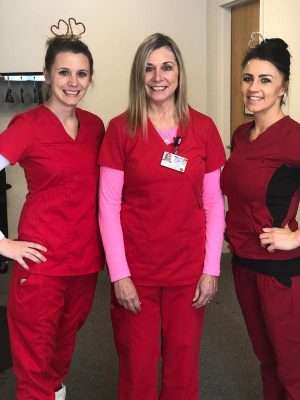 Did you know that heart disease is the leading cause of death for men and women in the United States?
Every year, one in four deaths is caused by heart disease.
The good news is that heart disease can often be prevented when people make healthy choices and manage their health conditions.
The American Heart Association encourages communities, health professionals and families to work together to create opportunities for people to make healthier choices.
Advertisement
Each February the staff at Seneca Hospital joins America in the observance of "American Heart Month."
This annual celebration began in 1963 to encourage all Americans to join in the battle against heart disease by promoting wise lifestyle choices and showing support by wearing red as a symbol of support for women's heart health.
This year Seneca Healthcare District celebrated American Heart Month on Valentine's Day with a sea of red employees.
Throughout the month, SHD has shared tips, facts and a list of common symptoms with staff and patients to promote heart health awareness, including promoting a heart healthy diet, regular exercise and making sure you know your numbers (cholesterol, BMI, blood pressure and blood sugar).
It's important to know the facts about heart disease and how to help keep your heart healthy.
It's also important to know that symptoms may vary from person to person and if you're experiencing any of the common heart attack symptoms such as pressure, tightness or pain in your chest or arms.
Nausea, indigestion, heartburn, fatigue, light-headedness and shortness of breath are also warning signs and you shouldn't hesitate to seek medical attention just to be sure.
Join with Seneca and help make a difference in this community. Spread the word about strategies for preventing heart disease and encourage people to live heart healthy lives.