Sierra Institute celebrates its renaissance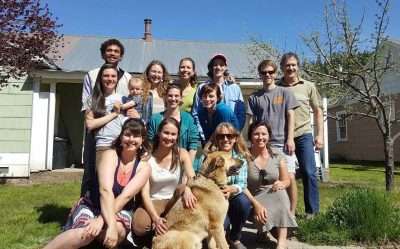 The Sierra Institute for Community and Environment has a good deal to celebrate and showcase — which is exactly what the employees of Sierra Institute did April 21, on a sunny afternoon in downtown Taylorsville.
People gathered on the lawn between the Sierra Institute buildings and the Taylorsville Tavern for a picnic, kids' craft activities and the chance to talk with staff about the various projects being undertaken by Sierra Institute these days.
Not everyone in Taylorsville and Indian Valley knows exactly what it is Sierra Institute does. At one point when they moved across the street several years ago — and they moved by hand-carrying computers across the street, some folks thought maybe it was a computer business. Who knew?
These days though, the combination of longevity of the nonprofit, coupled with an innovative young staff and solid grant acquisitions, have made the once skeletal staff much more robust with programs of all kinds to address the needs of the community and environment.
The biggest celebration was this month's winning business plan proposal spearheaded by Camille Swezy — Sierra Institute's biomass program associate. The Barrett Foundation Business Concept Challenge award for $100,000 will go toward the biomass facility in Crescent Mills, which Sierra Institute is planning to develop on an old mill site.
Swezy and Sierra Institute director Jonathan Kusel flew to Washington D.C. to receive the award and mingle among heads of various agencies and organizations including Forest Service chief Craig Barrett.Sierra Institute's winning proposal combines California's continuous push for alternative energy markets with Plumas County's natural resources. The idea behind the competition was to provide solutions to challenges facing national forests in the 21st century.
Biomass facilities are not the only things heating up over at the Sierra Institute.
Sierra Institute's Ashley Bomar, the P-CREW organizer, just returned from a GOAL trip to Oregon with 30 miles of hiking she organized for Indian Valley teens.
Courtney Gomala and Luis Mayberry have been busy at Indian Valley Elementary School getting kids ready and excited for the science fair and their science fair projects.
Advertisement
Earlier in the semester, Sierra Institute partnered with the Forest Service and the two high schools for a week-long Fire Institute project-based learning block.
Photos and information about all of these programs were on display at the open house and staff was at the ready to explain exactly what each program entailed.
Also available was information regarding events that see the most community interaction — Round Valley Run on Aug. 5 and Sierra Institutes tours. In summer months, the institute sponsors a tour every month on a different aspect of the local environment. There's a Lakes Basin tour on June 23 and a sustainable forest management tour coming up Aug. 15.
Amy Hafsrud, Jonathan Kusel's spouse, looked around the full lawn and all the newer employees and beamed. "One day Jonathan will retire. We need to leave this in good hands." They appear to have found them. Many hands.
A few community members who happened by the open house stopped in to get a plate of food and chat with neighbors on their way to the Tavern.
"We like them here," said one resident on his way.
Complete information on all of Sierra Institute's programs can be found at sierrainstitute.us/.