Sierra Pacific seeks recruits for careers at Quincy lumber mill
Sounds of buzzing saws rang out continuously and rugged conveyer lines hauled huge logs up to the debarking machine as the scent of fresh-cut wood filled the autumn air.
Earplugs in place, white hardhats and safety glasses on, a special tour group followed Accountant David Little around the Sierra Pacific Industries' Quincy Division lumber mill Oct. 12.
The Lee Road mill was getting the word out that it is recruiting for several positions this month in the plant's ongoing effort to maintain its quality workforce and commitment to the Plumas County economy.
"This company is investing in Quincy and in Plumas County, so we need the workforce to get up to full steam," Little said a little loudly during the walking tour held for over a dozen local education and job-training representatives who work to support economic and job development in the county.
Moving between the small and large mill operations to the kiln where lumber is dried to lower its moisture content to prevent warping, decay or stains, Little spoke from the foot of SPI's brand new multi-million-dollar turbine that will soon be online and provide greater efficiency than the plant's existing turbines, which still work fine, but were built decades ago.
The new cogen equipment is a closed-loop system that will generate power for the kiln and the plant. Excess power generated will be sold back into the power grid through PG&E.
The tour covered the industrial lumber manufacturing facility's various work areas, maintenance shop and career opportunities. Attendees asked a lot of questions and learned about job expectations, skill requirements, pay scales, training and advancement within the plant.
SPI is a third-generation, family-owned business with 14 divisions, or plant locations, throughout California, Washington and Wisconsin. The company has 5,000 employees overall and is based in Northern California.
Supervisors and staff on the tour emphasized that SPI employees feel like family — and they said the owners treat them that way, too. Above all, they said, people are the key to any successful
Advertisement
business.
"This is an industrial environment and we are a state-of-the-art automated facility, but everything is all run by a person," Little explained, walking the group along elevated catwalks above the smoothly running machinery, each with a person at the controls.
"We welcome skilled job applicants and do work with some technical schools and programs to place their grads," he added, "but we also provide a lot of on-the-job training and many of us here take pride in the fact that we started at the bottom."
Allan Cooper, Quincy's large mill superintendent, laughed as he told the tour group, "I started on the hard end of a shovel myself. The greatest majority of our workers will start that way, on cleanup and on graveyard shift, doing a very important job. You do need fortitude for this work."
SPI and the Peace Corps may have more in common than they realize — both live up to the corps' first recruiting slogan established in 1961, "The toughest job you'll ever love."
The mill is now hiring for entry-level positions, millwrights, equipment operators, logging truck drivers and industrial electricians. Heavy-equipment operators are always welcome to apply, too.
Starting pay is $17.40 an hour for laborers, plus benefits, and goes up from there. SPI prides itself on offering good wages and affordable health benefits.
Applicants must apply in person and be prepared to participate in a 45-minute screening interview to learn exactly what is needed to be able to do the job for which they are applying. References will be checked. Not every jobseeker needs a lot of experience to apply — six months of a solid work history is important, and you must be 18 or older.
The number one requirement is that applicants must be available to work any shift, and that means swing, graveyard or days.
Right up there with number one is the no-substance use requirement.
Molly Baker provides support for the human resources office of SPI at the Quincy plant. She, too, started with the company by working nights cleaning up debris and wood chips as an entry-level laborer.
"We're looking for people who want more than a job — people who want a career and to be part of the SPI family," Baker said. "There are many opportunities with us and employees can work their way up to a job that meets their interests. I'd shovel for my whole shift and then see what other people's jobs were like. On my breaks, my lunches, after work and on my days off, I'd go and talk to the people doing a job that looked interesting to me. I'd job-shadow them and learn how they did their work. Gradually, the supervisors would let me try my hand at this part of the job and that."
Baker explained that after about three to nine months, a laborer can often promote to an opening doing a different job. That's what she did, and got her first promotion out of the labor pool to run some of the mill's equipment. Each new employee can start applying to move up from his or her first day.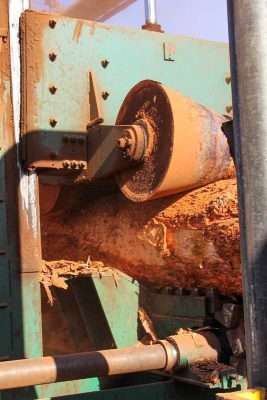 Tom Flesuras is the plant's maintenance supervisor and a long-time employee who also worked his way up from the entry level.
"I look for an employee with a real safety awareness, a detail-oriented person," Flesuras told the workforce tour group. "Maintenance is the front line for (potentially) getting hurt. I want someone who's gonna think before they act, someone who has learned the steps to do the job and follows them without me needing to babysit them. So it's good to start at cleanup and work up to chasing repairs with the maintenance shop."
What about workers who already have some training, experience or skills in a particular area?
"If somebody comes to us and puts on their app that they have some welding training, etc., we may or may not put them in as a trainee right away," Flesuras said. "But we're gonna keep an eye on them and see how they do. We can teach the skills to do the work, but we can't teach initiative and make a person be safety aware. They have to show us that themselves. We really promote from within."
Baker from human resources agreed.
"We do have trainee positions, but the great thing about SPI is that even if you had no opportunity to go to school or get an apprenticeship, for example, you can still start here," she said. "Even in high school, you can learn to have initiative and be a hard worker."
Next summer, the mill anticipates offering an internship-style program for high school seniors. The program is still in the planning stages and if all works out well, the student employees would have a chance to learn about career opportunities and receive guidance about the importance of having a good work ethic and being on time.
Closing out the tour and summing up Sierra Pacific's commitment to Plumas County job creation, Little said, "We have almost 300 people at the Quincy Division, so we've probably got a spot for you."
Current openings at the Sierra Pacific Industries Quincy Division lumber mill
Logging truck driver
Millwright
Industrial electrician
Equipment operator
Entry-level labor
Apply in person at:
1538 Lee Road
Quincy, CA 95971
Monday – Friday, 9 a.m. – 4 p.m.
For more information, call 283-2820 and visit SPI online at spi-ind.com/careers .