Spectators line Main Street for 2018 Fair Parade
Crowds lined Main Street in Quincy to see everyone who entered this year's Plumas-Sierra County Fair Parade sponsored by the Quincy Chamber of Commerce on Aug. 11.
It's become a decades old tradition that Quincy resident David Adrian starts the parade with the firing of the gun powder-laced anvil that creates a large attention getting boom. It's said that Adrian brought the tradition to Plumas County from Weaverville where it was used to start their annual Fourth of July festivities. At the time Adrian moved to Plumas County he was a business teacher at Quincy High School. He later passed the state bar exam and opened his law offices.
Another tradition following the firing of the anvil — the California Highway Patrol guides the first of the parade participants, this year the Veterans of Foreign Wars Post 3825 with Alan DeWolf, Marty Byrne, Russell Jennings and Robert Turcott.
The Quincy Chamber of Commerce noted that without the assistance of many volunteers this parade would not have happened.
Parade winners
Division: Float
Category: Club or Organization
1st: Indian Valley Museum
2nd: Feather River College
3rd: QHS Cheer Squad
Division: Float
Category: Commercial
1st: Diamond Mountain Casino & Hotel
2nd: Quintopia Brewing Co.
Division: Float
Category: Individual or Family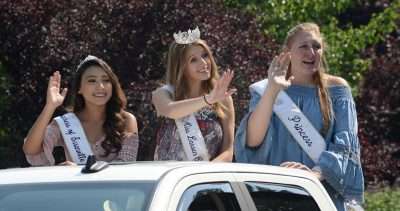 1st: Lori Harner
Division: Bands
Category: 1 to 5 Players
1st: Face the Music Studio
Division: Bands
Category: 6+ Players
1st: Quincy Music Program
Division: Novelty
Category: Individual
1st: Nina Peters
Division: Novelty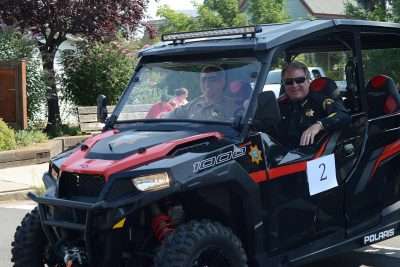 Category: Group
1st: Beautiful Feet Dance Company
2nd: Plumas Bank
3rd: Boy Scout Troop 130
Division: Horse
Category: Fancy Dress
1st: Rosemary Balbiani
2nd: Rylie Botts
Division: Horse
Category: Novelty
1st: Kristen Johannsen
Division: Motor Vehicles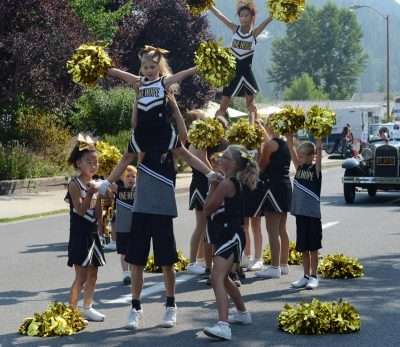 Category: Commercial Vehicles
1st: Sierra Pacific Industries
2nd: Gordon Peard Trucking
3rd: Mike Curran Trucking
Division: Motor Vehicles
Category: Special Interest Vehicle
1st: CHP in their classic Buick
2nd: Ethan Fiolka and Siegfried Fiolka
3rd: Bob Browne and Skye Browne
Division: Motor Vehicles
Category: Classic Vehicles
1st: Feather River A's
2nd: Will Taylor
3rd: Sierra Cascade Street Rodders