Task force to look at bark beetle-caused tree mortality in the Sierras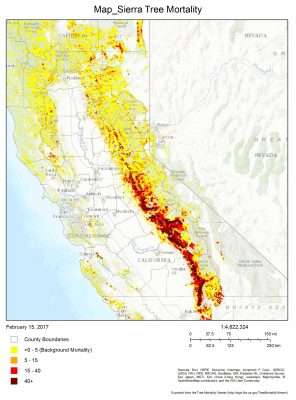 The bad news: Trees infected by bark beetles during last summer's drought may die this summer.
The good news: Given the rain this winter, uninfected trees will be in better shape to fight off beetles' attack this summer. And the numbers of bark beetles will decrease as drought conditions lessen.
In order to keep the numbers of dead and dying trees as low as possible this summer, it is important that all landowners inspect their trees now for evidence of beetle infection.
Members of the Plumas County Tree Mortality Task Force met Feb. 9 to discuss tree mortality in Plumas County and what can be done about it.
How beetles kill trees
Unlike animals, plants don't have an immune system. They can't fight off invaders, pathogens and insects, once they get inside.
Their main defense is to pitch out, i.e., gum up and seal off, intruders to keep them from getting inside.
When trees are weakened, by drought or high stand density for instance, or the numbers of invaders are especially high, trees can't push all of the invaders out.
Some get in, multiply rapidly and begin eating the living tissues of the tree.
  Eventually the host tree dies do to an inability to circulate water from its roots to its leaves.
Adult bark beetles leave host trees each spring in search of other trees to infect.
According to Danny Cluck, U.S. Forest Service entomologist, this flight from infected trees starts in April and peaks in May.
Although beetles can fly long distances, trees closest to an infected tree are at most risk because of the large numbers of beetles leaving the infected tree and their close proximity.
Landowners should inspect their trees now for bark beetle attacks that took place last summer and later in the spring for attacks that might take place this spring.
Signs of infection
Many trees that were successfully invaded by beetles last summer may still look healthy. However, they will become stressed as temperatures rise this summer. Their circulatory systems have been disrupted by bark beetles over the winter and they won't be able to survive the summer.
As Cluck commented, "The trees are dead, they just don't know it yet."
Therefore, it is important to look for signs of infestation while trees are still green, before their leaves have turned brown and the beetles have moved on to infest other trees.
There are nine species of bark beetles in the northern Sierras and they attack different types of conifers.
For free personal guidance in identifying bark beetles and reducing the threat of bark beetle infestation on your property, including site visits, contact Al Klem at 283-1797 or [email protected].
Klem is CalFire's tree mortality specialist for Plumas County.
What to do
What trees to cut down depends on the safety hazard a tree presents, the value of the nearby trees and the concentration of dead or dying trees.
Infected trees that might fall and damage structures, block roads or harm people should be removed as soon as possible.
If you want to sell the wood, it would be best to begin that process before the value of the timber depreciates further.
If a tree is of especially high value, a large tree in a yard for instance, there are pesticides that can be sprayed on its trunk. The pesticide can stop beetles from infecting the high value tree from adjacent infected trees. Tree trunks need to be sprayed before bark beetles take flight this spring.
You can also deep-water trees at their drip lines this spring to reduce water stress later in the summer.
Care must be taken not to water trees once they have gone dormant in late spring. Damp soils can buildup fungus in the soil at a time when trees are dormant and cannot fight off an infection.
If infected trees are scattered throughout a forest, as most are in Plumas County, they may not need to be cut down at all. This is especially true if they are already dead and the beetles have moved on.
Treatment of slash and wood
If you do cut down a tree that is still green and infected with bark beetles, it is important to treat that material to kill the beetles living inside.
One solution is to lop off the branches of the tree so they are close to the ground and then cover all the material with clear or black plastic. The plastic will heat up the space under the plastic and kill the beetles inside.
It is important to do the same for firewood that might have come from an infected tree. Any stem larger than 3 inches in diameter needs to be treated.
It is even better not to move firewood from one location to another. This can serve to move detrimental pathogens or insects, like bark beetles, around the landscape.
The best time to create slash is from July to December when adult beetles are not flying around looking for new, woody material to infest.
Mortality in Plumas County
There are an estimated 102 million dead trees in the central and southern Sierras due to long-term drought and subsequent beetle attack.
Two-thirds of those trees died within the last year.
Emergency storage areas have had to be set up for the temporary storage of dead trees.
Cluck pointed out that Plumas County is doing very well in comparison. Few trees have died at middle to high elevations in Plumas County due to drought and bark beetle attack. More trees have died, however, at low elevations on the west side of the Sierras and on the generally drier east side of the Sierras.
According to Cluck, tree mortality in Plumas County has mostly been in patches of two to three dead or dying trees within a forest matrix of uninfected trees. The usual background level of bark beetle mortality is approximately one tree per acre.
Tree mortality taskforce
The Plumas County Tree Mortality Task Force wants to be ready should the number of dead trees suddenly increase, as has occurred in the central and southern Sierras.
The task force is investigating ways in which infected trees can be removed from the forest. The long-term solution will include small local power plants that can burn woody material and produce electricity.
The task force has come up with a cell phone application that can be used to collect information on the location of infected trees.
The task force is also putting together material to educate the public about tree mortality in the county.
For information on the Plumas County Tree Mortality Task Force, contact Hannah Hepner, coordinator of the Plumas County Fire Safe Council, at 283-0829 or visit [email protected].
For entomology and bark beetle questions, call Danny Cluck, U.S. Forest Service, 252-6431 or email him at [email protected].