Taste of Plumas favorites
Mouthwatering aromas emanated from the 13th annual Taste of Plumas on April 13. With 17 area restaurants attending the event, along with two local breweries and several local wine establishments, the event was a huge success.
"I am pleased with how the event turned out this year. We had several new restaurants this year, and had a nearly sold-out event," commented event organizer Kara Rockett-Arsenault. "We owe it all to the restaurants, the several hundred people that purchased tickets, and to the people who made donations to the auction. We are so very grateful that people step up year after year to support Plumas Arts."
The Taste of Plumas invites attendees to vote for their favorite samplings in several categories. Every participant received numerous votes in the categories that they entered.
The results of the People's Choice vote tally went like this:
Advertisement
Ricochet Café was the favorite in the Soups & Salads category, serving a Red Curry Sweet Potato Soup with Savory Herb infused Waffle.
The winner in the Appetizers category was a draw between American Valley Baking's Savory Spinach Scones & Tomato/Pesto Focaccia and Genesee Store's Genesee Style Meatball in a Romesco Sauce.
Favorite Entrée went to Whitehawk Lodge Restaurant for their Stuffed Mushroom with Spinach Roasted Garlic Risotto. Quincy Provisions took the cake for their Desserts, which included Wine Fudge, Classic Napoleon, Creampuffs and Macarons. Quincy Provisions also won Best Pairing for their Caffe Affogato Diablo with Grand Marnier.
Best Presentation Award went to Young's Market. Owner Kelly Tan served up Tequila Lime Beef, Chicken and Pork Tacos with all the fixings on an exquisitely decorated taco bar.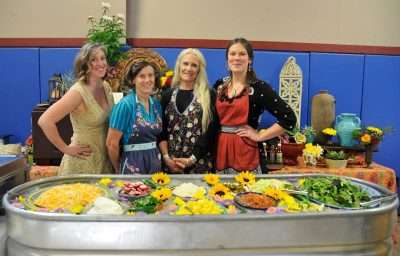 The Knook won 2019 Best of Show for the delectable Mexican Street Corn Soup created by Chef/Owner Krissy Bauer.
Plumas Arts extends a heart-felt thank you to all the participating restaurants: American Valley Baking, Angela's Bakery, Bella Luna Catering, Evergreen Market, Feather River College Culinary Arts Classes, Genesee Store, Graeagle Meadows Restaurant, The Knook, Plumas County Jail "Bridges to Mise en Place" Program, Quincy Provisions, Ricochet Café, Twain Resort, The Lodge at Whitehawk Ranch and Young's Market.
The Brewing Lair and Quintopia Brewing Company were on hand with their local brewed beer and the wine from Evergreen Market, The Drunk Brush and other featured wineries was plentiful. Rusty Roof Coffee Roasters from Chester were at the event serving up some delicious, brewed-on-site coffee. It can be truly said that a-good-time-was-had-by-all at this beautiful spring evening.
Plumas Arts invites you all to save the date of April 18, 2020, now for the 14th annual Taste of Plumas.