The trip of a lifetime lays the groundwork for more
It's been only two weeks since this year's Plumas County students made their way back to the county from the country of Uganda. For the majority of them a good deal has changed in a short period of time—and as two of them recount—their lives will never be the same.
As they reacclimatize to life in Plumas County (students on this year's trip hailed from Indian Valley, Chester and Quincy), two students, Annika Bengard and Alylish Carmichael and their mothers recount the trip, the lessons, and the experience, and how they look at their own world differently now.
"I'm so grateful for flushing toilets," said Bengard. "To brush your teeth with running water," said Carmichael.  Both girls reiterated over and over again how lucky they are and how much of everyday life here in America and in Plumas County they'd taken for granted. Like running water. Wet clothes drying. Open windows. Hot water.
But they want to go back and can't wait to return.
"The Uganda trip has brought out the finest qualities in those young men and women. The challenges they witnessed over there are not hypothetical nor [are they] simulated. Being tasked to come up with solutions to insurmountable problems with limited resources is an invaluable lesson many spend a lifetime to learn. Whether it was providing shelter or potable water, pure ingenuity and collaboration got them through each challenge," said Christian Palmaz. The Genesee Ranch he owns with his family is a primary sponsor of the ongoing Rural to Rural project to provide exchange of knowledge and experience between Plumas County and Kanungu, Uganda — a district in the western region of the country.
Rural to Rural's mission differs from traditional NGO responses to needs in developing countries. "Acknowledging that every community has the right to determine its own needs and empowering the community to take action," according to its website.
The needs this time around focused on a preschool.
For the second year of the trip plans were made to spring board off the groundwork made the year before. The students and director, Sue Weber, had expected to do lots of work outside and to hear potential micro-loan grant proposals. But Uganda, like California, is suffering drought, and the first rainfall — make that downpour — in a long time made them scrap their plans to dig foundations and be spontaneous. Hard for many of today's American teenagers to regroup, but regroup they did.
Much of the trip was about getting a preschool up and running and painting the interior of a school to look like a school instead of, as the girls agree, "like an abandoned building."
"We had to learn to improvise," said Bengard.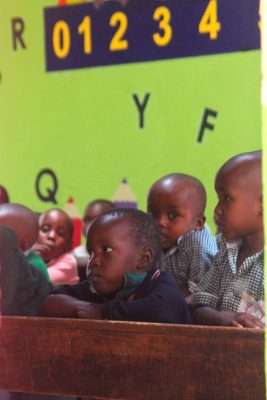 "Uganda needed rain. The drought had been going on several years. The people were really happy to see it rain," said Carmichael.
There was also a two-day safari planned that became one-day and one-day of a bus stuck in the mud. The safari tour leader remarked that the group from Plumas County took such things well and with resilience. Urban visitors hadn't done so well with flat tires and tires stuck in the mud. Urban groups panicked and complained. Country kids were used to such setbacks — the Indian Valley students so far have been his favorite to take on safari. Some didn't mind only having one day on safari — they wanted to be with the kids at the school anyhow.
Each of the students did home stays with Ugandan families, exposing them to an intimate family life and a whole different way of living. They experienced what life without running water or western beds, or creature comforts of home are like. It made a huge impact.
"There was a huge language barrier, but everyone was so nice," said Bengard. "We were treated like royalty. We were given the newest mosquito netting," she continued.
"Every meal took hours to prepare. But the kids and the parents were happy and content," said Carmichael.
Aylish Carmichael stayed with preschool director December Lazarus' family. That family was slightly more well-off than some of the others, but nowhere near what would be an American standard of living for the director of a school.
Carmichael watched the director's 3-year-old daughter eat an insect. She also had a hard time sleeping when a mouse crawled up the blanket she was using. Bats flew into the house. But still, she'd go back in a heartbeat.
Carmichael and Bengard got used to saying "thank you" —one of the few words they've learned so far in Richega, the language spoken in that part of Uganda.
What impressed the girls the most about their 18-day trip came down to one word — generosity.
"For how little they have, they're the most generous people I've ever met," said Bengard. Their mothers and Weber nodded their heads in agreement.
Bengard tells a story of having brought candy for her home-stay family and how the children would break a Jolly Rancher in two to share it with another kid at school. Kids shared lollipops also.
Still too, even in the poverty of the home-stay families, they offered their guests live chickens, humongous jackfruit, and eggplants. The girls were overwhelmed by the kindnesses and being treated like rock stars.
In both girls the excitement, two weeks back from their trip is palpable. Life changes are in the works. New directions in their futures. So much of the ruralness of Uganda was familiar to them having grown up in rural California, but so much of it also made them feel lucky to have been born here.
The Rural to Rural program is now in its second year and plans are already underway for next year's trip and eventual goals — which include bringing Ugandan young adults and college students here to learn skills to bring back to their region.
One Ugandan named Gerald had been a student at California State University, Stanislaus who returned to Kanugu empowered to make positive economic changes in his community. Weber would like to see that sort of exchange happen in the future.
Advertisement
She sees the program as a way to boost awareness, compassion, understanding to enhance both the lives of rural Ugandans and rural Californians. Other schools in rural northeastern California in other counties have contacted her about their schools becoming part of the Rural to Rural program too.
The model for this sort of program is new. In the past it is often urban, more affluent areas that send their kids abroad, but in the past five years that tradition has changed. Instead Rural to Rural is aiming to make the exchange even and sustaining.
Last year, for example, was the second year of the rabbit raising program there to have families in the area raise rabbits for food for more viable access to protein.
This year's focus was elementary and preschool education and making the schools actually accessible and fun even though they are crowded.
Advertisement
Often a preschool class might have 65 students in a room without toys or books. Items brought over this trip included puzzles. They had to train teachers on how to use puzzles, as many had never seen any.
It's these details of differences that neither side of the exchange often sees coming — the parts that make life interesting.
Weber wants her students to see how much their contribution to the world could be valued, to understand how much they, individually, are valued. She's committed to the program. She also wants to remind people that this program has been a valley wide effort.
Each trip the announcements fly on social media and at school for used sports equipment, preschool materials, etc. and Indian Valley residents have answered the call.
Bev Craggs, who has retired her preschool and daycare program donated many materials for the Ugandan preschool. Old friend Jeff and Patty Maywood of Pennsylvania funded much of the trip and the Palmaz family through the Genesee Ranch did a lion's share of getting the students to Uganda. The fit between the two regions seems to be a natural one now.
"I truly believe that these kids where driven to bring the value and success they had largely because of the environment in which they were raised. In rural communities, when resources become limited, we naturally look to each other to provide the solution. This learned skill of problem solving with community resources is key to creating our next generation of leaders. I strongly believe that investing in experiences for our community's youth is investing in our own future. We are honored to be able to participate," Christian Palmaz said.
The students had much to learn and came away with much more. The group took turns blogging about their experiences on the www.ruraltorural.com website — covering everything from their responses to home stays, the Rwandan genocide memorial, Easter in Uganda, and malnutrition. But much of the time they chronicled joy.
"Ugandans are a very joyful people. I've never smiled so much. My face hurt," said Carmichael.
"People wave at you with two hands," Bengard said. "No one waves like that here."