It's time to meet the new recreation supervisor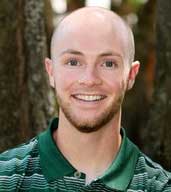 Kyle Stone is the new recreation supervisor at Central Plumas Recreation and Park District. General Manager James Shipp worked with Stone at Plumas Pines in Blairsden so the two already have a working relationship.
"I am an avid sports lover and fan, no matter what the sport is, I appreciate its value and the enjoyment it has to offer," said Stone. "That being said, this is a perfect job for me."
Stone played college baseball at Feather River College and at Division I Jacksonville State University, where he earned a bachelor's degree in sociology. Stone then went on to earn a master's degree in physical education from Azusa Pacific University.
"I knew that I wanted a career in sports in some capacity," said Stone.
The sports enthusiast, Stone, coached baseball for two years at FRC and worked in the counseling department before receiving the offer for the recreation supervisor position.
"I am very thankful to have this opportunity and excited to continue providing a high quality sports and recreation outlet to our community. I feel very blessed that in this small community I have found a position where I can put my passions and enthusiasm for sports to good use," said Stone.
Describing his family situation Stone said, "I am married to my wife of two years, Jessica, and we have a 3-and-a-half-month-old daughter, Emmy."
Stone says that although he is new to the position, his current priority is "to strive to increase participation in our sports programs and make sure that those programs are a fun, enjoyable experience for everybody involved."
Stone expressed that the more active our community is in its sports and recreation, the "healthier and happier we will all be." Stone added, "I hope to help others continue to see and experience the value of our programs."