Town Hall offerings include extra shows and free kids' film
The Town Hall Theatre announced its December schedule with a full slate of movies, including extra showings and a free presentation.
Movie show times are 7 p.m. each night, unless otherwise noted, Friday through Monday, with a 4 p.m. Sunday matinee. Note that Thursday night shows have been added for two of the films.
To get the most current movie schedule, check quincytownhall.com. The Town Hall Theatre movie line is 283-1140.
"The Good Liar" plays four days, Dec. 6 – 9, Friday – Monday.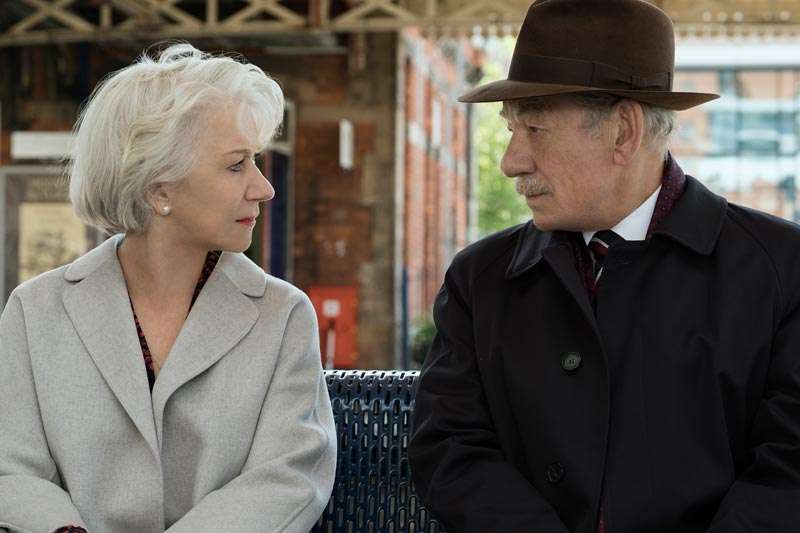 Career con-artist Roy Courtnay (Ian McKellen) can hardly believe his luck when he meets well-to-do widow Betty McLeish (Helen Mirren) online.
As Betty opens her home and life to him, Roy is surprised to find himself caring about her, turning what should be a cut-and-dry swindle into the most treacherous tightrope walk of his life.
This 109-minute drama is rated R for some strong violence, language and brief nudity.
Web: www.goodliarmovie.com
"Ford V. Ferrari" plays four days, Dec. 13 – 16, Friday – Monday.
Academy Award-winners Matt Damon and Christian Bale star in Ford v. Ferrari, the remarkable true story of the visionary American car designer Carroll Shelby (Damon) and the fearless British driver Ken Miles (Bale), who together battled corporate interference, the laws of physics, and their own personal demons to build a revolutionary race car for Ford Motor Company and take on the dominating race cars of Enzo Ferrari at the 24 Hours of Le Mans in France in 1966.
Advertisement
This 109-minute drama is rated PG-13 for some language and peril.
Web: www.foxmovies.commovies/ford-v-ferrari
"A Beautiful Day in the Neighborhood" plays four days, Dec. 20 to 23, Friday  – Monday.
Tom Hanks portrays Mister Rogers in "A Beautiful Day in the Neighborhood," a timely story of kindness triumphing over cynicism, based on the true story of a real-life friendship between Fred Rogers and journalist Tom Junod. After a jaded magazine writer (Emmy winner Matthew Rhys) is assigned a profile of Fred Rogers, he overcomes his skepticism, learning about kindness, love and forgiveness from America's most beloved neighbor.
This 108-minute biographic drama is rated PG for some strong thematic material, a brief fight, and some mild language.
Web: www.abeautifulday.movie
Enjoy a FREE showing of "Elf" one day only Saturday, Dec. 21, at 2 p.m.
Will Ferrell stars as Buddy, a human raised in the North Pole to be an elf. After wreaking havoc in the elf community due to his size, Buddy heads to New York City to find his place in the world, and track down his father. But life in the big city is not all sugarplums and candy canes. His father is a "Scrooge" and his 8-year-old stepbrother doesn't believe in Santa. Even the snowmen aren't friendly in New York. In fact, they don't even speak. Worst of all, everyone has forgotten the true meaning of Christmas, and it's up to Buddy and his simple elf ways to win over his family, realize his destiny and, ultimately, save Christmas for New York and the world.
This 97-minute comedy is rated PG for some mild rude humor and language.
Web: www.youtube.com/watch?v=gW9wRNqQ_P8
"Frozen 2" plays five days Dec. 26 – 30, Thursday – Monday. Note the Thursday 7 p.m. show added.
Why was Elsa born with magical powers? The answer is calling her and threatening her kingdom. Anna, Elsa, Kristoff, Olaf and Sven leave Arendelle set out on a dangerous but remarkable journey to an ancient, autumn-bound forest of an enchanted land to find the origin of Elsa's powers in order to save their kingdom. In "Frozen," Elsa feared her powers were too much for the world. In "Frozen 2," she must hope they are enough.
This 97-minute animated adventure is rated PG for action/peril and some thematic elements.
Web: movies.disney.com/frozen-2
"Jumanji: The Next Level" plays five days, Jan. 2 – 6, Thursday – Monday. Note the Thursday 7 p.m. show has been added.
In "Jumanji: The Next Level," the gang is back but the game has changed. As they return to Jumanji to rescue one of their own, they discover that nothing is as they expect. The players will have to brave parts unknown and unexplored, from the arid deserts to the snowy mountains, in order to escape the world's most dangerous game. The all-star cast includes Dwayne Johnson, Kevin Hart, Jack Black, Karen Gillian, Awkwafina, Danny DeVito and Danny Glover.
Web: This 123-minute action comedy is rated PG-13 for adventure action, suggestive content and some language.
Web: www.sonypictures.com/movies/jumanjithenextlevel